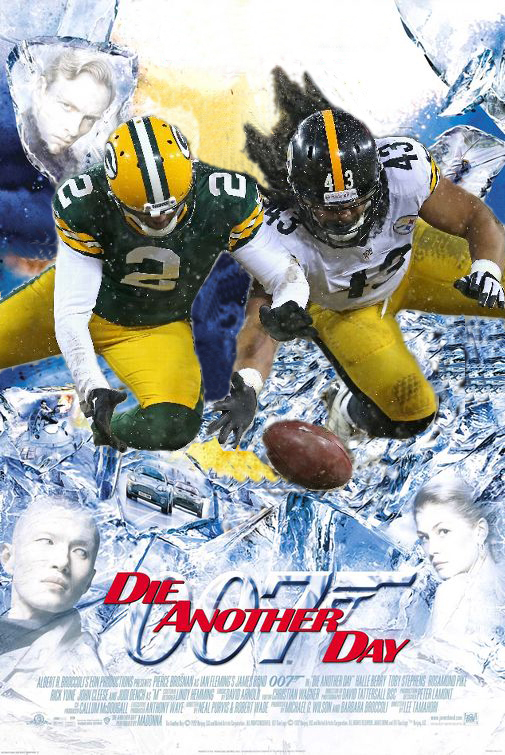 Talk about living a charmed life. In my preview for yesterday's game between the Pittsburgh Steelers and Green Bay Packers, I ended by wondering what would happen if the Steelers' slim playoff hopes were already extinguished by kickoff. Well, not only did every single domino fall their way in the early games, the New England Patriots did them a solid by hammering the Baltimore Ravens later in the afternoon. Yes, ladies and gentleman, the Black and Gold are still mathematically alive for the AFC Playoffs.
It's a Christmas Miracle.
Of course, it would've all been moot had the Steelers not taken care of business by defeating the Packers. Their 38-31 victory was a wild affair featuring a little bit of everything: good offense, good defense, weather porn, special teams trickeration, a heart-stopping finish, and crooked referees doing their best to screw Pittsburgh over. It was the football version of a WWE wrestling match. And in the end, the good guys won.
Much of the focus going into the game was on each teams' rookie running back. Le'Veon Bell was taken a half dozen picks ahead Eddie Lacy, a fact which may be the source of discussion and debate for years to come. Both guys brought their A-Game yesterday. Bell posted his first 100 yard effort, gashing Green Bay's porous run defense to the tune of 26 carries for 124 yards. Unfortunately, he also dropped two big screen passes that would've been crucial first downs and had a costly fumble inside his own 5. Meanwhile, Lacy only rushed for 84 yards but averaged an insane 5.6 YPC and scored twice while repeatedly blasting through the Steelers' equally inept Run D. Had he not missed most of the second half with an ankle injury, the outcome of this game could very well have been different.
The Frozen Tundra of Lambeau Field was indeed frozen in yesterday's cold and snowy weather. I saw a bunch of goofs on Twitter – and I say this with the disclaimer that while MOST Steeler fans are intelligent football fans, it's become clear to me the loudest (ie: ones who write blogs or tweet a lot) are complete idiots – blaming Dick LeBeau for some of the big plays the Steelers were giving up. Yes, the defense isn't the Steel Curtain of old but a lot of what happened yesterday happened because of the field conditions. When you play on a frozen field, you basically cannot change direction. So when a defender squares up to tackle a receiver or back and he zigs when they expected a zag, that defender ends up on his ass while the guy runs 15 yards down field. It's not bad defense, it's called playing in the snow.
Another thing I'm sick of seeing on blogs or Twitter is criticism of Todd Haley every time the Steelers go three and out. Listen, morons, you are the same people who thought Bruce Arians was the dumbest offensive coordinator in history. Look at him now, leading the Arizona Cardinals to a 10 win season with Carson Friggin' Palmer. More to the point,  after yesterday Ben Roethlisberger has now passed the 4,000 yard mark for only the third time in his career with his 27 TD passes being his second best total ever.
THE OFFENSE WORKS.
Of course, Ben's best play in yesterday's game was a 13 yard rumble for a TD that gave the Steelers their first lead of the game. See, Ben blowing by the Packers defense like the second coming of Tony Dorsett is what I'm talking about when I say the field made it difficult for defenders to recover once they got out of position. Ben's score was set up by the aforementioned trickeration as special teams coach Danny Smith dialed up a fake punt and punter Mat McBriar lofted a perfect lob pass to a wide open David Paulsen on 4th and 2. It may have been the prettiest pass of the entire game.
What wasn't so pretty was another special teams fiasco that nearly cost the Steelers the game. Green Bay attempted a field goal that was blocked by Steve McClendon. Ryan Clark CLEARLY picked up the ball and took two steps before being tackled. As he was being tackled, he stupidly attempted to lateral the ball to Ziggy Hood. Hood couldn't come up with it and in desperation swatted it out of bounds. And there is where the screw job began.
Hood was flagged for illegal batting. That penalty is half the distance and automatic first down, giving the Packers new life at the Steelers 2 from where Lacy would score on the next play. The problem is Hood batted the ball after possession had changed hands so Green Bay shouldn't have been given a first down, the Steelers offense should've just been backed up. When Mike Tomlin tried to challenge this travesty of justice, the zebras informed him you couldn't challenge possession on a blocked kick.
What sort of bullshittery is that?
To their credit, the Steelers shook off the temporary set back and roared back for two touchdowns in the span of three and a half minutes. Bell ripped off a 20 yard gain, then a personal foul late hit on Ben by dirty BJ Raji moved the ball into the red zone. Matt Spaeth made a  leaping catch in the end zone for a TD. On Green Bay's very next play, Cortez Allen pulled off a Swann-esque ballet move to intercept a Matt Flynn pass and return it for a TD. I'll say this about Tomlin, his team does not get quit.
The Steelers tried to run out the clock but a Ben interception and some loose D allowed the Pack to claw their way back into it. Then came a crazy final three minutes that will be remembered for a long time. Green Bay had the ball at their 8 with a chance to drive for a game winning FG. Brett Keisel, perhaps entering the final two games of his storied career, sacked Flynn on first down. On third and long, Flynn was flushed from the pocket and tried to scramble for a first down but Troy Polamalu flew in outta nowhere to knock the ball out and Da Beard recovered.
If the wily veterans are going down, they're going down swinging.
The Steelers tried to run clock but couldn't get anything going so on 4th and 3, they lined up for a chip shot field goal. A Packer jumped off-sides gifting them a first down at the 5. Packers coach Mike McCarthy ordered the defense to let Bell score so they could get the ball back with over a minute left. Now, yes, Mike Tomlin should've ordered Bell to kneel down so they could've milked every last second before kicking the go-ahead field goal. Instead, Bell scored, giving McCarthy what he wanted.
Again, there was a lot of criticism of Tomlin over this error. Nobody has been more critical of Coach T than I but the amount of badmouthing from Steeler Nation was absolutely ridiculous. No, he's not the smartest game manager in football history. However, it's not like there is NO argument to be made for scoring the TD. With today's kickers and the Steelers secondary, is a 3 point lead with 35-40 seconds really that much safer than a 7 point lead with a minute and half? If your defense can't prevent an 80 yard TD drive with less 90 seconds remaining, they must really really suck.
What you don't count on is the other team taking the ensuing kick-off 70 yards back to your 30. Why didn't they order a squib kick? That's the question I'd like to see answered. Two plays later, the Packers had a first and goal inside the 5. Then the Steelers finally caught a break as McCarthy inexplicably called two running plays, the first of which exhausted the clock the second of which led to a false start that set them back 5 yards and resulted in a 10 second run off. With less than 10 seconds remaining, Flynn had no choice but wing a desperation pass into the end zone.
And with that, the Steelers pulled off a victory that should be remembered for quite a long time. I don't know if the Steelers are going to make the playoffs – the odds still say they won't – but to go from 0-4 to still playing meaningful games in week 17 is quite the feat. Anyway, I'm off to spend the holidays with family so this will be my last update until Friday. Merry Christmas everybody!!