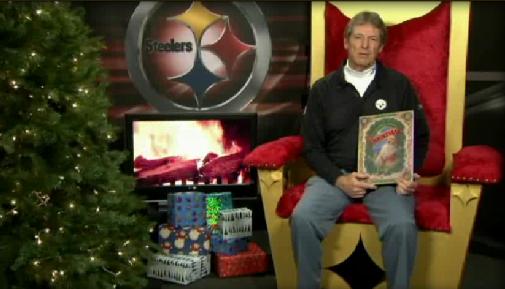 Welcome back. I hope everybody had a great Christmas. If you're anything like me, I'm sure it included at least one piece of Pittsburgh Steelers related swag. At this point, I think I have more Black and Gold related dvds than NFL Films.
With time running out in both the year 2013 and the 2013 NFL season, I think we should pick up where we left off on Monday. Thanks to an improbable set of circumstances last Sunday, the Steelers are still mathematically alive for the AFC Playoffs. In order for them to leapfrog three teams and earn the second Wild Card slot, there are only three games we need to keep an eye on.
Ravens at Bengals – Baltimore must lose. What motivation do the Bengals have to win? Well, Cincy still has a shot at overtaking New England for the #2 seed and first round bye with a win and Patriots loss. The irony, of course, being should the Bengals win only to remain the #3 seed, their first round opponent would be the second Wild Card.
Jets at Dolphins – Miami must lose. Jets have nothing to play for except Rex Ryan's job. Sure that might sound like the thinnest of motivations but we've seen time and time again teams with nothing left to play for playing harder than the teams in the race. Make no mistake, the Jets love Rexy. Miami is also coming off a pretty embarrassing loss where they benched their starting quarterback. Plus, do you think the NFL wants Miami in the playoffs after the Martin/Incognito debacle?
Chiefs at Chargers – Chargers must lose. This is the game we have to worry about the most. It's the only afternoon game of the three, meaning when they kick off San Diego could be facing a win-and-they're-in scenario. What's more Kansas City is locked into the first Wild Card slot meaning they have absolutely nothing to play for. Fatass Andy Reid has already hinted at pulling his starters after a quarter or two.
To sum it up, this Sunday we have to root for Andy Reid, Rex Ryan, and the Bengals. I suggest not taking a shower that morning because you'll be feeling pretty dirty by the afternoon.
STEELERS DEFENSE vs BROWNS OFFENSE
Jason Campbell hasn't proven to be the answer to Cleveland's quarterback dilemma. In fact, his numbers are only slightly better than those posted by the absolutely wretched Brandon Weedon. Second year wide receiver Josh Gordon has exploded this season, amassing over 1,500 yards while averaging a whopping 120 yards per game. He and TE Jordan Cameron, who is questionable after suffering a concussion a couple weeks ago, combine to form one of the most dynamic young pass catching duos in football. If they can only find someone to throw them the ball.
It wouldn't hurt to find someone to run it, too. After shipping uber-bust Trent Richardson to Indy, old man Willis McGahee couldn't find the fountain of youth. The Browns have the 27th ranked rushing attack in football, averaging a piddling 86 yards per game. Behind a solid offensive line, the fact they can't find a consistent running game to take some pressure off their bevy of mediocre quarterbacks is pretty embarrassing.
The Steelers defense is like a posse of old cowboys saddling up for one last showdown. It's generally expected that the team will part ways with Ryan Clark and Brett Keisel after the season. Clark hasn't done anything of note this year but Da Beard returned from an injury-plagued year to make two big plays that sealed the win against the Packers. There are also rumors that Ike Taylor and/or Troy Polamalu may be wearing the Black and Gold for the last time. They both have had frustrating seasons in that at times they've played very well although when they were bad, they were REALLY bad.
Troy, in particular, continues to be by far the team's most dynamic playmaker on defense. I really hope this isn't the end of the line for him because, unlike Ed Reed, it does seem he can still play. And I can't think of anything I'd like to see less than his magnificent flowing locks peeking out from under the helmet of another team next season.
STEELERS OFFENSE vs BROWNS DEFENSE
As I chronicled earlier in the season, the Browns feature a pretty damn good defense. They've fallen off a bit in recent weeks – likely worn down by the offensive ineptness – but they still rank 10th in yards per game, 9th in pass yards per game, and 16th in rush yards per game. Their big downfall is they can't keep opponents off the scoreboard – again, probably aided by turnovers by the inept offense – giving up a shade under 26 points per game (23rd in the league). Linebackers Barkevious Mingo, Ravens castoff Paul Kruger, and former Pitt Panther Jabaal Sheard are all enjoying very good seasons. Joe Haden continues to be one of the best corners in the league.
It amuses me when I read dimwitted blogs, asinine message boards, and equally goofy tweets theorizing the Steelers are gonna fire Todd Haley the minute the season ends. Haley isn't going to be fired. I know people have a hard time grasping this but he hasn't done a bad job. Just look at the numbers.
Ben Roethlisberger has thrown for over 4,000 yards for only the third time in his career. His 27 TDs are the second best total of his career. What's more, he's played all 16 games this year. The combination of quick passing routes and an emphasis on the running game are a major contributor to that. Regardless of whether he likes Haley or not, it's very clear he's thriving under his system.
And it's not just Ben. Antonio Brown is less than a 100 yards shy of a 1,500 yard season. Remember when Bruce Arians was proud that his offense boasted the first 4,000 yard passer, 1,000 yard rusher and two 1,000 yard receivers in a single season in Steeler history? Well, the Steelers will be halfway there with Le'Veon Bell (770 yards) probably cracking that barrier if not for his preseason injuries and the horrible offensive line play through the first half of the season. Emmanuel Sanders quietly contributed a 700 yard season of his own although he hurt his foot on the Frozen Tundra and is probably out on Sunday.
Hopefully, Sunday won't be our last chance to see Sanders and some of the old warriors on defense. Yeah, the series of events which must occur for the Steelers to earn the most improbable of playoff berths is daunting but I said that last week and the Wild Wacky NFL happily obliged. As Pirates fans will tell you, there's nothing more depressing than following a going nowhere team playing out the string. The Steelers rallied to the point we'll still be scoreboard watching the final week of the season. If they accomplish nothing else, they can at least say they accomplished that.