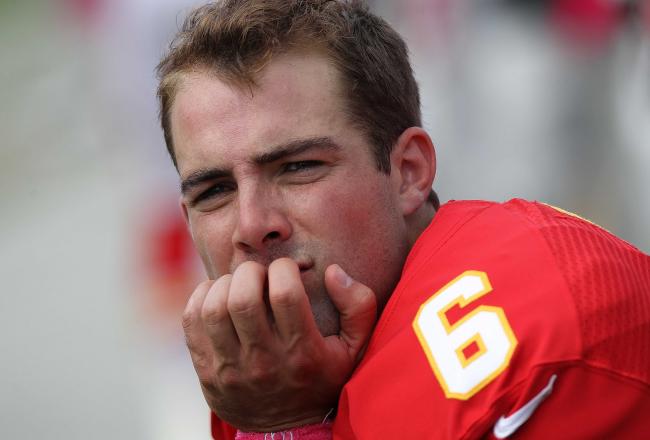 The picture above is of Kansas City Chiefs kicker Ryan Succop. Or, as he'll be forever known in the Steel City, the Most Hated Man In Pittsburgh. You have ONE JOB, assclown. Although I suppose there is some poetry to the season ending because of a spectacular special teams FAIL.
On a side note, only the Pittsburgh Steelers could get screwed over by the referees in a game they weren't even playing. Even worse, they got jobbed TWICE. That's some superior trolling by Roger Goodell. Bring back the replacement refs!
As you may have noticed, I have yet to talk about the Pittsburgh Steelers 20-7 victory over the Cleveland Browns. That's because it was the epitome of a forgettable game. Yeah, the Black and Gold had to win to keep their slim playoff chances alive but there was little doubt they'd do that. Beyond the easy W, there was little of note beyond some personal statistical goals and perhaps the chance to see Steeler legends (Troy Polamalu, Bret Keisel) play their final game at Heinz Field. 
The old men certainly went out with a bang. Troy Polamalu didn't have any splash plays but was a disruptive force all over the field. He ends his year leading the defense with 2 interceptions and 5 forced fumbles. If they really do part ways with him, a D that already struggles to generate turnovers is going to have to replace an awful lot of production.
Bret Keisel missed the bulk of the season with a foot injury but did more in the past two weeks than pending free agent Ziggy Hood did all year. He got the team off to a fast start with a sack-fumble on Jason Campbell on Cleveland's second possession of the afternoon. Da Beard certainly decided to go out guns blazing if this is indeed his last stand in Pittsburgh. There will be temptation to re-sign him but at his age, I'm not sure bringing him back for a handful of games next year is the answer.
Not that the Steelers have a whole lot of answers on the defensive line. They struggled again yesterday – some practice squad jabroni named Edwin Baker repeatedly gashed them for big gains. Cam Heyward, who had one sack and two QB hits to close out his breakout season, is really the only sure thing. It's too early to start speculating on the draft but it's very clear this team BADLY needs a nose tackle who can stuff up the middle. The other DE spot is a revolving door of mediocrity be it Hood or Steve McClendon or somebody else.
Offensively, Ben Roethlisberger and Antonio Brown put exclamation points on what were career years for both men. After hitting Jerricho Cotchery – who caught 10 TDs, or 6 more than $60 Million Man Mike Wallace, this season – for a score after the Campbell fumble, Big Ben posted his second best year in terms of TD passes and yardage of his career. Considering the state of the offensive line, lack of running game, and dearth of talent at wide receiver, it's impossible not to call 2013 his finest season ever. What a brilliant job by both Ben and offensive coordinator Todd Haley.
Meanwhile, the one special talent they do have at wide out made sure to finish his year in style. Antonio Brown had 9 more catches for 87 yards yesterday making him the first player in NFL HISTORY to catch at least 5 balls and amass at least 50 yards in all sixteen games. As critical as I've been of the personnel decisions made by Kevin Colbert and company, they certainly got this one right. AB finishes the season with 110 receptions, second in the league and two shy of Hines Ward's franchise record.
In a driving rain that limited the passing game, the Steelers scored twice in the first half, first on the Cotch Rocket's catch and later on a sweet spin-o-rama move by Le'Veon Bell, who continued to show the future of the running game was in good hands with 90 yards on 20 carries. The Browns more or less went into "Don't give a shit" mode for the rest of the game with their lone TD coming on a busted coverage after a pair of Stone Cold Shaun Suisham field goals ensured the game was well out of reach.
After taking care of business, it was time for scoreboard watching. The Steeler had by far the most improbable playoff scenario, needing three teams to lose in order to back door into the AFC's second Wild Card spot. Miraculously, both the Miami Dolphins and the Baltimore Ravens utterly collapsed in the early going, leaving the door wide open for Pittsburgh. All we needed was a late Christmas present from a jolly fat man in a red suit. Unfortunately, Andy Reid decided to go with his lump of coal line-up by resting nearly every Kansas City starter.
For three quarters it didn't matter as backup quarterback Chase Daniel and backup running back Knile Davis kept the Chiefs offense moving. KC was up 24-14 as the fourth quarter began when the San Diego Chargers finally kicked it into gear. A late field goal tied things up with under three minutes left. Daniel coolly led his team into field goal range only for Succop to miss to a 41 yarder with seconds left. Mike Florio at ProFootballTalk is reporting the league has already acknowledged the refs missed a call on San Diego having too many men at the line of scrimmage which would've resulted in a five yard penalty and a re-kick.
So Steeler Nation's agony continue on to overtime. The Chargers won the toss but KC's defense held firm on 3rd and 2 at about the Chargers 40. San Diego went for a fake punt where they direct snapped it to the up back who plowed ahead for… Well, I have no idea what happened after that. He looked to be stopped behind the line of scrimmage but the refs let the play continue until he churned past the first down marker. In the process of bulling forward, the ball clearly popped out and was recovered – and returned for a TD – by a KC player but the refs claimed the play was stopped. So basically they let play continue until San Diego got what they needed then immediately stopped everything to make sure nothing bad could happen. What kind of bullshittery was that?
Naturally, San Diego would kick the go-ahead field goal. Daniel tried to rally his team but couldn't answer so the Steelers playoffs chances which seemed so remote two weeks ago died with a missed field goal and two blown calls. I suppose I should feel good that we were even alive at 7:37 P.M. on the final weekend of the NFL season given how the first month went but it sucks to go out like that. It really really sucks.
And so ends the Pittsburgh Steelers 2013 campaign. Unlike last year's 8-8 slog, this one will certainly be remembered for years to come. From the utter misery of that 0-4 start to the way the team clawed back in the race to Mike Tomlin's Thanksgiving Two Step to these insane last two weeks where literally everything broke the Steelers way until Succop's kick sailed right, it was anything but dull. Thank you for hanging in through all the highs and lows with me. It's been a ride.