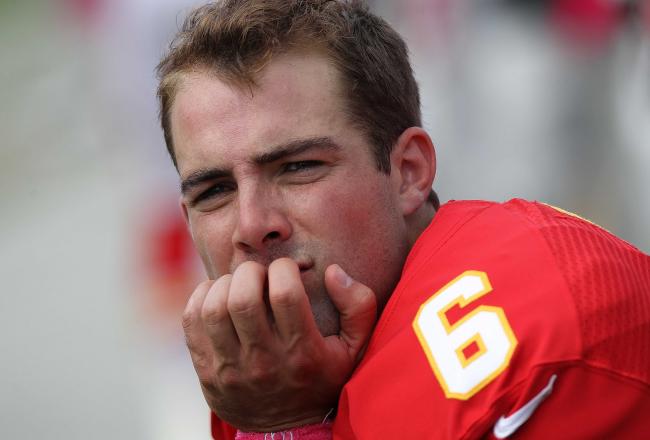 File this one under, "Can't make this stuff up."
Remember the Pittsburgh Steelers magical playoff run leading up to Super Bowl XL? I'm sure we all remember it like it was yesterday. Everybody also remembers exactly where and what we were doing when Jerome Bettis fumbled against the Colts, nearly blowing our shot at an epic upset and his chance to go out on top. In the days that followed, a story even surfaced of a man suffering a heart attack as the result of that play.
What I'm trying to say here is Steeler Nation takes their football seriously.
In what may go down as a new low chapter in Black and Gold fandom, a fan has actually filed a lawsuit against the NFL over the Steelers failing to make the playoffs. His argument? Thanks to the incompetent referees failing to notice San Diego had lined up in an illegal formation on Ryan Succop's missed field goal, the Kansas City Chiefs were unfairly denied a second chance to kick the Steelers into the playoffs. And he's right – even Andy Reid called time out after the miss to yell at the zebras for missing the blatant infraction of the rules.
Incredibly, the fan doesn't want free tickets or money for emotional distress. He's simply asking a federal judge – yes, he filed this in FEDERAL court – to suspend the NFL playoffs until Roger Goodell (who was named a co-defendant) either allows Succop to re-kick or the league sanctions a game between the Steelers and Chargers to determine the true #6 seed. The story is dated January 10th which means if the league/courts were to agree to this lunacy, there's no word on what kind of repercussions this would have for the playoff games already played. Does the winner of the Steelers/Chargers play-in game then have to play the Cincinnati Bengals since they were eliminated by San Diego? More importantly, would Cincy even want to suffer the indignanty of being eliminated twice?
Wait, the story gets even better…
Who is this diehard Steeler fan seeking to right the injustice of his team missing the playoffs? Why, it's Daniel Spuck of Mercer county.  Mercer County State Correctional Institute to be more exact. Yes, Mr. Spuck is an inmate at one of Pennsylvania's fine grey bar hotels, currently serving 11 to 22 years for third degree murder.
Like I said, can't make this stuff up.
Apparently, Mr. Spuck is what us fans of Oz know as "jailhouse lawyers." He has no formal law education or an actual attorney but spent enough time in the library learning how to file lawsuits that he's made something of a hobby of it. Naturally, most of his suits concern his treatment in prison or to overturn his conviction – an incident where he attacked two people, killing his wife's ex-husband before stabbing her (she lived). This time, the NFL's shoddy officiating so offended him that he was moved to put aside his personal concerns and file a hand printed lawsuit on behalf of the players, the team, and fans such as himself.
Well, I've always said the Steelers have the most dedicated passionate fan base in the NFL.