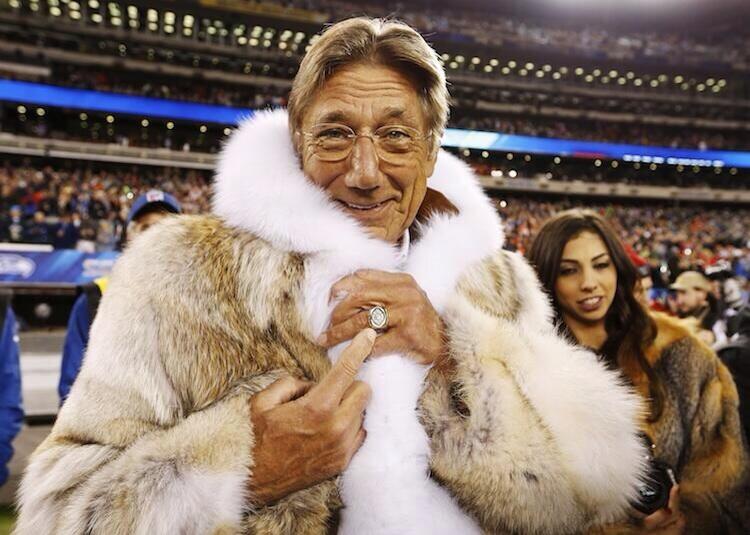 The 2013 NFL season officially came to an end last night with the Seattle Seahawks epic 43-8 ass-whuppin' of the Denver Broncos in Super Bowl XLVIII. In many ways, last night was something of a blast from the past. From Joe Namath big pimpin' the coin toss in his classic fur coat look to Bruno Mars and his shitty Motown ripoff gimmick to the utter one-sidedness of the final score, yesterday's Super Bowl was decidedly retro. And that's not even counting the night's best commercial which featured Alf, Jason Voorhees, and Hulk Hogan.
When I started watching football in the mid-80s, the Super Bowl pretty much followed the same pattern as we saw last night. The AFC would feature an offensive powerhouse who would go against a tough, defensive-minded NFC team and end up getting crushed. You youngsters out there have been spoiled as the last decade or so worth of Super Bowls have truly lived up to the hype. When I was a kid, it was usually a four hour one-sided beating.
The Seahawks dominating victory is good for fans of the Pittsburgh Steelers. Yeah, it was hard to root for Seattle considering Joe Buck began the game bringing up that Seattle fans continue to bitch and whine that the referees were responsible for the Steelers kicking their ass in Super Bowl XL. But if you were able to forget all that, Seattle was fun to root for because they play the way the Steelers used to. The Seahawks win by featuring a very good quarterback who makes the plays when they need to be made then turns the game over to a swarming suffocating defense and a hard-nosed running game to close things out. In many ways, Seattle is almost a carbon copy of a Bill Cowher era Steeler team.
Speaking of the Cowher era, the man who was at the center of that rushing attack for the majority of it got some bad news over Super Bowl weekend. For the fourth consecutive year, Jerome Bettis was not elected to the Pro Football Hall of Fame. For the Bus, it's sort of a good news/bad news situation.
Michael Strahan, Derrick Brooks, and Andre Reed headline the 2014 class which features a LB, two DEs, an OT, a WR, a CB, and a freakin' punter but no running backs. As I recounted in my previous post, the Hall of Fame voters have this weird thing where they don't like to induct more than one player from a certain position per year. So no running back is a double-edged sword for Bettis. On one hand, it probably means he's the odds on favorite to be the next RB inducted. On the other, it means with no other legit RB candidate on the ballot, the Bus still couldn't get elected.
The bottom line is Bettis is definitely a borderline candidate. Without going through his resume, he has some numbers (career rushing yards, longevity) that are HOF worthy and others (career yards per rush, total touchdowns) that are very good but not quite great. In no way is he a slam dunk choice and historically the voters tend to make those type of guys wait around for several years before they finally put them in. It also doesn't help that he played for the Steelers as everybody seemingly agrees the voters are aware of the overwhelming number of Black and Gold HOFers there are which makes them set the bar a tad higher for inducting yet another.
Perhaps the best news for Bettis – and bad news for another modern-era Steeler – is there is a dearth of good running back candidates in the pipeline. The only notable running back up for inclusion in the next few years is Edgerrin James and Bettis trumps him in nearly every category. With the modern era of football being much more passing oriented – thus leading to a glut of attractive wide receivers nominees which will likely keep Hines Ward out for awhile – the Bus should remain on the short list for inclusion for the foreseeable future.