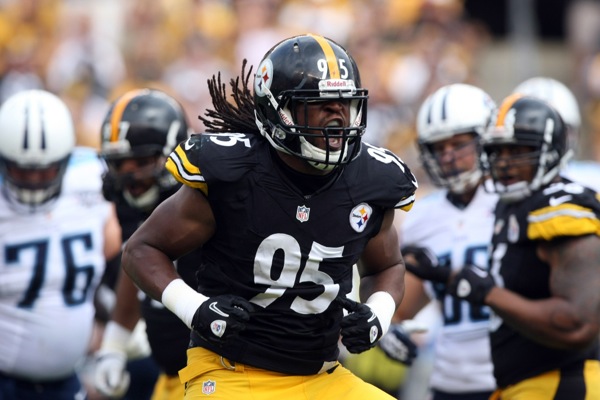 Jarvis Jones did not have a very impressive rookie season with the Pittsburgh Steelers. The Steelers first-round pick had just one sack and 41 tackles all year.
However, Dick LeBeau's defense takes time to get used to. Jones did not see a lot of downs early on in the season. In fact, Jones was benched in the game vs. Oakland and Jason Worilds saw 52 snaps compared to Jones' 11.
This is the year things could shape up in Jones' favor. Jones might have to carry the workload of LaMarr Woodley. The Steelers slapped the transition tag on Worilds on Monday, which means he's guaranteed $9.754 million in 2014 unless the Steelers work out a long-term deal with him.
Woodley, meanwhile, is set to count more than $13 million against this year's salary cap. Something's got to give.
Let's assume that Woodley is cut and Jones becomes the starter. Well, then he becomes the guy alongside Worilds to try and restore that great defensive reputation.
The Steelers defense has been known to be physical and flat out scary at times, but that didn't happen last year. The Steelers would have won more games had their aging defense performed better. Inserting guys like Shamarko Thomas and Jones could bolster the Steelers defense.
Not everyone has a great rookie season. When players get an opportunity after watching from the sidelines, some thrive off of it. Jones and Thomas may be guys that can do that in Dick LeBeau's defense. There were signs of hope toward the end of the year, especially from Cameron Heyward.
What Jones needs to do to make his mark is get to the quarterback faster. The guy has the size to muscle his way through and he's a physical specimen unlike some I've seen before.
This kid played in the SEC, college football's best conference, for two years at Georgia after starting at USC.
In his three-year college career, Jones accumulated 28 sacks, 168 tackles, and nine forced fumbles in 34 games. In those two years he played at Georgia, he was a consensus All-American. The kid is 6'2" and 245 lbs. If Jones can get more playing time this year and rise to the occasion, then the Steelers defense will be a lot better than it has as of late.
That may manifest itself into more wins for the Steelers. The Steelers have always been built around a good defense. Their offense has never been explosive, they don't have great fantasy players, but they get to the big one quite often.
With an improved defense and a replacement for Emmanuel Sanders, this team can go far in 2014.