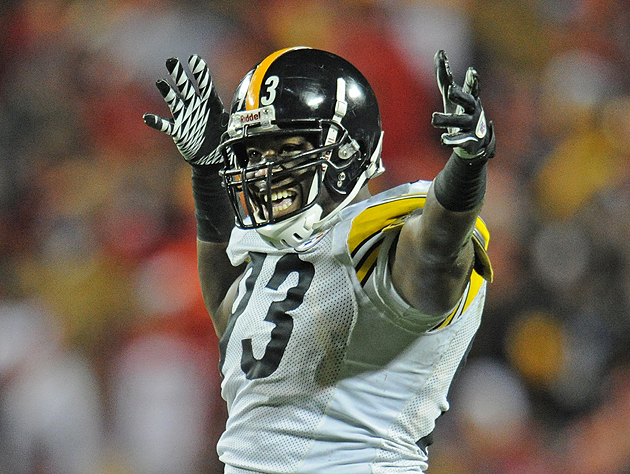 Well, that didn't take long. One might even say it was a quick trip around the worilds.
On Monday, the Pittsburgh Steelers placed their transition tag on free agent linebacker Jason Worilds. Yesterday, Worilds signed the one year $9.75 million contract that comes with being tagged. What this means is Worilds is no longer a free agent and guaranteed to suit up for the Black and Gold in 2014. It also means the Steelers have some work to do to get under the $133 million salary cap by next Tuesday's deadline.
First, let's examine what this means regarding Worilds. By not even talking to other teams to gauge his value, Worilds clearly didn't think a better offer was forthcoming. That being the case, it's pretty safe to assume his agents have some sort of basic deal in place for a long term contract with the Steelers. The quick signing also seems to indicate I was correct yesterday when I surmised the transition tag was just the Steelers way of of buying time until they could get all their salary cap ducks in a row.
Let's talk about the salary cap. Now that he's signed, Worilds officially counts against their cap. Most estimates had them somewhere between five and eight million over the cap when the $133 million number was announced. Assuming Heath Miller's rumored restructure knocks most of that off, they now have to lop off another $10 million to fit Worild's deal.
The three names frequently mentioned as rumored cuts are Troy Polamalu, Ike Taylor, and LaMarr Woodley. Troy can be cut outright with no dead money carrying over. Problem is, Troy played far better than the other two and was the defense's best – nearly only – playmaker. What's more, would the Steelers really want to go into next year starting two new safeties with Ryan Clark almost certainly not coming back?
Which leaves us with Ike and Woodley. Ike is due to make $7 million, far too much for a player in obvious decline. However, cutting him would still leave a giant hole in the secondary. Cortez Allen is a solid starter (when healthy) but who else do the Steelers have? William Gay? Please.
Woodley is the most obvious candidate although his release presents some problems, as well. The good news is only $5.6 million of his $13 million salary would count against the cap if he's cut. The bad news is he'll also count a whopping $8 million against the cap in 2015. That's a lot of dead money for a team in need of reloading on both offense and defense.
There are some other quick fixes the Steelers could use. Cutting massive bust Levi Brown frees up an easy $6 million. Employing Omar Khan's favorite trick of converting salary to signing bonus could knock another several million off. Then we have Worilds, who could sign a multi-year deal that significantly lowers that $9.75 million transition tag number.
However they do it, the Steelers have to not only get under the cap but a good bit under it. They need a chunk free to sign impending draftees and they also need to sign/re-sign some free agents as they currently have only two WRs, one RB, and one DE under contract. I guess we'll have to wait and see how they address this situation.
See you next Tuesday.