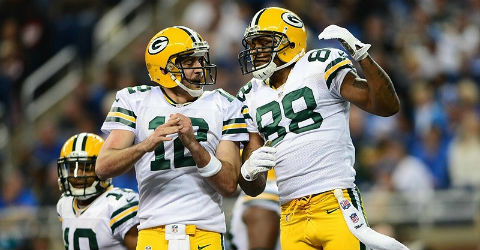 Free agent tight end Jermichael Finley is drawing interest from the Pittsburgh Steelers.
Ben Volin of the Boston Globe tweeted as much on Friday. Of course, Finley is also drawing interest from plenty of other teams.
I'm told that TE Jermichael Finley, still not medically cleared, has drawn interest from the Jets, Chiefs, Seahawks, Giants and Steelers

— Ben Volin (@BenVolin) March 7, 2014
Finley suffered a neck injury last year that required spinal fusion surgery. He's been cleared for everything football-related except full-contact drills.
This isn't the first time he's been injured either. In 2010, Finley also suffered a knee injury that required surgery and resulted in him missing most of the season.
Finley is a great tight end. However, he can be a streaky player. At times, he is known for dropping balls he should catch and other times catching balls that are poorly thrown.
If I'm GM Kevin Colbert, I would stay away from Finley. The kid has a tremendous upside, but I see no room to improve. All the potential in the world, but it would be an extremely risky signing considering his past injury history and his inability to be trusted.
It seems to me that the reason the Steelers would look at a tight end is to develop someone alongside Heath Miller for when he leaves and/or retires. Miller is 31 and recently restructured his contract with the Steelers. He's locked up for three more years. However, he very well could walk away from the game at before his deal is up.
Another possibility for the Steelers is to try to make Finley a wide receiver. That would add depth needed due to the current situation with Emmanuel Sanders. It is likely Sanders will be gone after a sub-par 2013 season.
The best option for the Steelers is the one that benefits them financially. The Steelers have made some cuts — LaMarr Woodley most recently — to free up cap space. If Finley signs for the right price then the Steelers can go ahead and do what they please. Whether that's adding a tight end to their offense or moving him to wide receiver.
If plan A does not work, the Steelers could also pursue a tight end in the draft. I'm beating a dead horse, but this is a very deep draft class.
The Steelers most likely could snag Austin Seferian-Jenkins from Washington or Troy Niklas from Notre Dame.
Those guys are second rounders so it just depends on what the Steelers are looking for at the time. I would rather see them pursue a defensive end and a defensive back. The Steelers struggled more on defense than offense last year.
Finley will probably go elsewhere seeing that the Steelers will find a replacement for wide receiver. Whether that be Markus Wheaton, someone from the draft, or a combination of both, I would rather see the Steelers spend that money on someone else.
My best-case scenario is that the Steelers pass on Finley and then snag a wideout and defensive lineman in the first two rounds of the draft.