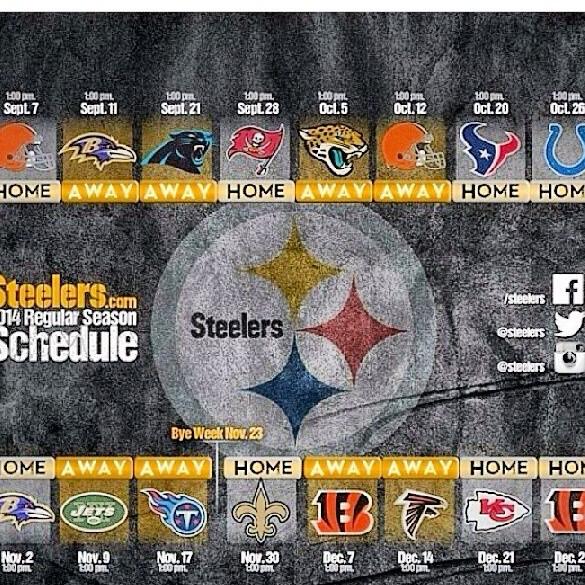 Smell the excitement!
Amid much fanfare and anticipation, the NFL unveiled the complete schedule for the upcoming season. Which means we have our first look at the Pittsburgh Steelers 2014 schedule. It also means in the days to come some goofs at other sites will attempt to "analyze" the schedule, perhaps wasting your time with win/loss predictions or even offering extremely premature game previews. Needless to say such posts are ridiculous. When last year's slate was announced, who could've predicted the Steelers would lose to the wretched Minnesota Vikings or foresaw them being beaten on a cold wintry day by the sun lovin' Miami Dolphins?
I really don't understand why the NFL makes a production out of releasing the schedule. We already know most of the teams we'll be playing well in advance. Every division plays all the teams in their division twice, then they play all the teams in one division within their conference and one division in the opposite conference. Since this rotates on an annual basis, we already knew the Black and Gold were due to play the NFC and AFC Souths.
The only mystery on any team's schedule are the two "at large" games the league claims they assign based on the prior year's record. In actuality, I think they cherry-pick match-ups they think will hold some sort of television appeal. For the Steelers, our at large opponents are the New York Jets and Kansas City Chiefs. I'm not quite sure how our 8-8 record means we match-up with a team that won 11 games and made the playoffs but there's a nice revenge storyline there as we seek vengeance on fat walrus Andy Reid and his gang of choke artists for pissing away that game in San Diego which would've sent us to the Wild Card game.
Analyzing the schedule beyond that is pretty much pointless. I mean, last year people thought Houston was a Super Bowl contender and this year they'll almost be in a full-fledged rebuild with (probably) a rookie starting quarterback. Atlanta is another would-be Super Bowl contender who inexplicably imploded to only win four games last season. While they didn't blow their team up, who knows what to expect from them in 2014. Pretty much any of our opponents could be good this season – except the Jaguars, they'll always suck.
The only things we can say for certain about the Black and Gold's 2014 slate is getting off to the same horrific start as last year would be extremely bad because our first two games are against Cleveland and Baltimore. The other thing we can say is the  bye week coming all the way at the end of November looks to be a fortuitous break as nothing beats resting up for the home stretch. Provided of course the Steelers have something to play for in the final month of the season.