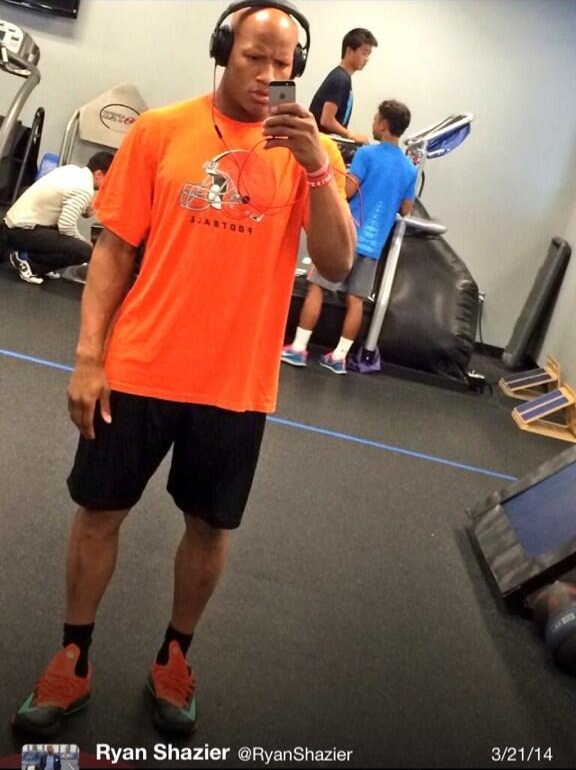 Ryan Shazier
ILB  Ohio State
6'1  237 pounds
As promised, our complete Pittsburgh Steelers 2014 Draft Recap kicks off with a first round pick that has generated more debate among Steeler Nation than any in recent memory. I already discussed Shazier in depth a couple days ago so no need to rehash it here. What we know for sure is he's a freaky athlete with tremendous speed and athleticism. The team projects him at inside linebacker where best case scenario he matures into something of a Lawrence Timmons clone. Hopefully he doesn't take as long to develop. Concerns are he's undersized and not particularly strong – unless he's given clear gaps to run and make plays, some wonder if he'll be able get past NFL sized offensive linemen.
If Shazier becomes the versatile heat-seeking missile at linebacker some think he's destined to be – think the Troy Polamalu of linebackers – this'll be a fantastic pick. The Steelers D desperately needs young playmakers and Shazier has the potential to be one. By bypassing cornerback, Kevin Colbert and Mike Tomlin clearly think the ceiling was too good to pass up. Time will tell if they were correct.
One thing's for certain, somebody better tell Shazier to burn that t-shirt.
ROUND 2: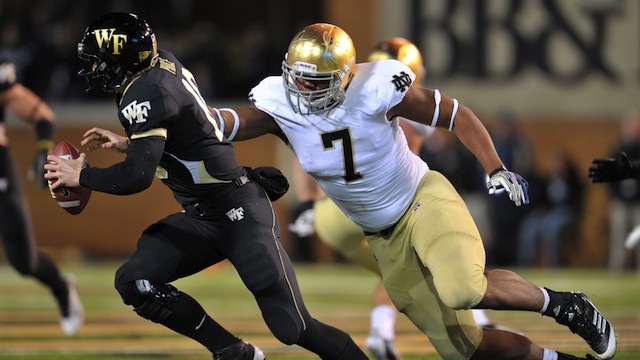 Stephon Tuitt
DE  Notre Dame
6'5  305 pounds
Again, another pick I already analyzed thoroughly. Broke his foot and couldn't participate in either the Combine or Pro Day which many draftniks blame for a guy with first round talent falling to the middle of the second. A beast with long arms and great strength who'll be stout at the point of attack. Not the greatest pass rusher but somebody who should help the run defense immensely. Very similar in body type and playing style to Cam Heyward. Will almost certainly get a shot at starting at DE opposite Ironhead Jr, probably as soon as this season.
ROUND 3:
Dri Archer
RB  Kent State
5'8  173 pounds
Another polarizing pick. The Steelers undoubtedly needed a third down change-of-pace back and Archer is certainly that. Ran a blazing 4.28 40 at the Combine which puts him among the fastest players ever clocked. Biggest concern is he's very small even by scatback standards. Archer also isn't particularly strong with knocks against him for being rather easy to bring down and a propensity for fumbling. We all know nothing gets you in Tomlin's mythical doghouse faster than putting the ball on the ground.
In his favor, saying he's a potential home run hitter is like saying Pedro Alvarez has a little pop in his bat.  Archer can fly and his great hands – he started over a dozen games at slot receiver – mean he can be a weapon out of the backfield or lined up at wide out. Perhaps his greatest value will be in the return game. He's an accomplished kick returner who should be given every opportunity to take that job away from Antonio Brown, who is far too valuable to risk on special teams.
ROUND 4:
Martavis Bryant
WR  Clemson
6'4  211 pounds
Finally, some guys I haven't analyzed yet!
When this pick was announced, I could almost hear Big Ben shouting "YES!" from his favorite chair in that trophy-laden den of his. Let's just hope Bryant works out better than the last "big receiver" the Steelers took a flier on.  Not to jinx him but I have to admit to groaning when I read the scouting report on Bryant and the first thing listed under Weaknesses was, "Shaky hands." I sure hope the kid comes down with the first wide open bomb thrown his way or else the Sweed Flashbacks will be relentless.
There was an unprecedented run on WRs in this draft which means Colbert either found a guy who is deeply flawed or a hidden gem. Looking at his measurable, it's kind of surprising he lasted all the way to round 4. A skyscraper who weighs 200+ pounds yet runs a 4.42 40 almost looks too good to be true. He was among the nation's best in terms of yards per catch which means he's a certified big play receiver. The Steelers want a tall guy mostly to provide a red zone threat – where Bryant supposedly excels  – but to get one who doubles as a deep threat is like twice the value. The biggest knocks on him – besides concerns that he's a receiver who can't, you know, catch – are he's lazy and not very tough. I'm not really worried about him falling asleep during meetings or throwing crack back blocks on run sweeps, those things can be corrected through discipline and coaching. I just hope he can hold on to the damn ball.
ROUND 5: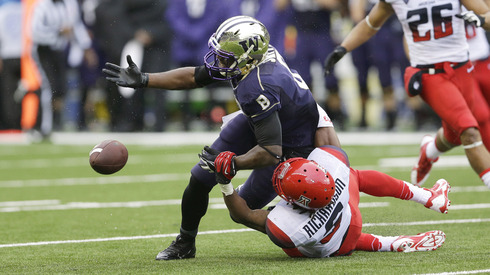 Shaquille Richardson
CB  Arizona
6'0  194 pounds
A cornerback! Yay!!!!!!!!!!! Who cares if he's prone to five finger discounts?
The Steelers have a project here, in terms of both character and skill. Again, there was a huge run on DBs in this draft so by taking one some 200+ picks later than everybody expected them to, Colbert ended up with a guy that has potential but comes with a lot of warts. The term "workout warrior" applies here as Richardson has the kind of size and athleticism (4.43 40 time with a 38 inch vertical) you see in higher round picks. When you watch his tape, though, you see an unpolished occasionally undisciplined player who gets by through superior physical talent.
Make no mistake, this is totally a Carnell Lake special. Lake recruited Richardson to UCLA, where he was kicked off the team after being arrested on suspicion of felony theft. Lake clearly asked for this kid because he thinks he can coach him up on the field while keeping him on the straight and narrow off it. Richardson shows flashes of big time ability so if Carnell can work his magic, the Steelers could definitely have something. The raw material is there, let's just hope the all-time Steeler great can get it out of him.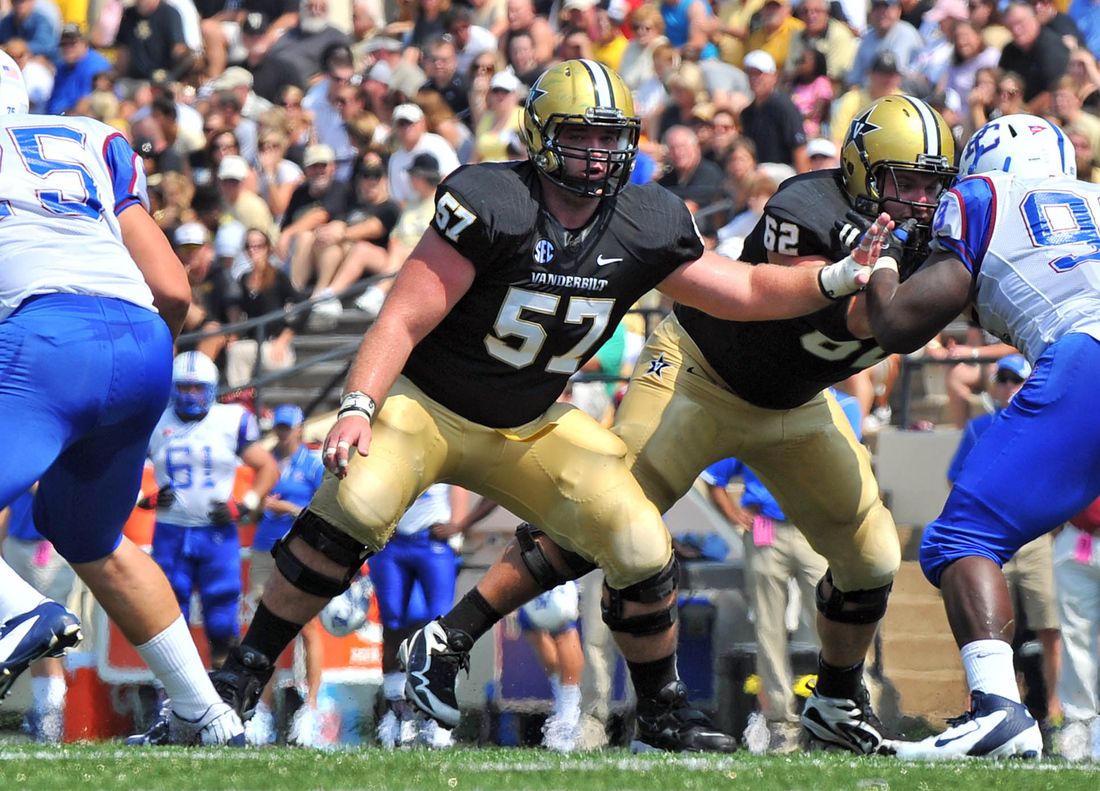 Wesley Johnson
OT  Vanderbilt
6'5  297 pounds
One of the more intriguing prospects in our group of draftees. Started every game at LT the past two years and never got called for holding while only allowing two sacks. Has also started multiple games at guard and center. Very reminiscent of Kelvin Beachum, arguably our best all-around lineman. His smallish size – for an OL – and short arms lead many to predict his NFL future is at guard or center. I think for the time being the Steelers are hoping he can be another super-sub who can come in and play wherever he's needed whenever he's needed ala Beachum. Had the best broad jump and cone drill of all lineman at the Combine so he has good footwork and plenty of athleticism. If not for concerns over Johnson's size and lack of strength – he isn't the most stout at the point of attack – would've been a much higher pick. Put him on whatever program morphed Beachum from a 7th rounder into a starting LT and who knows what we might have.
ROUND 6:
Jordan Zumwalt
ILB  UCLA
6'4  235 pounds
Not to dredge up the past (again) but let's hope this pick works out better than our last UCLA linebacker – Bruce Davis. I'm not optimistic. Scouting reports repeatedly use the words, "special teams" which suggests to me he's seen more as a depth back-up/special teams ace than a potential starter. His positives lean heavily on things like character, intelligence, and a fiery demeanor on the field. Sounds like the recipe for a coverage gunner to me. Lacks things like strength, speed, or athleticism that you'd look for in projecting him as a potential starter.
Like the other ILB we took, this pick is a bit of a head-scratcher in that if any of our 2014 draft picks gets cut in preseason, Zumwalt is the likely casualty. Nothing against him, it's just a numbers game. The Steelers signed former Bill Arthur Moats as back-up at both inside/outside LB to go along with incumbent starter Vince Williams. Their first round pick was an ILB and they continue to talk about the impending return of 2012 third rounder, Sean Spence. Even if we put Moats at OLB, that's already three guys at ILB not counting Terence Garvin (or Timmons). I'm not optimistic about Spence – dude'll probably stub his toe getting out of bed and go on IR for another year – but the Steelers carried him this long, I'm sure they're going to give him a shot. I guess what I'm saying is Zumwalt better cover those kicks with reckless abandon if he has any hope of making this team.
Daniel McCullers
NT  Tennessee
6'7  352 pounds
The reason I qualified Johnson as "one of" our most intriguing choices is because of this monster right here. As you can see from the picture, he certainly fits the mold of a Steelers nose tackle. Only played two years of major college football so that partially explains why he was a late round pick. Due to his limited experience is pretty raw with a real need to be taught better fundamentals and mechanics. As I said last time we took a nose tackle, though, you simply can't teach size. McCullers has the body type you imagine when draw up your ideal 3-4 nose tackle. He has long arms, thick legs, and a Kardashian ass – all of which contribute to being your prototypical space-eater. His knocks are mostly things that go along with the position – not much of a pass rusher (not a priority in the Dick LeBeau D) and a tendency to put on too much weight (he supposedly ballooned up over 400 pounds after high school). Those are concerns but minor ones. Right now the only major worry is his mechanical flaws in terms of proper footwork and pad leverage. If he can overcome those the Steelers might've plugged up the huge leak in middle of their defense.
ROUND 7:
Rob Blanchflower
TE  Massachusetts
6'4  256 pounds
Well, it wouldn't be a Colbert draft if we didn't take at least one tight end. I pity the seamstress who has to put that name on the back of a jersey. Reading his scouting report, Blanchflower sounds like a carbon copy of Matt Spaeth. Very big and strong for a tight end. Aggressive tenacious blocker in the run game and holds his own at pass pro. Not a great pass catcher but has decent enough hands. Lacks the speed and athleticism to be a real receiving threat but is the type that you can sneak out in the flat to catch the other team off-guard. Has special teams experience so can help out there. As you can tell from the pic, he's a high character guy who was a two year team captain for the Minutemen.