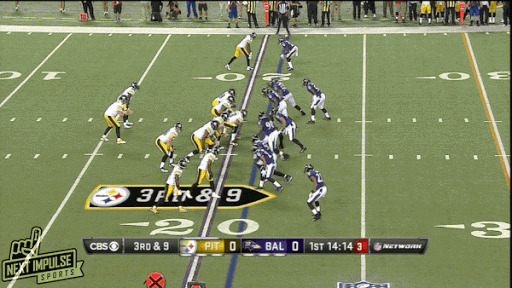 Maybe Ryan Clark wasn't so bad after all…
After a week dominated by the Ray Rice controversy, the Baltimore Ravens came out and crushed the Pittsburgh Steelers 26-6 on the inaugural edition of CBS Thursday Night Football. Towards the end of the game, commentator Jim Nantz said the Ratbirds were "galvanized" by recent events proving nothing brings a team together better than a wife-beater. Then the players themselves did Nantz one better by dedicated yesterday's performance to Rice, poor unfairly maligned soul that he is.
Stay classy, Baltimore.
Shenanigans aside, this was about as putrid a performance from the Steelers as I've seen in a long long time. They put together a nice opening drive – albeit one aided by a 15 yard personal foul where Ben Roethlisberger got absolutely hammered by Courtney Upshaw only to pop back up like it was no big deal – only to squander the chance to take an early lead when Justin Brown fumbled the ball inside the red zone. Baltimore took the turnover back for a touchdown of their own and the route was on. Okay, "route" might not be the best choice of words since the Ravens didn't exactly set the world on fire, managing only a 10-3 lead at halftime.
Still, the Steelers played poorly in nearly every conceivable way. I've seen a few people actually float the notion the defense played a bit better this week. Insanity. Baltimore scored on six of their ten drives. Granted, four times they were held to only a field goal, a decent feat considering several of those drives started in Steeler territory. However the bottom line is all the problems they had this year continue to crop up: Baltimore backs combined for nearly 150 yards on the ground and, more alarmingly, the defense once again recorded zero sack and zero turnovers.
As bad a coach as Mike Tomlin is, people have to start asking questions of GM Kevin Colbert. He continually gives out big money contracts to guys who then go out and underperform. Last night's examples were CB Cortez Allen and S Mike Mitchell. Allen missed a tackle on Steve Smith and then was called for two big penalties – a facemask and pass interference – that all but handed Baltimore a TD on that opening drive. Although as bad as he played, his game performance was sterling compared to Mitchell's. All the things we hated about Ryan Clark last year – missing tackles, getting out of position, taking stupid penalties – Mitchell provided in his place. Okay, the personal foul on the goal line was a bit ticky tacky but that doesn't justify him being totally out of position and leaving Owen Daniels wide open for a TD two plays later.
When Ike Taylor is your team's best cornerback, something is rotten in Baltimore.
While the defense continues to have issues, the offense did them no favors this week. Antonio Brown missed a good chunk of the first half undergoing the NFL's mandatory concussion testing so in that sense I can forgive them sputtering through the first two quarters. But field goal, punt, fumble, punt, pick in the second half is inexcusable. To paraphrase a Tomlin cliche, this team isn't good enough to overcome so many "self-inflicted wounds." Justin Brown really shouldn't be playing although when even trusty veteran Heath Miller is putting the ball on the ground, you know it's probably not your night.
The Steelers need Lance Moore – and to a lesser extent, Dri Archer – back in the worst way. I always figured losing the Cotch Rocket was going to hurt but without him or Moore, the Steelers are getting next to nothing from the slot receiver position. Le'Veon Bell did what he could but our offensive line couldn't really match up with Baltimore's front seven. At one point, Marcus Gilbert – another recent recipient of Colbert's Monopoly money – got thrown to the ground like a sack of potatoes by Elvis Dumervil on his way to sacking Big Ben.
There's going to be a lot of ire directed at Todd Haley after his offense could only manage a feeble 6 points but this was a total team failure. I know yinzers love to play "Blame the coordinator!" when things go wrong and while some of his playcalling – particularly his insistence on establishing the run – were frustrating, I'm pretty sure his game plan doesn't call for Brown and Miller to kill drives with ill-timed fumbles or for AB to miss a big chunk of the game undergoing tests. The offense is still the strength of this team but what yesterday showed was outside a couple big time playmakers, this unit can't dink and dunk the ball down the field with any consistent results.
Perhaps the most disturbing aspect of last night's performance was how reminiscent it was of last year's horrific 0-4 start. Last year, the defense couldn't generate turnovers and couldn't pressure the quarterback. Check. They couldn't stop the run. Check. The offense continually shot themselves in the foot with miscues and turnovers. Check. And, to bring things around full circle to last season's poor start ,the Steelers played a sloppy undisciplined style of football which resulted in them being highly penalized. Yesterday, 9 penalties for 75 yards.
The Steelers have a long week to get back to the drawing board before playing yet another prime time affair against the Carolina Panthers two Sundays from now. After that, they go through the cupcake portion of their schedule facing the Bucs, Jags, and Browns. Given how they've performed over the past game and a half, I'd be hard-pressed to call any of those games gimmes at this point. Unless they right the ship soon, we're going to be in for another long season.