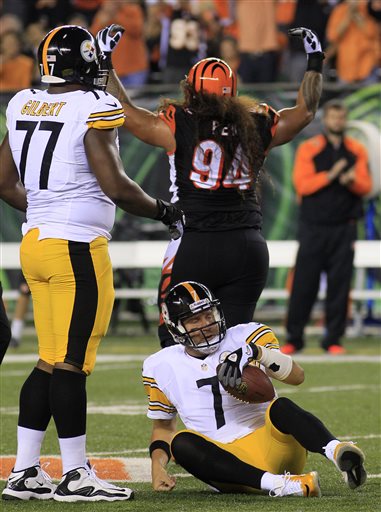 Tuesday was Pittsburgh Steelers head coach Mike Tomlin's press conference. I talked a bit about the nonsense that tends to come out of Coach T's mouth yesterday. One thing I neglected to mention was an entire line of questioning from the local media cheerleaders/reporters regarding whether a benching might be in order for right tackle Marcus Gilbert. Gilbert, it should be noted, has already surrendered four sacks through the first two games.
For his part, Tomlin said he has nothing but faith in Gilbert, even likening him to movie icon Rocky Balboa.
I'm not going to get into the whole issue of whether Gilbert should start or sit. I did that last year and it took five weeks and four losses before Tomlin decided that maybe it was time to tweak the line-up. Gilbert's going to play and play and play some more until (unless) he proves to be a total liability. What I'm interested in is the reason the Steelers will afford Gilbert all this leeway.
You see, the Steelers have precisely $30 million reasons to give Gilbert a very long leash.
That's how much they gave him this past off-season when they signed him to a six year extension. At the time, I thought the contract was insane. Gilbert was a second round pick that was groomed to be the franchise's left tackle. He failed miserably in the role – as did fellow second round pick Mike Adams – before sixth rounder Kelvin Beachum finally stepped in to lock down Big Ben's blind side.
Ordinarily, teams would rush to lock up their left tackle seeing as that's one of the most important positions on the field. Not that long ago, a big chunk of the Steelers salary cap went to left tackle Max Starks, who kept getting Franchise tagged when the two sides couldn't agree on a deal. Mark my words, the team is going to end up in a similar boat with Beachum in the not too distant future. After all, if you give a mediocre right tackle $30 million, how much is your left tackle worth?
That aside, I really don't understand why GM Kevin Colbert and Mike Tomlin continue to spend valuable salary cap space like drunken sailors on shore leave in Bangkok. Gilbert played decently down the stretch last season but there's literally thirty guys out there who could play his position at least as well if not better. What was the urgency to lock up a right tackle? Other than the fact he was a Tomlin/Colbert pet project and neither man wanted to admit they wasted their time on a dud.
I shouldn't pick on Gilbert because his contract is far from the only one that makes the Tomlin/Colbert regime look bad. And I say Tomlin/Colbert because make no mistake, the Steelers give the head coach nearly as much say in personnel decisions as the GM. Ever since Bill Cowher cut Jamain Stephens fat ass lose on the first day of his first training camp, our head coach has been given a good amount of power over who is on the roster. Which is a good thing provided you have a coach who knows what he's doing.
Given the early returns from Tomlin/Colbert's recent signings, I'm not so sure they do. The team's secondary play has been atrocious which is disturbing considering they gave out five year $25 million contracts to two players this off-season. CB Cortez Allen had a tough second half against Cleveland and followed that up with another poor performance against Baltimore. He's certainly better than Ike Taylor or Willie Gay but that's damning with faint praise.
Then there's safety Mike Mitchell, brought in to replace Ryan Clark, who has morphed into his clone. Despite being signed early in the free agency period, Mitchell still doesn't seem to understand Dick LeBeau's defense. He's constantly out of position and on those rare occasions he's where he's supposed to be, he ends up missing the tackle anyway. Clark was useless then compounded the problems by running his mouth to the media at every opportunity. Mitchell isn't a loudmouth idiot – off the field – but he seems to be one on it. After getting called for an admittedly weak penalty, he spent the next 10 minutes whining and pitching a fit instead of getting his head back in the game. Look, the NFL has the worst officials in all of sports but at some point you need to quit bitching about a bad call and go back to work. The Steelers committed a pretty good chunk of money to this guy and based on the early returns, they may have just bought themselves a lemon.
Which are exactly the kind of mistakes this team can ill-afford. When you're rebuilding – and make no mistake, the Steelers are in the process of rebuilding. Perhaps not a top-to-bottom overhaul like a truly rotten team but when half your starters on defense are different from last year, it's a rebuild – you can't afford to waste money on bums. The key to any sort of sustained success in the NFL is identifying which players you need to pay to keep and which you can afford to let go. If you try paying everybody or pay the wrong people, you end up exactly where the Black and Gold have found themselves: old, slow, and overpaid. And that's a recipe for mediocrity.