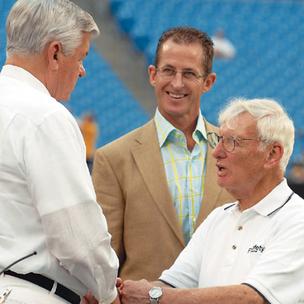 Finally, a game that counts!
The Pittsburgh Steelers play yet another prime time game this week, meeting the Carolina Panthers on NBC's Sunday Night Football. The two teams aren't exactly strangers to one another considering they play each other every year in the preseason. See, the Rooney family and Panther owner Jerry Richardson are old friends – it was Dan Rooney who championed Richardson's entrance into this most exclusive of boy's clubs – and I guess they get a kick out of knocking back snifters of brandy while their teams play a meaningless exhibition game every year. Rich people, go figure.
Anyway, thanks to the NFL's trusty rotating schedule, the Rooneys and Richardson get to light each other's cigars with hundred dollar bills twice this year as the Steelers and Panthers meet during the regular season. Not just in any game, too, but in the league's showcase Sunday night slot. While the season is still young, it's also a pretty critical game for both teams.
In a season filled with mediocrity – almost everybody is 1-1 – the Panthers are one of the few to start off the year 2-0. Their first game was against a hapless Buccaneers team that they won even though superstar quarterback Cam Newton didn't play after fracturing his ribs in the preseason. Newton returned last week looking none the worse for wear, shaking off some early rust to lead his team to a 24-7 whuppin' of the Detroit Lions. Newton through for 280 yards and ran for 20 more as he continues to be one of the better multi-purpose quarterbacks in the league.
Early on, Newton struggled with getting a knack for the whole passing thing. Last year, he finally turned a corner, setting career marks in completion percentage and TD passes while also rushing for nearly 600 yards. Newton's morphed into almost a Ben Roethlisberger clone, a big strong dude who is at his best when making things happen on the fly. Of the three QBs the Steelers defense have faced thus far, he's by far the most dangerous.
Which isn't to say the Panthers have the best offense. They've put up points but there were question marks after an off-season which saw their wide receiver ranks absolutely decimated. As we are all too aware, Steve Smith has taken his talents to Baltimore leaving behind a receiving corps filled with cast-offs and youngsters. One of the newcomers is our old friend, Jerricho Cotchery, who cashed in on his brilliant season last year for the Steelers. He's joined by former Eagle Jason Avant. Although perhaps the most talented of the bunch is rookie Kelvin Benjamin, a 6'5 skyscraper that a lot of people had going to the Steelers in last year's draft. Also don't sleep on TE Greg Olsen, a very capable pass catcher in his own right.
The Steelers run defense has been atrocious this year and if they don't figure something out quick, this week has the potential to be all kinds of ugly. Carolina has guys who can tote the rock. Jonathan Stewart is an excellent featured back who can easily burn us all on his own. He's backed up by Mike Tolbert, a pretty decent second stringer. Then you throw in Newton, who loves to make things happen with his feet. There was some good news when Steve McClendon returned to practice –  not that he's making anybody forget Casey Hampton – and should be able to play Sunday. Even with him back on the  line, I expect Carolina's going to find some major running lanes.
Of course, the defense needs to improve in pretty much all areas. We're two weeks in and they still haven't forced a turnover nor sacked the quarterback. Newton got sacked five times last week although I don't know if that indicates a weakness in the line or just that Newton got caught on designed scrambles. What I do know is Carolina didn't turn the ball over last week. At some point the Steelers defense needs to make some big plays because as we've seen it's just too hard to expect to offense to keep putting together one long sustained drive after the other.
Not that doing that will be a picnic this week. The Panthers resurgence last year was due primarily to two things, Newton and a really tough defense that finished ranked second overall in the league. They've gotten off to a pretty good start this year, holding a pretty potent Detroit offense to only one score. The fact Megatron finished the game with only 83 yards qualifies as nothing short of miraculous. One bit of positive news is the Steelers offensive line won't have to conted with All-Pro DE Greg Hardy, another in a long list of NFL woman abusers, was placed on the Exempt List because this is a prime time game and the last thing the NFL and it's corrupt see-no-evil commissioner need is a national audience seeing another wife beater running around with impunity.
Even without him, though, the Panthers defense has plenty of playmakers. Defensive lineman Charles Johnson is an absolute beast. Linebacker Luke Kuechly is a tackling machine. I already mentioned the job their underrated secondary did on Calvin Johnson. Big Ben, Le'Veon Bell, and Antonio Brown will have their work cut out for them. If we've learned anything this year, it's that the defense isn't going to win us games – we're going to win by bringing the firepower on offense. Last week our firepower was more like a couple sparklers waving in the breeze. It'd certainly help if Todd Haley's boys could avoid the kind of dumb drive-killing turnovers that crippled their efforts last week. Still, two measly field goals against a pretty mediocre Baltimore offense is inexcusable and if they produce a similar effort against Carolina, look for the cries of a million outraged Yinzers to grow even louder.
Like I said last Thursday, this season is young so it's hard to place any grand importance on any one game. At the same time, the Steelers really do seem to be at a crossroads. They came into the year with fresh faces and all kinds of optimism. That era of good feeling lasted exactly one half. Since halftime of the opener against Cleveland, the Black and Gold have ranged from mediocre to flat out awful. If they don't start moving in a positive direction, one good drive, one good defensive series at a time, this season may soon spiral out of control. And none of us want to see that.