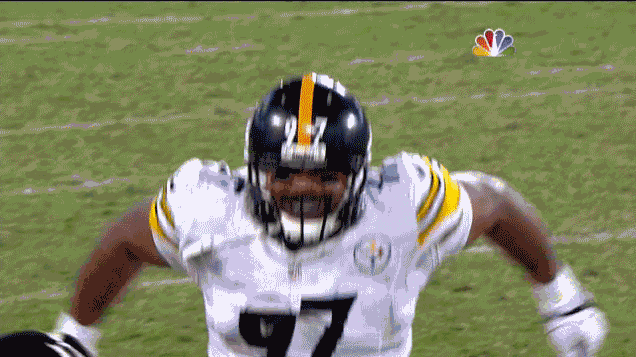 Sometimes it's better to be lucky than good.
Lady Luck must have been one of the several thousand Black and Gold clad fans who invaded Bank of America Stadium last night to watch the Pittsburgh Steelers steamroll the Carolina Panthers 37-19. To say the Steelers got some breaks would be an understatement. Or, in the case of poor Ike Taylor, a statement you could take quite literally.
Ike broke his arm early in the second half when Lawrence Timmons came flying in to clean up on a tackle he was making. People on twitter were eulogizing the end of Swaggin' Ike's career but I'm pretty sure we'll see him again – this year actually. In my totally amateur medical opinion, I imagine if they put a pretty thick cast on there and gave the bone a chance to set, he could come off short term IR. I've seen defensive lineman play with their arms in those club casts and while I understand corners need to hand fight/pass break up, I don't see where this injury significantly hampers him except in tackling.
Ike wasn't the only player who fell yesterday as last night's game at times resembled a Steelers-Ravens bloodbath with bodies littering the field left and right. The two guys the Steelers lost also happen to be our last two first round picks: Ryan Shazier and Jarvis Jones. Shazier was also victimized by Timmons, who did more damage to his own team than he did to Carolina yesterday. His right leg got rolled up on and he was later seen on the sideline wearing a knee brace. Earlier in the game, Jones left with some sort of wrist/hand injury of unknown severity.
I don't wish injury on anybody but in some ways, the dual linebacker injuries may have been a blessing in disguise. The back-ups actually played better than the starters with Arthur Moats immediately sacking Cam Newton and Sean Spence – finally playing significant minutes in the NFL after his long battle with injuries – did a really nice job in run support. Ike's loss appears to be the most damaging as Antwon Blake came in to play nickel with Willie Gay moving up to CB2 and did not look good. Actually, neither did starter Cortez Allen, who followed up his horrid performance in Baltimore with another shaky effort.
Going in to this week, the Steelers defense had zero sacks and zero turnovers. They finally got off the skid in both areas, albeit with a ton of luck. Jones got credited with a "sack" on the team's first fumble recovery of the season but the play was pure good fortune. Jones bullrushed the lineman who sort of blocked him into Newton, who then hit Jones' shoulder as he cocked back his arm causing the ball to pop out. The Steelers got another huge break early in the 4th on Robert Golden's kickoff fumble recovery-TD. Carolina's returner muffed it without being touched, then it popped loose from a couple Panthers durng the ensuing scrum until Golden managed to fall on it in the end zone.
As if those two huge breaks weren't enough, the Steelers offense got one of their own. After not scoring a single touchdown for the equivalent of two games (8 quarters) dating back to the second half against Cleveland, the Steelers looked ready to continue the misery despite starting at the Panthers 17 following the Newton turnover. The Black and Gold were forced to settle for yet another field goal when a Carolina player – actually two – jumped off-sides for no apparent reason. The five yard penalty was enough for a first down and Ben Roethlisberger FINALLY cashed in with a beautiful back shoulder throw to Antonio Brown in the corner of the end zone.
The offense did show flashes of brilliance last night, particularly in the running game. The Doobie Brothers backfield lit Carolina up. Le'Veon Bell and LaGarrette Blount became the first pair of Steelers backs to rush for over 100 yards in the same game in 28 years. Despite Big Ben hooking up with AB for two classic "sandlot Ben" style TD passes, the highlight of the game was Bell busting one up the gut for an 81 yard romp reminiscent of Fast Willie's Super Bowl run. It was the longest regular season run since Frenchy Fuqua had an 85 yarder back in 1970.
How do you like Stiller Football now, Haley Haters?
We're three weeks into the 2014 season and I really have no idea what to expect from this Pittsburgh team. The defense looked better last night although Newton was clearly playing hurt, every one of their 35 running backs pulled up lame, and two of their top receivers didn't even suit up. Meanwhile, Carolina's defense was pretty much at full strength yet our offensive line basically mauled them. Last year it took almost half the season before the offense clicked into gear – if yesterday was any indication, the Steelers are going to be hard to stop with an elite QB throwing to an elite WR while being supported by an elite RB.
It'd be silly to expect this team to get all the breaks they got yesterday but after seemingly an endless number of weeks where every tipped pass or dropped hand-off found its way into friendly hands, it's nice to finally have the ball bounce our way for a change.