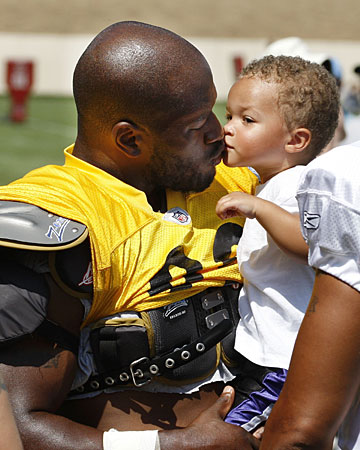 So anybody else hear that Derek Jeter is retiring?
Of course we've had nauseating tributes to Jeter crammed down our throats all season long. While I couldn't care less about the Yankees or the glorification of their overrated players, Jeter's story is notable in one regard. He's walking away of his own free will. When it comes to professional sports, more often than not athletes have to be dragged away from the game kicking and screaming.
I've been alive for all six of the Pittsburgh Steelers Super Bowl victories but I'm too young to remember the majority of the Steel Dynasty years. What I do remember quite vividly is a KDKA interview with Terry Bradshaw, who told this story of waking up feeling like a million bucks and then asking a ranch hand to run twenty yards down to the fence and button hook back towards him as he threw a football. The part I particularly remember most vividly is Terry saying how as soon as he let the ball fly his balky elbow told him it was time to retire. A few guys leave voluntarily like Jeter but many – most – are forced to go.
Which brings us to James Harrison.
Harrison learned a painful lesson of his own before last season. The Steelers asked him to take a reasonable pay cut in line with his age and diminishing production. Harrison declined and was abruptly cut. Troy, Heath, and Ike Taylor all learned a valuable lesson from Deebo's mistake and quickly agreed when the Steelers made a similar proposal to all of them this past off-season. Anyway, Harrison quickly discovered the NFL doesn't have much use for a 35 year old veteran, even one who was a former Defensive Player of the Year. He signed with Cincy, more to stick it to the Steelers than because they actually needed him, where he spent a miserable season contributing next to nothing.
This summer, Deebo made noise about wanting to return to the Black and Gold. He seemed to adjust to the reality of his situation, saying the right things about understanding it would be for a minimal contract and his role would be mainly back-up/mentor to our young linebackers. Harrison wanted to go out on his own terms. Unfortunately, the Steelers saw no use for him although they did sign him to a one day contract so he could retire here in Pittsburgh.
Well, it looks like Harrison's retirement is going to last just a tad longer than that of Bruce Arians.
Sunday night's win over the Carolina Panthers cost the Steelers dearly in terms of injuries. No fewer than three defensive starters will miss significant playing time. Ryan Shazier sprained his MCL in the knee, likely sidelining him for a few weeks. Ike, who did indeed break his arm, is out for a month and a half. And then there's Jarvis Jones, who underwent surgery for what was apparently a broken wrist. The Steelers placed him on short term IR, the league's new IR designation that allows a team to replace an injured player on their roster while he sits for a minimum of eight weeks after which he is eligible to return.
Guess who's replacing Jones on the roster?
Yep, the Steelers reached out to James Harrison, who was apparently ready, willing, and able to suit back up for one last rodeo. Let's keep our expectations realistic, he's not the player who caused absolute havoc on opposing backfields for four or five years back in the aughts. In fact, he's probably not even going to start – I suspect he's coming in to back up Arthur Moats and perhaps get a handful of snaps per game, primarily in obvious passing situations. No, the return of Deebo doesn't mean a return of the James Harrison of old. But we will see #92 back in Black and Gold again this season and, honestly, that's good enough for me. And maybe when this season ends Harrison can finally walk away because he wants to, not because he has to.