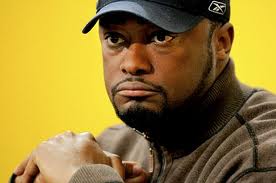 I gotta hand it to the Pittsburgh Steelers head coach. He isn't totally incapable of learning from past mistakes.
Yesterday was the Mike Tomlin press conference. When the Steelers were coming off other embarrassing losses during his inept regime, he would use the occasion to make grand sweeping promises that he had no intention of keeping. First there was the infamous promise to "Unleash Hell" in December of 2009 which the Steelers unleashed to the tune of losing their next two games. Last season changes were promised in the wake of an 0-4 start yet in week five it was the same 22 guys who started and basically the same guys who played.
So what did Tomlin promise in the aftermath of the Cleveland Browns handing the Black and Gold their worst Rivalry ass-kicking in twenty odd years?
Nothing. Zip. Zilch. Nada.
Gotta hand it to Coach T.  He may be inept. He may be arrogant. He for damn sure is a dirty liar. But at least he's learned some of us pay attention to the nonsense he spews at these press conferences and will call him on it down the road.
Oh, Tomlin hinted around that a few rookies might be worked into the line-up. Uncle Eddy at the P-G, who I'm surprised can type while holding the pom poms he uses to cheer for this team, excitedly took his words to mean WR Martavis Bryant and NT Daniel McCullers might see action on Monday. I certainly wouldn't be against it – Bryant couldn't possibly be any worse than useless Lance Moore and Justin Brown while a tackling dummy could do a better job than Cam Thomas at NT. Will we actually see any changes, though?
Luckily, your esteemed blogger here is an expert in deciphering Tomlinspeak.
Sayeth Coach T: "Right now, it's not sweeping or drastic changes in terms of who and what we are schematically. I will look at who we're utilizing and where, particularly situationally, in all three phases."
Tranlation: "They'll get three snaps each, then we'll put the regulars back in because Kevin Colbert and I like our guys and we're talent evaluating geniuses who are never ever wrong."