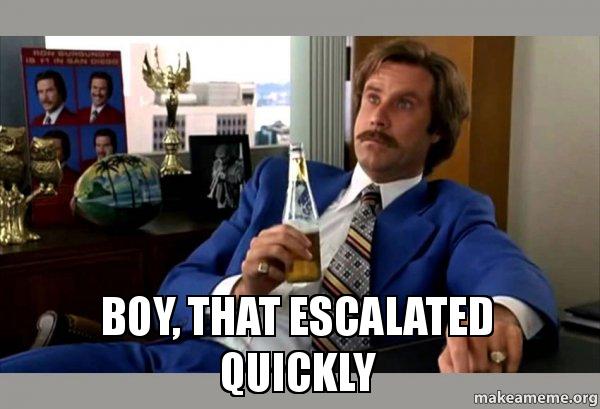 Ron Burgundy with all the analysis you really need.
For the first quarter plus of last night's game between the Pittsburgh Steelers and Houston Texans, things could not have been going worse for the Black and Gold. The Steelers offense got off to glacial start – punctuated by boos from the Heinz Field faithful mixing in with the raindrops from above. And our defense couldn't get off the field, allowing Houston to drive for three straight scores on their first three possessions. By early in the second quarter, Arian Foster had already tallied nearly 100 yards rushing while our inept secondary and anemic pass rush was making Ryan Fitzpatrick look like Joe Montana.
Then come the thunder.
Obnoxious commentator Joe John Gruden tried to credit a coverage sack by Lawrence Timmons as the moment the tide shifted. In reality, it was a little dump-off to Le'Veon Bell which Bell busted for a 43 yard gain that changed the momentum. Bell's catch and run – he ended up with 8 catches for 88 yards although none more impressive than that 43 yarder where he literally blew by Houston's Brian Cushing like Cushing was running in slow motion – flipped the field before ending with a Stonecold Shaun Suisham field goal.
Before that play, it was a comedy of errors on both sides of the ball for the Steelers. JJ Watt was absolutely owning whoever he was matched against – his most frequent victims being guards David DeCastro and Ramon Foster. Meanwhile, the run D, playing without Steve McClendon, was getting gashed so badly Dick LeBeau resorted to inserting raw rookie Daniel McCullers at nose tackle. When Watt recovered a fumble by the besieged Ben Roethlisberger to end the first quarter, it really looked like this would be another disaster similar to the Tampa fiasco.
Then the Bell play happened, kicking off a batshit insane final two minutes of the half I don't think Steeler Nation will forget any time soon.
It started with the Steelers getting the ball just under the two minute warning and proceeding to go 63 yards on two plays (!?!?) for their first touchdown dating back to the aforementioned Tampa debacle. First Bell took another screen 28 yards, then Ben hit rookie Martavis Bryant on a 35 yard bomb in the end zone. It wasn't just Bryant's first touchdown, it was his first NFL catch. Although he'd end up with only two catches total, Bryant's hands, speed, size, and athleticism clearly make him a huge improvement over shitbums like Justin Brown and Derek Moye.
Houston's return man muffed the ensuing kickoff leaving them backed up on their own 5 yard line. Jason Worilds FINALLY made a play with a nice strip/tackle on the sure-handeed Foster. Despite the inept refs somehow missing it, they did award us the ball after a review. The Steelers wasted no time cashing in with Todd Haley going deep into his TRICKERATION playbook, calling a crazy double reverse option pass where Antonio Brown took the shovel going in one direction, stopped, reversed his field, then fired a perfect left-handed spiral to Lance Moore in the end zone. Of course Moore proceeded to make a jackass out of himself with a ridiculously choreographed dance number but I'll leave that for another time.
After giving up 17 points in a little under three minutes, you'd think Houston Coach Bill O'Brien would be content to get in the locker room at halftime. Oh but not so fast. O'Brien made the boneheaded decision to try and get some points back, dialing up screen pass of his own to Foster. Brett Keisel made one of the greatest Fat Guy Interceptions you'll ever see, batting the pass with his big paw, then watching the pass deflect off his own teammate before landing back in his waiting arms. Two plays later, Ben found Bell left all alone in the corner of the end zone for the Steelers third touchdown in less than two minutes.
Bell, Ben, Brown… Maybe the Steelers need to dust off the striped throwbacks because we really do have our very own Killer B's.
The Texans never really recovered from this onslaught of points. The Steelers offense didn't do too much in the second half, managing only two Stonecold FGs in the fourth quarter, the last of which was set up by Mike Mitchell forcing his second fumble in as many weeks. As much crap as I give Kevin Colbert and Mike Tomlin for giving too much money to guys who suck – and make no mistake, Cortez Allen continues to be the worst CB in all of football – the Mitchell signing is starting to look not so bad. I think a lot of his early struggles were a case of not understanding LeBeau's defense (and/or not being able to read Troy Polamalu's crazy mind) but now that he's settling in, he's looking like the huge upgrade over Ryan Clark we all expected.
Let's also give it up to Dick LeBeau. Using a mish-mash patchwork defense of veterans and rookies, he somehow managed to coax a pretty decent performance out of the much maligned unit. The run D stiffened in the second half as Sean Spence and Pukin' Lawrence Timmons (I know The Walking Dead is all the rage but did we REALLY need that shot, ESPN?) turned into tackling machines. Worilds and James Harrison – who is officially back after a 15 yard personal foul cheap shot on Fitzpatrick and a soon to arrive fine letter from the Ginger Dictator – didn't get any sacks but they at least brought some pressure. The secondary, when Brice McCain and William Gay were covering the Texans' Big Two receivers that is, did a halfway decent job  in coverage although they were greatly aided by excellent play from Troy and Mitchell.
I didn't expect the Steelers to lose this game per se although I certainly wasn't going to be surprised if they did. And, to be fair, that Three Minutes of Insanity aside, their performance still left things to be desired on both sides of the ball. Still, it's hard to look at last night's game as anything other than a huge step forward. The offense made plays and found some things (and players) to build on while the defense bent but did not break while forcing three turnovers.
Indianapolis is an entirely different animal. They have a superior quarterback who won't allow his team to get flustered under adversity like Houston did. We could very well find ourselves back to square one after next Sunday afternoon. But we'll cross that bridge when we come to it. For now, the Steelers are 4-3 which is not a bad position to be in considering they play in one of the most mediocre divisions in football. To steal a line from another pompous windbag, "the arrow is pointing up" and for now that's good enough for me.