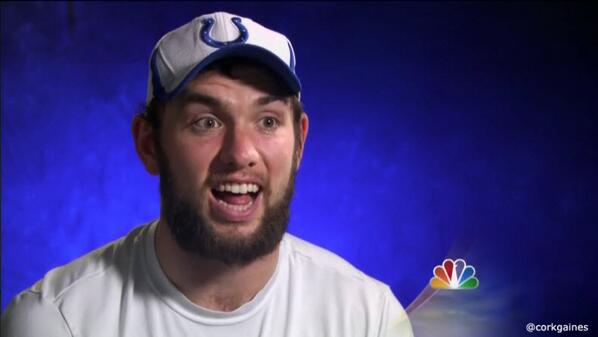 This could get ugly.
Real ugly.
Baltimore Raven mugshot ugly. Cleveland girl ugly. Watching Andy Dalton play ugly.
In last week's preview, I started off by saying the Pittsburgh Steelers struggle against good quarterbacks so it's fortunate they weren't playing one. Despite the defense trying their best to make Ryan Fitzpatrick look like a superstar in the first half, the universe eventually corrected itself. When you live by the Fitzmagic, you die by Shitzpatrick. Anyway, point is the Steelers lucked out on Monday.
The only luck we'll be seeing this Sunday will be Andrew Luck, superstar quarterback for the Indianapolis Colts.
If the defensive improvement we saw from the Steelers turns out to be a mirage or a byproduct of playing a terrible team with a journeyman quarterback, we'll learn soon enough. Andrew Luck and his manly neckbeard will beat the Black and Gold senseless. He's already thrown 19 TDs this year and could add another four of five to that total by game's end. No, I'm not exaggerating.
Indy's offense is among the league's most explosive. They're second in scoring, averaging a ridiculous 30 points per game. They're first in passing yards and first in overall yardage. They do slack off in the running game, checking in at only 12th overall. The Colts can hurt you – and hurt you bad – in any number of ways and it all starts with Andrew Luck. If the Steelers D doesn't bring their A game, the only biggest danger will be the scoreboard operator getting carpal tunnel from having to constantly update the big board.
The Steelers made some changes against Houston although some were of necessity and others were typical Mike Tomlin non-change changes. For example, Daniel McCullers came in at nose tackle but only because Cam Thomas was getting pushed up and down the field. Houston's running game fell off in the second half although mostly because they had to throw to try and catch up. Then there was Brice McCain, who started in place of the worst cornerback in football, Cortez Allen. Despite being abjectly horrible, Allen moved back to #1 corner for most of the second half as Tomlin evidently figured nobody would notice because we were ahead. That Houston immediately began getting big chunks in the passing game kind of gave it away. If that idiot is out there for any meaningful snaps on Sunday, Luck might as well start updating his stat sheet right now.
The beauty of the Colts is how they spread things around. T.Y. Hilton is undoubtedly their go-to receiver but the TE Dwayne Allen leads the team in TDs. Steady veteran Reggie Wayne provides the kind of safety blanket Heath Miller provides here while Indy has no less than seven guys with double digit receptions. The running back situation is a two headed monster with Ahmad Bradshaw and former Brown Trent Richardson having nearly identical yardage and attempts per game. Neither one is a gonna remind anyone of Jim Brown but they're serviceable backs who thrive on defenses already conditioned to deal with Luck's aerial assault.
Indy has had a high powered offense for years, their Achilles heel always being a porous defense. This year, not so much. They've constructed a rugged unit that is only allowing a shade under 20 points per game. Impressive considering great offensive teams have a tendency to give up garbage time touchdowns. They're top ten against both the pass and run (5th and 9th respectively) and third overall in yardage allowed. This isn't your usual Colts team.
The Steelers offense exploded for three TDs on Monday – red zone touchdowns no less! Of course, it's hard to evaluate how effective they were because two of those scores were gifts after turnovers. The one nice drive they had was the two play explosion that got the ball rolling where emerging superstar Le'Veon Bell took a screen 30 yards then Ben Roethlisberger hit Martavis Bryant with a 35 yard bomb in the end zone. Reading into what ESPN's obnoxious commentators mentioned, it's pretty clear Bryant doesn't understand the playbook so he's only used situationally in a specific package of plays. Still, he's world's better than useless bums like Justin Brown so I hope to see his role in the offense continue and expand in upcoming weeks.
Tomlin made an interesting comment in the post game – when Kelvin Beachum went down in the third quarter, if he couldn't get back in, we were moments away from seeing Maurkice Pouncey at LT. The Steelers were already down one lineman when Mike Adams had to step in and replace RT Marcus Gilbert. People have pointed to Gilbert as one player who has thrived under "genius" O-line coach Mike Munchak but I really didn't see any drop-off with Adams in there. RT is the easiest position on the line while Gilbert and Adams are basically the same player. Well, except that Gilbert is a Tomlin pet who got a ridiculous contract while Adams is just a truck-loving back-up.
The line will have to deal with a tenacious Indy D that features a solid linebacking corps led by another former Brown, D'Qwell Jackson. LB Bjoern Werner and DE Cory Redding can also get after the quarterback. The secondary is an opportunistic bunch featuring another castoff, former Dolphin Vontae Davis. Three players have two INTs each meaning Ben has to be careful with his throws since any one of them can be the ballhawk.
Indianapolis is coming off a 27-0 shellacking of the Bungles. For the Steelers to win, a miracle must happen. Barring divine intervention, the Black and Gold must play a virtually flawless game and hope beyond hope a few breaks fall their way. I'm not sure this team has that kind of game in them – not yet, anyway – although honestly I'd consider even playing a competitive game and keeping it close to be something of a victory.