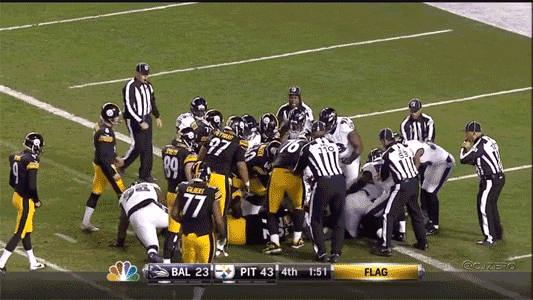 Back in week two, the Baltimore Ravens humbled the Pittsburgh Steelers with a one-sided butt whuppin'. Last night, the Black and Gold got sweet sweet revenge thanks to yet another record-setting performance from Ben Roethlisberger. A rivalry once known for close games has now become a series of knockout punches. This time the Steelers were left standing at the end, owners of an epic 43-23 smackdown over their hated rivals.
Oddly enough, the first quarter seemed to imply doom for the hometown team. Ben was getting the bejeezus beat out of him, culminating in a late hit that left him checking if his jaw was still attached. There were actually two personal fouls called on that one play, which is just about the most Raven-y thing ever. Prior to that drive, though, the Steelers were stuck in neutral, going almost the entire first quarter without a single first down. Their first decent drive ended after Ben was sacked on three consecutive snaps and it really looked it was going to be a herculean struggle to get the ball in the end zone.
Then the defense took over.
Yes, you read that right, the defense – our defense – took over.
Linebacker Arthur Moats made a nice strip-tackle on the Ravens back and corner Brice McCain returned the fumble deep into Baltimore territory. The Steelers ensuing drive wasn't exactly how you draw it up – they got 15 yards on the aforementioned personal foul and 10 yards through their own devices. Thankfully, five of those was a nice throw-and-catch to Le'Veon Bell (split wide as WR) in the end zone. On Baltimore's next drive, James Harrison was barreling down on Joe Flacco who in sheer wide-eyed terror tried to get rid of the ball only for it to land in the welcoming mitts of Jason Worilds.
Perhaps inspired by the defense, the offense finally kicked it into gear. Following the second turnover, Martavis Bryant  went deep for a 19 yard touchdown. Bryant only caught  three passes but was the only wide out with multiple scores hauling in a pair of 19 yard TDs. Ben, who threw six more touchdowns to become the first quarterback in NFL history to throw six TDs in back-to-back games, spread the love by hitting five different guys in the end zone.
Markus Wheaton, who was drafted to be a "deep threat," finally lived up to the billing by catching a 47 yard bomb to close out the half. The third quarter was a defensive stalemate setting up a wild fourth where the two teams combined to score 34 points. The Steelers started with another long scoring play, a fantastic 54 yard catch-and-run by Antonio Brown, who had another insane game (11 catches 144 yards). The Ratbirds answered with a kickoff return TD to cut the lead to 12. Ben snuffed any comeback hopes out right quick by going 71 yards on 9 plays, culminating in Bryant's second TD.
Of course, the most beautiful touchdown was easily the last one. Up by 13 at the two minute warning, the Steelers faced fourth down at the Baltimore 33. They could've brought in Stonecold Shaun Suisham for a tack-on field goal or just had LaGarrette Blount plow straight ahead to move the chains. Instead, Todd Haley dialed up a play action roll out pass with Ben hitting a wide open Matt Spaeth for a 33 yard F@CK YOU touchdown. 
Speaking of Suisham, what an interesting night he and punter Brad Wing had. On their first TD, Wing botched the hold but somehow managed to find a hustling Spaeth in the end zone for an unplanned 2 point conversion. Not to be confused with those super-secret 2 point plays Mike Tomlin keeps hidden for special occasions. Then, in the fourth quarter, a chippy hostile game boiled over after an extra point attempt. As much shit as I give kickers for not being "real" players, I have to give up to Wing and Suishi for sticking their nose right in there.  Maybe my "Stonecold" nickname is more appropriate than I thought.
Anyway, I don't know what more to say about the Steelers offense at this point. All the people hating on Todd Haley can't really argue with these results. The passing game is as dynamic as it's ever been with the team getting contributions from just about everyone. Ben is in some kind of zone that not even guys like Manning or Brady have ever been in.
And then there's the defense. What a game by James Harrison. Flacco will have nightmares about Deebo coming after him for weeks to come. While Ben took his licks, the Steelers D beat Flacco's ass up and knocked his ass out. That kind of relentless pressure was truly a thing of beauty to watch.
Also nice to watch was Cortez Allen, standing on the sideline where he belongs.
The turnaround by the Steelers D is remarkable. Both scores they gave up came under extenuating circumstances. The first, well, Brice McCain got beat on a 35 yard bomb, no sugarcoating that. But the Ravens were in position to attempt that because the offense got pinned deep and then the special teams allowed a big run back so the drive started on our own 35. Baltimore's second TD drive – late in the fourth quarter, mind you – also started deep in our territory after Ben fumbled. Again, not making excuses for the D but all the problems they've had – giving up long drives, not getting off on third down, no pressure/turnovers – have drastically improved over the past couple games. Dick LeBeau has figured it out.
I don't know if the Steelers can keep up this torrid pace but it's certainly fun to watch. The win was a pretty crucial one, evening the Steelers record in the tightly bunched AFC North. With this team playing the best football they've played in years and our next two games against sub-par opponents (3 wins combined), the table is certainly set for the Black and Gold to go on a bit of a run. But before we worry about next week, let's take a moment to savor this victory. Kids, don't let your parents ever tell you different, nothing is sweeter than standing up to an obnoxious bully and punching him in the nose. Nothing.