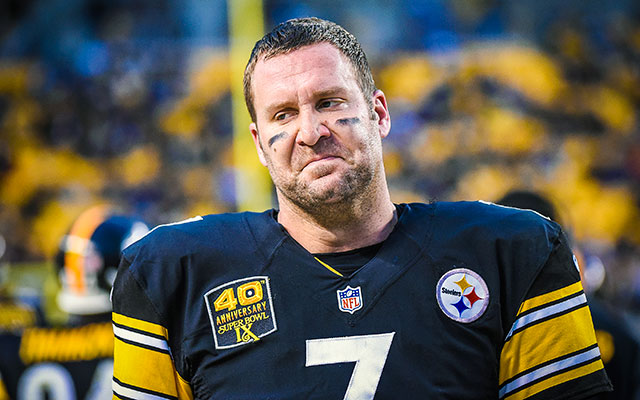 Ah, nothing like leaving balmy 75 degree Florida and being welcomed back to the 'Burgh by a brisk 35 degree day.
With the holidays temporarily behind us, we can focus on important things…like whether or not the Pittsburgh Steelers will make the playoffs. To be honest, after everything I've seen, this smells like another 8-8 team to me. While mediocrity seems to be a league-wide epidemic this year, I'm not sure if 8-8 will be good enough to make the post-season in the AFC. With six teams currently tied at 7-5 for the second Wild Card spot, I'd wager 9-7 will be needed to make the playoffs.
That's the bad news.
The good news is unlike last year where the Black and Gold needed a Rube Goldbergian series of events to transpire in order to backdoor into the Wild Card – and nearly got them if not for the inept toe of disgraced kicker Ryan Succop – their destiny this season is more or less in their own hands.
Let's start with the AFC North. Cincinnati has a game and a half lead thanks to all the other North teams losing this week and that damnable tie against Carolina earlier in the year. Fortunately, two of the Steelers final four games happen to be against the Bengals. We almost certainly need a sweep in order to harbor any hopes of a division title. Of course that sounds crazy given some of our recent performances but this is Marvin Lewis, Andy Dalton, and the Bungles we're talking about. Nothing they do would ever surprise me.
The more realistic scenario is the Steelers qualify as a Wild Card. They're currently sitting at 10th seed with a complicated series of tie breakers conspiring against them. It doesn't really pay to get into all the this team eliminates that one who then wins a tie break over the other one scenarios because they'll change literally every week from here on out. Things are that close in the AFC. So while the Steelers are certainly not out of it, they're also in a real tight horse race to the finish line.
Again, though, the Steelers upcoming schedule sets the table for them to control their own destiny. The first important tiebreaker – division record – will flip to our favor if we sweep Cincy. One of the teams we're tied with sitting a couple spots ahead of us in the queue is Kansas City. Well, as luck would have it, we play them the second to last week of the season. So even if we split with the Bengals, a head-to-head win over KC could very well vault us into playoff position.
Everybody has four games left. To make the 9-7 mark I mentioned earlier, the Steelers need to go .500 down the stretch. However, it's not so much if you win but who you beat. The Atlanta game is in many ways the least important one remaining on the schedule. If the Steelers continue their pattern of playing to their opponent's level, they can lose to the hapless Falcons and it really won't damage their playoff chances nearly as much as a loss to KC or Cincy would. If the Steelers do go 2-2 down the stretch they'd be in pretty good playoff position as long as those two wins consist of KC and Cincy or a sweep of the Bengals.
Of course, there are other scenarios at play. Scenarios where we finish with the dreaded 8-8 mark for the third consecutive season. Honestly, though, at 7-5 with four games left, one win down the stretch would be disastrous to the point I don't see how the Rooneys justify bringing this coaching staff back. And if they do, expect Heinz Field to look like Raymond James Stadium next season. Meanwhile, hoping for three or more wins seems like Starry-eyed Yinzer territory given this team's consistent inconsistency. I'd like to be pleasantly surprised but, much like Pittsburgh weather in December, it's far better to plan for the worst than be left out in the cold.