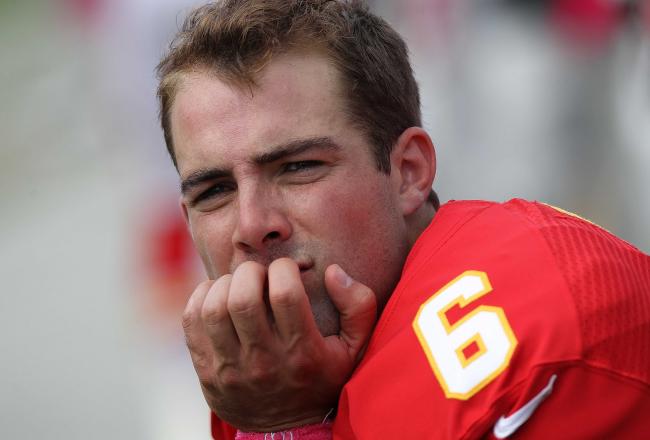 Gotta love the irony…
The Pittsburgh Steelers weren't a very good team last year. However, they were unquestionably one of the hottest teams in the AFC during the last month of the season. Thanks to the team's ignominious start, they needed something akin to a miracle to make the playoffs. Against all logic, a crazy series of dominoes began falling exactly as they needed them to fall for them to essential backdoor into Wild Card weekend.
All they needed was the Kansas City Chiefs to beat the San Diego Chargers in the final game of the year.
KC was locked into the first Wild Card slot so they had nothing to play for. Human walrus Andy Reid decided to rest all his starters in a move coaches continue to employ yet always backfires spectacularly. I don't know the stats but it seems like at least 75% of the time the team that "rests" loses to the team that plays their starters to the very end – as happened to the Chiefs the very next week. Anyway, KC's back-ups showed a level of pride and determination their gutless coach doesn't have, leading the Chargers for three quarters before allowing San Diego to tie the game late in the fourth quarter. Still, the Chiefs had a shot to win the game with a chip shot field goal from Ryan Succcop when he…
Well, we all know how that story ended.
This week, the Black and Gold get a chance for vengeance upon Succop's toe – or rather, his former team's as he was cut during the preseason – when they face the Chiefs in a game with heavy playoff implications. There's nothing complicated about this year's scenarios. If the Steelers win, they're in. If KC wins, we gotta root for Peyton Manning and nobody wants to root for Peyton Manning.
 Getting a win this week will hardly be an easy task. Kansas City is only 8-6 but they're the type of team built for a solid run in January. Quarterback Alex Smith may epitomize the the term "game manager" yet we've seen teams win it all with quarterbacks exactly like him fairly recently (Joe Flacco, I'm looking at you). They have one of the game's elite running backs in Jamaal Charles and a bonafide big time playmaker in wide receiver Dwayne Bowe. Charles left last week's game after sustaining a blow to the head and has missed some practice although he passed concussion tests and is expected to play on Sunday.
Not that the Steelers D can't make a second string back like Knile Davis look like a star in his own right.
The Chiefs are by no means spectacular on offense. In fact, they rank 22nd in yards per game and are all the way down at 30th in passing offense. Those rankings are a bit skewed by the aforementioned fact Smith is a game manager who relies on the team's 7th ranked rushing attack to do the heavy lifting. He did show he could air it out when needed in last year's insane 45-44 Wild Card loss to the Colts but that's not the kind of performance they either want or expect from him on a weekly basis.
I'll admit, I'm really worried about this match-up. The Steelers haven't stopped opposing running backs all season and now they're facing a team pretty damn good at running the ball. You could say, "Well, stop the run and dare Smith to beat you." That might be a good idea except with our secondary, I think Smith could beat us. The injury report is mostly clear on our side – good news considering how many guys limped to the sidelines last week – with only Mike Mitchell and Ike Taylor looking doubtful. Considering how both of them have been playing, I'm not sure if losing both of them isn't addition by subtraction.
In a way, KC plays old school Stiller Football. They look to their solid if unspectacular QB and strong running game to score the points and then play tough swarming aggressive defense  to make those scores count. While they don't get a lot of press, the Chiefs have quietly put together one of the top defenses in all of football. This unit held Denver to 24 points, Seattle to 20, and the mighty Patriots to only 14. They're ranked 8th in yards per game, 5th in points, and 2nd against the pass.
In fact, the only chink in their armor is their 28th ranking against the run where they average surrendering 132 yards per game. Of course, if you look and Denver and New England, running the ball isn't exactly their forte which might explain why they had trouble with KC. Luckily it has fast become a specialty of the Steelers offense. Le'Veon Bell had a rough game against Atlanta last week so if he was looking for a team to get back on track against, it appears as if the schedule makers have dialed up the ideal opponent.
A good running game will be necessary if the Steelers offense hopes to get anything done against the Chiefs. Unlike the past couple weeks when we've faced teams with anemic pass rushes, KC loves to get after the QB. They have 38 sacks as a team, led by ferocious linebackers Justin Houston (17 sacks – or more than Atlanta and Cincy have as a team) and Tamba Hali (6 sacks). In addition to the defensive stats cited above, they especially excel at red zone defense where they are the best in the NFL. Considering we waste an obnoxious number of red zone opportunities, I'm not sure this match-up bodes well on either side of the ball.
Then again, I've said that a few times this year and every time the Steelers have gone out and surprised me. I said a few weeks ago I have no idea what to expect from this team week in and week out and with two games left in the season that remains truer than ever. What I do know is this is the biggest game they've played in two years. The old Steelers always rose to the occasion – I guess we'll finally get to see what this current group is made of.