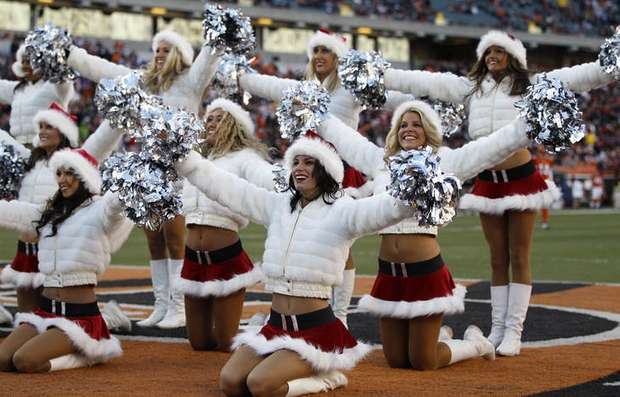 Hope everybody had a wonderful Christmas!
Steeler Nation found an early present under the tree last weekend when the Pittsburgh Steelers clinched their first playoff appearance after a two year absence. While making it to the dance was step one, the Black and Gold have higher aspirations. For them to come true, step two would be winning the AFC North and gaining home field advantage for at least the first round of the playoffs.
Standing in their way: the Cincinnati Bengals.
Cincy is coming of their best showing the year, a shocking 37-28 pummeling of the Denver Broncos where they forced Peyton Manning into throwing four – FOUR – interceptions. I know I've been kind of leery of the Steelers all season because our team has some serious flaws but it really appears as if the AFC is wide open. The Patriots and Broncos are the class of the conference although they have more than their share of weaknesses to where I think literally any team in the AFC has a decent shot of representing the conference in the Super Bowl. There are simply no dominant teams.
First things first, though.
This mini-hot streak the Steelers have been on started the week after their dull uninspiring loss to the Saints at home. They traveled out to Cincinnati and laid the smackdown on the Bengals 42-21 to start their current three game win streak. That game was actually a lot closer than the score indicates as it was a tight affair through the first three quarters before the Steelers exploded for 25 points in the fourth, highlighted by Ben Roethlisberger's 94 yard touchdown bomb to rookie Martavis Bryant. Le'Veon Bell had a monster game, rushing for 185 yards and scoring three touchdowns.
You want to talk hot streaks, though, look no further than the Bengals. They've now won five of their last six with the loss to the Steelers the only blemish on their record. They haven't been facing the stiffest of competition (Browns, Bucs) although getting the job done is getting the job done. In fact, one scenario I forgot to mention in my Playoff Scenario post the other day was if Oakland somehow upsets Denver and they beat us, the Bengals would actually overtake the Broncos for the second seed and first round bye by virtue of their head-to-head victory. Since the North Bowl is the final game of the season, they'll know precisely what they're fighting for when both teams take the field on Sunday night.
The Bengals were able to upset the Broncos thanks to a terrific game from rookie running back Jeremy Hill. Dropping 147 yards on Denver a week after getting loose for 148 against Cleveland, Hill is fast emerging as Cincy's answer to our very own Bell. The Steelers D did a shockingly great job at containing Jamaal Charles last week and held Hill to only 45 yards in the first meeting so it'll be interesting to see who wins that battle this time. As I said in my game recap, if there is one area of strength to this defense, it's the line led by Cam Heyward and especially the middle linebacking trio of Lawrence Timmons, Sean Spence, and Vince Williams.  
Our secondary is another story. Ike Taylor was matched up against AJ Green last time and by the start of the second half he was ready to be flipped over because he was burnt on one side. Mike Tomlin eventually benched him due to "injury" and he hasn't been back since. I have no doubt his bum shoulder caused a lot of his suckage but it doesn't even look like he can run anymore. I've talked ad nauseam about our Brice McCain, William Gay, Antwon Blake secondary so I won't belabor the point. Blake made some nice plays against Green when pressed into service last time and while he gives up a lot of big completions, he made some key plays against KC as well.
Andy Dalton is not a great quarterback. He's serviceable at best and it's been shown time and time again that forcing them into a situation where the game rides on his arm is the surest key to victory. Against our secondary, even journeyman QBs look like All Pros so stopping Hill doesn't guarantee victory but it does seem to be the best recipe for success. The Steelers have been very fortunate in terms of breaks and turnovers bouncing their way as of late and if you give the Red Rifle enough chances, he'll most likely do something to our benefit.
We've waited two years for meaningful football in December. Sunday's game is about as meaningful a regular season game as they get. Sure it's not do or die but seeding and home field advantage in the Wild Card round are nothing to scoff at. The Steelers have played their best football toward the end of the last two wasted seasons. Let's hope they can continue the pattern this year when the games actually count.