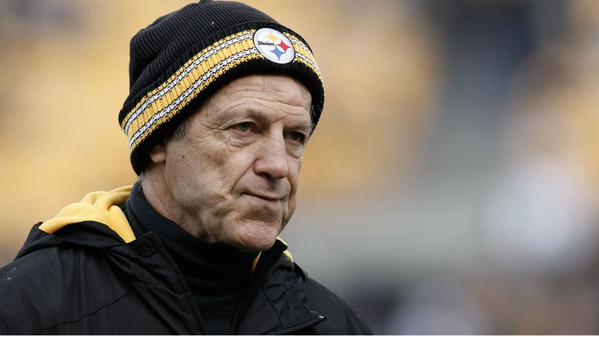 Good-bye, Coach Dad.
Pittsburgh Steelers defensive coordinator Dick LeBeau has "resigned" his position with the team in the wake of end-of-season meetings with head coach Mike Tomlin. No replacement has been named but it's almost a foregone conclusion his protege, linebackers coach Keith Butler, will be taking the reins next season. The Steelers have blocked Butler from interviewing for defensive coordinator positions in recent years with the idea he'll be LeBeau's heir apparent. Well, looks like it's time to see what the student has learned from the master.
At least this time the Steelers didn't laughingly call LeBeau's exit a "retirement."
That's the excuse they used when they fired Bruce Arians only for Arians to hook up with the Colts as offensive coordinator less than a week later. His success as interim head coach led to him landing the head job out in Arizona Pittsburgh West. LeBeau, who's been in the NFL as a player or coach for 56 straight years, made it clear that he is not retired. If I were a betting man, I would bet the mortgage on him returning as some team's defensive coordinator next season.
I put the word "resigned" in quotes because it's the Steelers typical doublespeak way of saying LeBeau was fired. I obviously wasn't there but reading between the lines it's not hard to see LeBeau had no intentions of quitting until meeting with Tomlin and being told they wanted to go in another direction. At that point, they mutually agreed to frame his departure in the most harmonious way possible as LeBeau is a greatly beloved figure both by the fans and his players. In fact, it may be that loyalty to his players which ultimately did him in.
Last year, James Harrison was interviewed on Sunday Night Football. Bob Costas gave him a list of names and asked him to give a quick statement on each one. When Tomlin was named, he said something along the lines of "one of the guys." When LeBeau's name came up, he called him in effect the best coach he's ever had. I'm not suggesting Tomlin was jealous of LeBeau but with the firing of Arians – who Ben Roethlisberger loved – and now the departure of Coach Dad, it's pretty clear they're intent on clearing out guys the veterans love (and who, you know, WON CHAMPIONSHIPS) in favor of guys loyal to the current regime.
A widely circulating story was that when the Steelers lost all their linebackers early in the year, LeBeau lobbied to bring Harrison back only for Tomlin to veto the idea. LeBeau won that battle which makes it clear where his loyalties lie. It's no stretch to think he may want to bring back Deebo, Ike Taylor, Brett Keisel, and/or Troy Polamalu next year when the Steelers plan may be to move on from one or all of them. If that is the case, it makes sense for them to part ways even if the team doesn't seem to have worthy replacements for almost any of them. 
If Butler is indeed next in line, he's going to have some mighty big shoes to fill. LeBeau served as the Black and Gold's DC for 11 seasons, finishing with the top overall ranking five times and having only ONE unit which failed to finish in the top 10. He's the innovator of the zone blitz scheme which practically every defense uses in one form or another. Prior to coming here, his first stint as DC was for the Bengals where his brilliance helped them to a brief run as an AFC powerhouse and a Joe Montana two minute drill away from being Super Bowl champions. It's okay, though, because he won two rings here with us.
Thank you, Coach Dad. Wherever you end up, rest assured we'll always root for you.