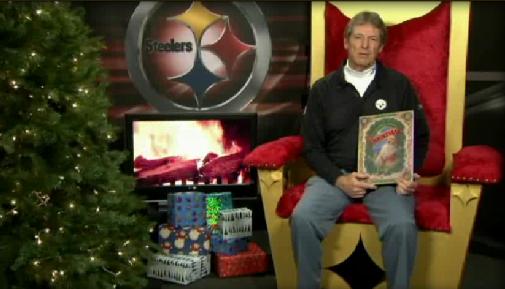 Pittsburgh West meet Pittsburgh South.
Back in 2007 the Arizona Cardinals hired then Pittsburgh Steelers offensive coordinator Ken Whisenhunt as head coach. Whiz embarked on a six year mission to import as many ex-Steeler players and coaches as he could. When ex-Steelers weren't available, former Pitt Panthers would also suffice. It reached such a level of absurdity that "Pittsburgh West" became a trendy – and accurate – nickname for the Cardinals.
When Whisenhunt was fired in 2012, he was replaced by yet another former Steeler offensive coordinator, Bruce Arians. Arians has continued his predecessor's habit of populating his team with guys who once wore the Black and Gold so much so that the Pittsburgh West nickname continues to be relevant. Meanwhile, Whisenhunt spent a year as an offensive coordinator before the Tennessee Titans gave him a second opportunity as head coach. As he's set to enter his second season down in Music City, it appears Whiz is trying to give Arizona a run for their money.
When Dick LeBeau "resigned" as defensive coordinator – a nice way of saying he was pushed out by Mike Tomlin and pinhead owner Art Rooney II – I bet my house that he'd be involved in the NFL in some way next season. Well, I'm not going to be sleeping in a cardboard box because he has a job lined up for 2015, with Whisenhunt and the Tennessee Titans. LeBeau isn't their defensive coordinator – that role is held by former Steeler secondary coach Ray Horton (who, ironically, was an assistant under LeBeau) – rather he's been given the rather nebulous title of Assistant Head Coach/Defense. Which basically means he's going to be running the defense next year, just with somebody else to handle the minutiae.
Anybody care to guess where Tennessee's defense ends up ranked next season? Anybody?
In other Steeler news, there wide receiving corps appears to be experiencing a bit of upheaval. Justin Brown, who played a bunch early in the year and was worthless, has signed with the Bills. No big loss there. Meanwhile, veteran Lance Moore, one of the team's big free agent acquisitions last off-season, has reportedly asked to be released from his two year deal. Moore, like LaGarette Blount, was signed with the expectation he'd see a decent amount of playing time. Injuries and the rise of Martavis Bryant all but eliminated Moore from the team's plans last year.
When he signed most had him as a potential starter or at worst taking over Jerricho Cotchery's third down/slot role. Once Bryant started learning the playbook, he quickly emerged as the team's preferred #2 while second year man Markus Wheaton took over in the slot. With Le'Veon Bell turning  into an all-purpose back and Heath Miller quietly enjoying one of his better seasons, Moore was actually something like the sixth or seventh option in the passing game. Despite the Steelers being more or less the only team to show interest in him, he evidently thinks there will be more opportunity elsewhere. He's under contract for next season although if the team releases him, the cap hit will be fairly negligible. While it's always nice to have some veteran presence in your receiving corps, truth is Moore was a non-factor last year and wouldn't be missed if released, which I expect the Steelers to do.
So all you draftniks out there busy putting together your six round mock drafts probably want to make sure you add a receiver somewhere in your prediction for us. Right next to back-up running back who isn't a 5'2 midget. In the meantime, enjoy the rest of Dick Lebeau Month – as declared by our beloved city council. I look forward to seeing what he does against us as I'm sure the Steelers will play the Titans this year as they have pretty much every year in the past decade.