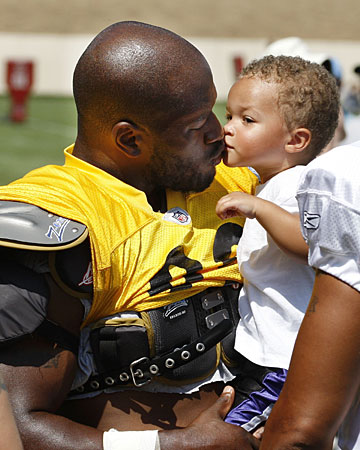 Deebo is back…and back for good?
While I was busy watching my March Madness bracket explode in a fiery ball of flame at Hooters this weekend, the Pittsburgh Steelers were busy re-building their aging and ineffective linebacking corps. How did they do this? Why, by signing 36 year old James Harrison of course! Rest easy, Steeler Nation, this won't be any one and done either as they inked their 2008 Defensive Player of the Year for two whole years!
Forgive my sarcasm but after drafting two straight first round linebackers then Franchise tagging a third, I find it somewhat comical the Black and Gold have ended up right back where they started.
I don't blame them for signing Deebo. He was clearly the team's most effective pass rusher at outside linebacker last year. First round pick Jarvis Jones has been an utter bust thus far to the point GM Kevin Colbert basically said both OLB spots are in open competition come training camp. With Jason Worilds retired (still can't believe I'm typing that) our current depth chart reads Jones, Arthur Moats, and a bunch of nobodies. At worst Harrison provides insurance and with his deal being worth a shade under $3 million, it's not like the team is in trouble cap-wise if he hits a wall this year.
Still, for a defense that had  a terrible time pressuring the quarterback last season, it's not very encouraging that their rebuilding efforts have consisted of bring back Deebo and pray Jones magically morphs into a capable NFL player. The draft is coming up but since they haven't done anything to address the secondary – if anything, it's gotten weaker – it's not like they don't have other holes to fill. Big Ben and the offense better gear up to score 30+ point every game next season otherwise it could be another long year for the Steelers.