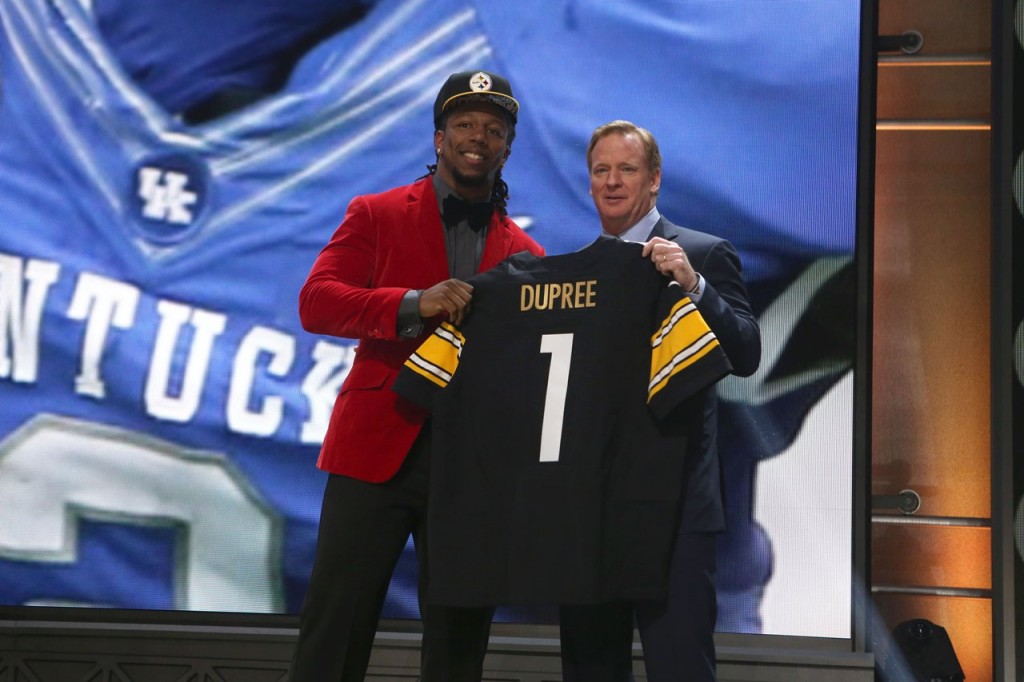 Gotta admit they're nothing if not consistent.
For the third year in a row, the Pittsburgh Steelers took a first round linebacker, selecting Kentucky's Bud Dupree with the 22nd pick of the 2015 NFL Draft. As I feared in my draft preview, a run on corners in the mid-teens pretty much guaranteed the Steelers would have to address other areas or risk reaching on a pick. Not that pass rushing OLB wasn't a desperate need as well. With practically their choice of pass rushers still on the board, it was the obvious move.
Alvin Dupree, who goes by "Bud" although now that he's in Pittsburgh perhaps should consider changing it to "Iron," was certainly one of the more highly rated prospects in this year's draft. As I mentioned in my preview, the mocks were all over the map as after Dante Fowler – who went third to Jacksonville – the so-called "experts" had him, Vic Beasley, and Shane Ray all over their boards in all different orders. Most draftniks I saw had Dupree going somewhere in the teens so for what that's worth it appears the Steelers got a guy they didn't expect to see at #22. Of course, it seems like we say that every year only to learn there's usually a reason a guy fell.
To be fair, Dupree appears to be a very different pick than our previous first round OLB, Jarvis Jones. Jones had skills and smarts but there were questions about his health, size, and physical talent. Dupree's physical tools are  pretty much off the charts. He's 6'4 270 pounds with freakish speed, strength, and agility for a guy his size. What's more he started the final 38 games of his college career, a model of durability which is a huge plus after the first two years of Jones' career have basically been derailed by his inability to stay healthy. Finally, scouts rave about his character – best exemplified by a story Mel Kiper told on ESPN about how Dupree wore #2 in college because he always wanted to be the guy who played like a #1 but worked like a #2.
Since #92 is already taken, I'm guessing we have a new #52 in our future.
The big knock on Dupree is simply that he's raw. Kentucky is hardly a football powerhouse and the feeling is he's not really developed to his full potential. While his college career was productive – averaging 7 sacks and double digit tackles for loss each of the last three seasons – scouts thought he should've done more given his superior physical abilities. There are also questions about his in-game instincts although to me that's a by-product of being raw. The bottom line is he needs to be coached up.
Under Dick LeBeau rookies were basically written off since practically none of them figured out his defense until about year three. Well, the Steelers can't afford to wait three years as Dupree could very well be starting week one. Once upon a time the Steelers found Pro Bowl linebackers under every rock so it'll be the first big test for new defensive coordinator Keith Butler to see if he can speed the process along while also molding the first star player of his era. For this Steeler defense, that sort of help can't come soon enough.