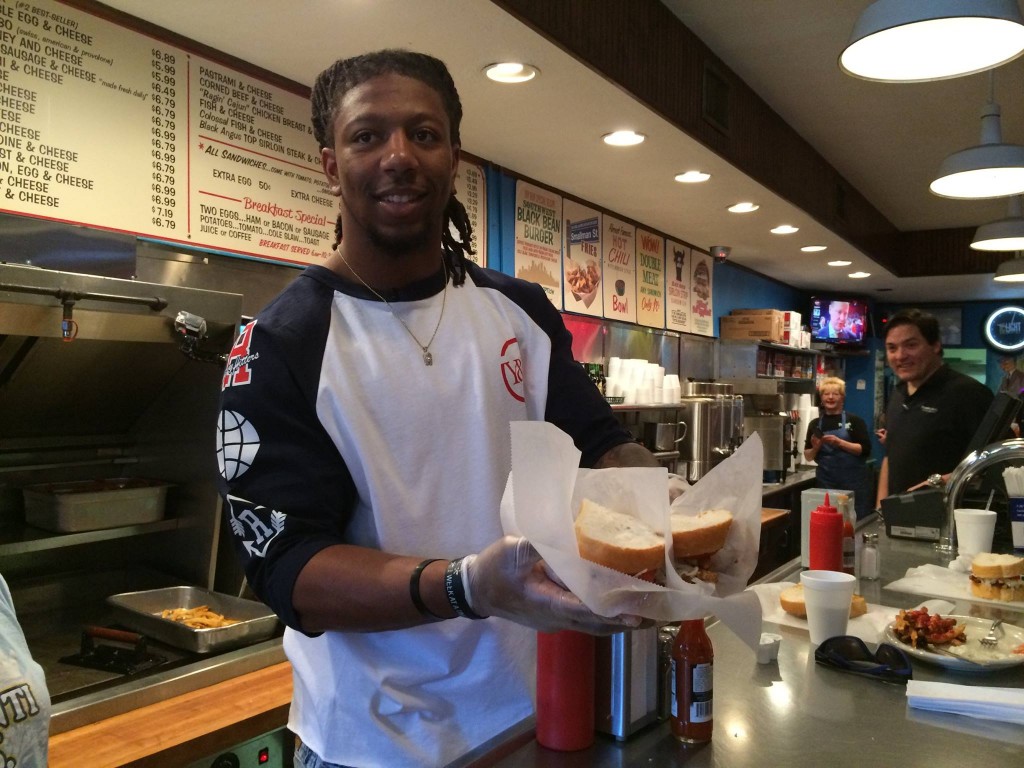 Bud Dupree
Outside Linebacker
Kentucky
6'4  270 pounds
Is there some secret clause that says every number one draft pick's first stop in Pittsburgh has to be Primanti's?
Without further ado, let's begin our complete recap of the Pittsburgh Steelers selections in the 2015 NFL Draft. I've already written about our first choice, outside linebacker Bud Dupree.  Just for posterity, here's a quick thumbnail sketch. Dupree is a freakish physical specimen with outstanding speed, size, strength, and athleticism. What separates him from Jarvis Jones is Bud can bring heat on the quarterback by either beating his man around the edge or just flat out bull-rushing the blocker in front of him. Also worth noting in a draft where seemingly every other player came with a rap sheet, Dupree is given high marks for both character and fashion sense.
The biggest negative you hear is he's raw. Somewhat relatedly, scouts think he's slow to diagnose plays and wonder about his football smarts. I'm not sure these are huge worries as with good coaching, it's only a matter of teaching him where to go and who to hit. Playing at Kentucky, he didn't exactly dominate in a way you expect from someone with his pure ability so he's still a ways away from fulfilling his full potential. When – or, rather, if – he does, the sky truly is the limit.
 ROUND 2:
Senquez Golson
Cornerback
Ole Miss
5'8  176 pounds
No, I didn't goof and upload the wrong picture. Something I forgot to mention in my Day Two recap was that Golson is a talented two sport athlete who actually turned down a $1 million signing bonus from the Boston Red Sox after being drafted in baseball. Maybe he could suit up for the Pirates and help them score some runs.
Again, this pick has already been discussed so I'll keep it short. No pun intended as the knock on him is at 5'8, he's an undersized corner in a league frequently dominated by skyscraper wide receivers. That's really the only negative as in every other category he's given high marks. Excellent speed and tremendous ball skills (10 interceptions last season) – perhaps the best of any corner in the draft. Also a good tackler who's willing to come up and play the run.
Cortez Allen has all the measurables you want in a corner yet we saw him flame out spectacularly last year precisely because he inexplicably lost all ability to track the ball once it leaves the quarterback's hand. He was right there in coverage most of the time only to freeze like a deer in headlights once the pass came his way. Golson will be an interesting experiment as he doesn't have the measurables but is a noted ballhawk. Will that be enough to overcome the 2-7 inch height advantage he'll be giving up to the players he's asked to cover? 
ROUND 3: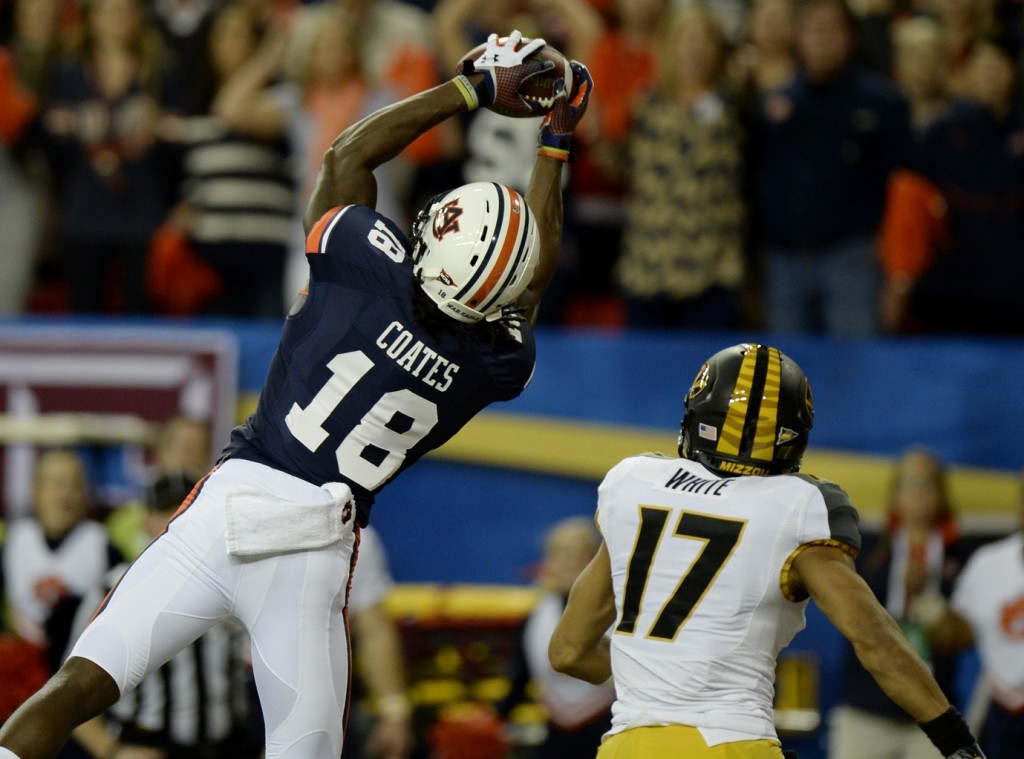 Sammie Coates
Wide Receiver

Auburn
6'1  212 pounds
Not much more to say about this pick that I didn't already cover. Not really outstanding height but good bulk and plenty of speed – 4.43 40 – to be a deep threat. The more I think about this pick, the more I wonder if Todd Haley isn't too enamored with Markus Wheaton. Otherwise, I'm not sure why the Steelers would take a #4 receiver in the third round.
Not that Coates is going to replace Wheaton or anybody else right away. Nothing will get a guy in Big Ben's dog house faster than dropping passes and the big knock on Coates is his suspect hands. His 19% drop rate was tied for worst among all wide outs taken in this year's draft. Last time the Steelers took a guy with natural talent but suspect hands it, uh, it didn't end well. If they can fix that little problem, he has the potential to be something. If not, I just hope he doesn't flop on the ground like one of those goofy soccer players whenever he drops a wide open 40 yard bomb.
ROUND 4:
Doran Grant
Cornerback
The Ohio State University
5'10  200 pounds
Finally, some fresh meat to talk about!
The Steelers' first selection on Day Three was another corner, Doran Grant from the National Champion Buckeyes. He's a bit bigger than Golson but at 5'10 is still considered undersized in today's NFL. Where he stands out are with his instincts and balls skills. 19 pass break ups and 8 interceptions in his last two seasons. Has good speed (4.44 40), plays the run strong, and seemingly enjoys hitting people. The size issue and limited athleticism that sometimes gets him beat cap his upside but definitely has the potential to at least be a decent nickel corner.
What I find most interesting about our DB picks is they're the first clear sign we've moved on from Dick LeBeau. Under LeBeau, the Steelers kept trying to find the next Ike Taylor – drafting big, rangy, physical corners like Allen or Keenan Lewis. New defensive coordinator Keith Butler apparently favors ball skills over measurables. It's the age old size vs skill argument and while it goes against the general trend around the league they haven't had any success with the former so it surely couldn't hurt to try another direction.
ROUND 5: 
Jesse James
Tight End
Penn State
6'7  261 pounds
Steelers GM Kevin Colbert claimed in post-draft interviews that they had no designs on taking TE Maxx Williams in round 2 when the Ratbirds jumped one spot ahead of them. Given this organization's penchant for dishonesty, I can't say I believe him. The Heath Miller/Matt Spaeth combo is getting up in years and it's certainly well past time to begin grooming replacements. James isn't going to take Heath's place – Williams certainly would have – but he could very well be the heir apparent to Spaeth.
Their scouting reports are pretty similar. Both are your prototypical in-line tight ends. James has good hands but his 4.66 40 time and limited athleticism don't project him as weapon in the passing game. He'll basically follow the Spaeth formula of being the guy who occasionally sneaks out in the flat to haul in a dump off. Isn't the strongest blocker but has the size and strength to potentially develop in that area. Really doesn't have the kind of physical skills you look for in a starting tight end but could still have a very good career as a solid #2 tight end.  
ROUND 6: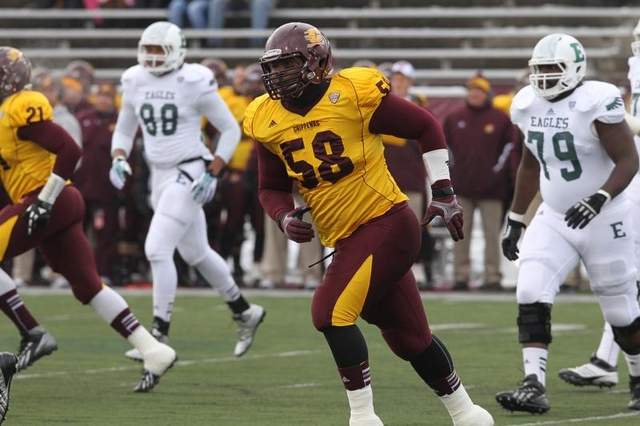 Leterrius "LT" Walton
Defensive End
Central Michigan
6'5  319 pounds
"Potential" seems to be the buzz word this year. The Steelers took a bunch of guys who may not have had the most productive college careers but flash the kind of ability that will leave them with a very useful player is he can be developed. Case in point, LT Walton out of Central Michigan
Despite being a bit bigger than we usually go for, Keith Butler tabbed Walton as a defensive end in his post-draft presser. Raw is the big knock as he started his college career as a offensive lineman and is basically still honing his skills on defense.  Walton was a late riser on draft boards due to his physical tools. Good athlete – played both baseball and basketball – who flashes great quickness getting off at the snap and running down the play at the line of scrimmage. Unfortunately, his inexperience leads to great inconsistency in that for every play he makes, his poor technique gets him washed out of another two. As I say in every draft, though, you can't teach size so if the staff can coach him up the Steelers might very well come away with a real late round steal. 
Anthony Chickillo
Outside Linebacker
The U
6'3  267 pounds
 Gotta hand it to the Steelers – we said they desperately needed to address the defense in this draft and that's exactly what they went out and did. Other than a somewhat perplexing choice of receiver in the third and our yearly tight end in the fifth, nearly every other pick was either secondary or outside linebacker. No weird luxury picks like Dri Archer or Landry Jones, they all went to needs. It's unusual to see every draft pick make the final roster but given the absolute lack of talent on our defense, I think every guy we took has a legit shot of making the cut this season.
That said, this is the only pick I wonder about. We certainly need pass rushers but the big minus on Chickillo are his pass rushing skills. A strong, stout player with excellent technique means he'll hold his ground yet lacks the kind of explosive burst you need to get pressure on the QB. His football IQ – perhaps inherited from a father and grandfather who both played in the NFL – allow him to diagnose plays quickly while his excellent technique ensure he makes the plays when they come to him. Unfortunately his athletic limitations don't really allow him to exert his own will. His key to making to the team could very well lie in how he performs on special teams.
ROUND 7: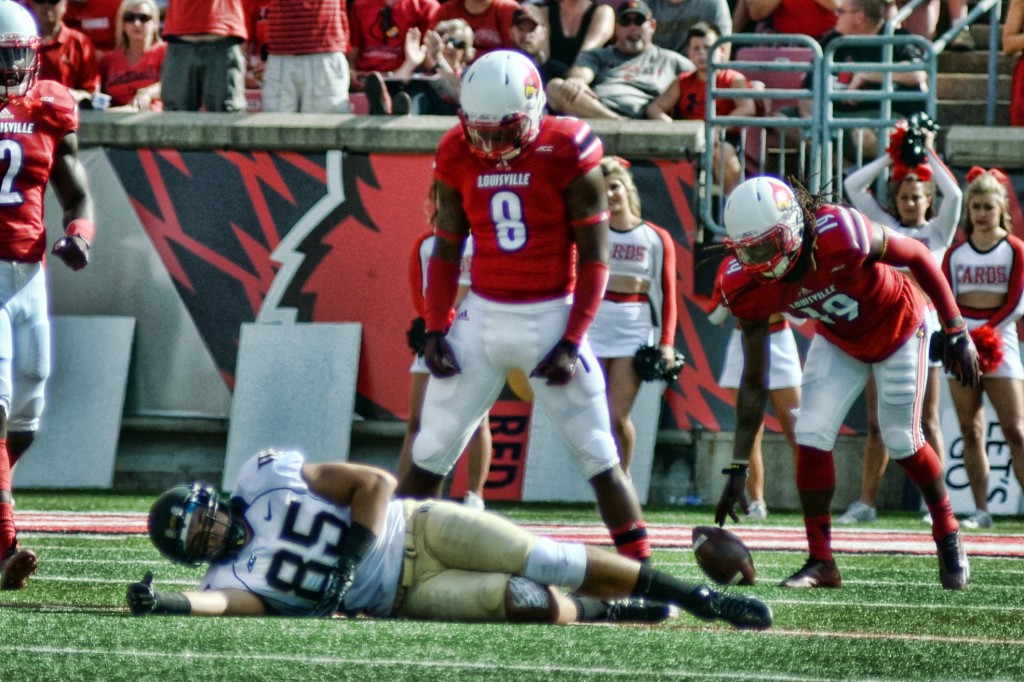 Gerod Holliman
Safety
Louisville
6'0  218 pounds
 Stop me if you've heard this one before:  Superior ball skills. Holliman led all of major college football last season with 14 (!?!) interceptions en route to winning the Thorpe Award given to the nation's best DB. Add to his totals another 17 passes defensed and you're looking at some crazy production. This guy just absolutely loves to cover.
So why is he a 7th rounder? First of all, last year was his first/only as a starter which leads to fear he's a one year wonder. Second, while he has tremendous ball skills, they seemingly come at the expense of everything else. He loves going for the pick but is less than enthusiastic about things like tackling the receiver after the catch if he misses it. In fact, the scouting report I read used the word "atrocious" to describe his tackling. Of course, that kinda fits with the Steelers philosophy as for years we've been plagued by guys who try to lay someone out rather than wrap them up. If secondary coach Carnell Lake can wring more effort out of Holliman in terms of not taking plays off while correcting fundamental flaws in his tackling and technique, the Steelers may have stumbled upon a true late round gem.