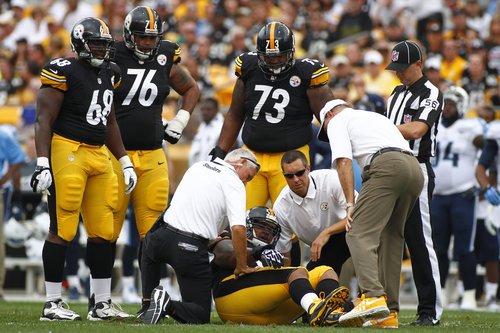 This is why I hate the preseason.
Nothing good  ever happens. If the starting offense marches down the field and scores an easy touchdown, so what? Then the starters come out and you end up watching guys who are either about to be cut or are so far down the depth chart they only see the field in desperate situations. What's worse is you actually pray for the starters to come out because as long as they're playing, the only significant thing that can happen is somebody gets injured.
Guess what happened Sunday?
Pittsburgh Steelers Pro Bowl center Maurkice Pouncey broke his foot in yesterday's preseason victory over the Packers at Heinz Field. It's the second catastrophic injury for Pouncey in three years as his 2013 campaign ended after one quarter thanks to friendly fire from teammate David DeCastro. At least this time an opponent was responsible as Green Bay's Ha Ha Clinton-Dix rolled him up from behind on a run blitz.
Pouncey suffered a broken bone in his lower leg and will have a plate inserted to help it heal. Remarkably, there is talk of him returning this year since the recovery time is pegged at 10-12 weeks. I guess we'll know for sure if the Steelers decide to put him on short-term IR, the one use only designation that lets you bring someone back after 8 weeks while they don't count against the 53 man roster until then.
In the meantime, Pouncey will be replaced by Cody Wallace. Wallace has center experience, stepping in during the Year of the Center Curse ('13). After Pouncey went down, he was ably replaced by Fernando Velasco until he too was injured late in the year. Wallace took his place and did a decent enough job from what I can recall. He was certainly better than Doug Legursky, who looked good in short samples but was quickly exposed the more snaps he took.
Pouncey isn't my favorite Steeler but he's certainly the anchor of the offensive line. I was kind of dubious on giving him that big contract extension that made him the highest paid center in football last year if only because lineman are such a huge injury risk. After so many years of sub-par lines, it's hard to blame the Steelers for locking up key pieces, especially with their rejuvenated running game such a big part of the offense. It'll be interesting to see how much Pouncey's absence affects their high-powered attack.