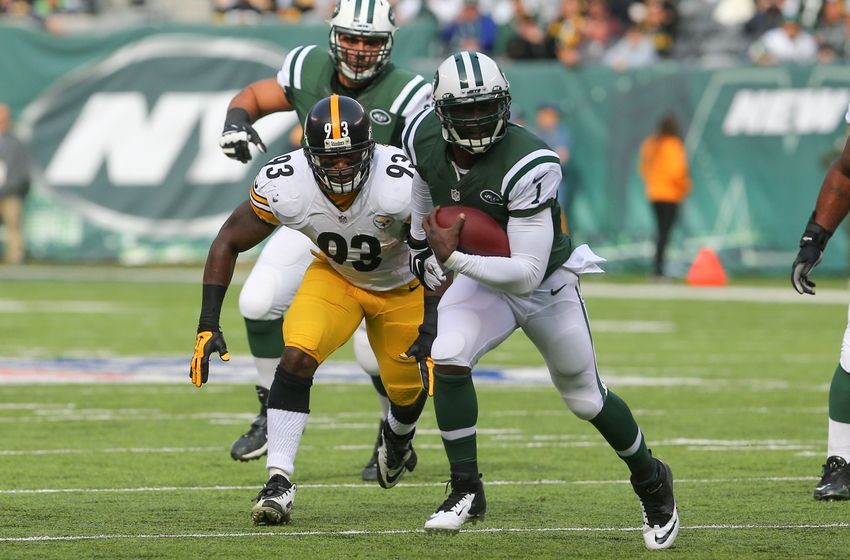 Oh boy…
Can we ever have one nice quiet preseason? Just one? Please? Is that too much to ask?
Apparently, Maurkice Pouncey wasn't the only one to suffer a significant injury in Sunday's game against Green Bay. Back-up quarterback Bruce Gradkowski left with an undisclosed "wrist injury" which has been disclosed to have required season-ending surgery. Which put the Black and Gold in the market for a quarterback. And they found one, oh boy did they find one.
Michael Vick has signed a one year deal with the Pittsburgh Steelers.
If you listen closely, you can hear the collective wail of a million members of Steeler Nation decrying the death of the Steeler Way. Well, newsflash, the Steeler Way hasn't included employing players of high character since, um, practically ever. We can laugh about the Bengals being coached by their parole officers or the Ravens being a team of thugs but truth is the Steelers have had more than their share of bad eggs in recent years. We lost the right to proclaim ourselves holier-than-thou a long time ago.
I'm not even talking about the Ben Roethlisberger rape allegations, although he's certainly the poster boy for Steeler Nation's hypocrisy. I don't want to rehash that situation except to say even if you agree he didn't do anything criminal, it's pretty hard to look upon someone having sex with a blackout drunk college girl in a dingy bathroom while his bodyguard stood watch as the actions of a good guy. If the Steelers were truly the bastions of integrity you'd think they were from the howls of protest we're hearing in regards to the Vick signing, #7 wouldn't be here.
Neither would James Harrison or any number of other players who've ran afoul of the law over the past decade. Fact is, the Steelers worry about winning games first and character second. Football is a business and the business is predicated on winning games. Given a choice between finishing first with a bunch of criminals or finishing last with a bunch of choir boys, the Rooneys will choose the former every single time. As they should.
Vick's crimes were heinous, no doubt. And his crimes were proven in court, leading to him spending 23 months behind bars. I'm not going to tell anybody how to feel about him. I love animals. People who abuse animals deserve to go to the Special Hell, the one they reserve for child molesters and people who talk in the theater. But if I stopped cheering for the Steelers every time they employed a player I didn't personally like, I would've stopped following them in 1985. At some point you have to enjoy the NFL for the action on the field and set aside that off the field the majority of the guys playing it are violent arrogant assholes.
Michael Vick coming to Pittsburgh really isn't a huge surprise. Back when he was paroled in 2008, the Steelers were said to be on the shortlist of teams who wanted him. Mike Tomlin has always been a huge fan, probably because they both grew up in Newport News, Virginia albeit not together. Whatever the reason, Tomlin and Vick have a mutual admiration society going on so that he'd push hard to bring him in when a need arose shouldn't shock anybody.
What Vick's signing does say is that the Steelers have zero faith in Landry Jones. With the Polish Rifle down, the logical move would be to elevate Jones to the back-up role. Despite this being his third year in Pittsburgh, the Steelers clearly felt he wasn't up to being the guy who steps in if Ben were to go down. I understand why they keep him around – it's nice to have a guy who's familiar with the playbook around in case of dire emergency – but at this point it seems clear he's never going to be that quality #2 they were hoping for when they drafted him.
Tomlin told reporters Vick "can still make every throw" following his afternoon try-out which would mean something if it came from somebody besides a serial BSer. His career has been on a downhill slide as of late, with last season spent as a back-up to Geno Smith on the New York Jets. Despite Geno having a horrendous season, Vick only managed to start 3 games – one of which, ironically, was a victory over us. Altogether, he's started 9 games the past two years, compiling a 8/5 TD/INT split with a completion rate only a tick over 50%. His skills have clearly deteriorated but as far as back-ups go, he's no worse than Leftwich or late career Charlie Batch. With our current level of offensive talent, he'll probably perform capably if pressed into short-term action.
Is that worth pissing off a sizable chunk of your fan base? Guess we'll have to see.