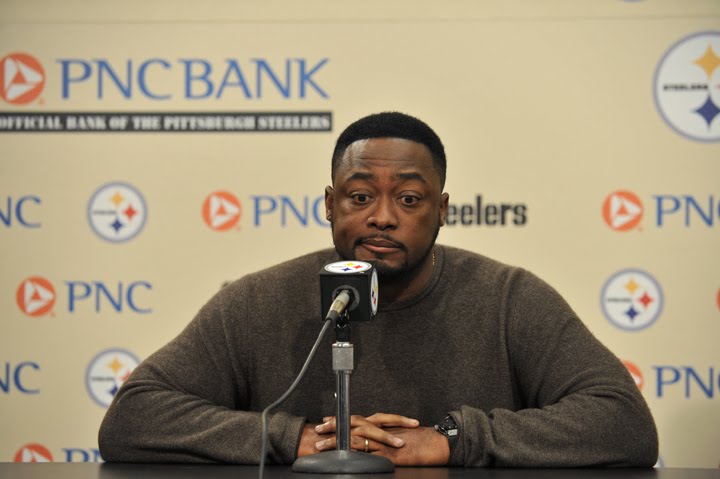 Yesterday, Pittsburgh Steelers head coach Mike Tomlin held his first weekly press conference. If you're new to TotesStillers, let me explain that I have an almost masochistic desire to watch these things. It gives me some perverse joy to listen to his half-truths, non-answers, and (especially after a loss or two) the seething contempt Coach T has for being questioned by the sycophantic Pittsburgh Media. Which is my other joy; listening to what passes as "reporters" in this town lob softball after softball at him because heaven forbid anybody ever criticize the mighty Steelers.
Years past I wrote these long detailed posts following his pressers but it's too much of a chore both for me to write and you to slog through. So I'm just gonna hit on the highlights. For example, this week's began with a discussion of Thursday night's loss at New England. Somebody actually did ask Tomlin about his comical clock management at the end of both halves to which Coach T responded, "I saw no problem with it at all."
Of course he didn't.
I mean, it's funny how Darrius Heyward-Bey's inexcusable brain fart of stepping out of bounds in the end zone costing the Steelers a touchdown at the end of the half didn't come up three times in the presser. In fact, Tomlin astutely pointed out the team continues to blow too many red zone opportunities. But one of the big reasons they had to settle for 3 at the end of the half – besides DHB's blunder – was they ran out of time after calling an ill-timed running play then taking FOREVER to get lined up and get the next play off. 
The press conference was also dominated by talk about the various personnel the Steelers employed in the game. CB Brandon Boykin came out in the press earlier this week that he was surprised to have taken exactly zero snaps at corner after the team gave up a 5th rounder to acquire him in the preseason. Tomlin reiterated the secondary is in flux as he currently lists starters Cortez Allen and Antwon Blake as "or" under CB1 on the depth chart. To borrow a phrase usually associated with quarterbacks, if you have four starting cornerbacks, you really have none.
Tomlin did say he'd look at different players in upcoming weeks. Back-up running back Richard Todman might see some action after coming at the very end of the preseason or once promising future starter Shamarko Thomas might see time at safety in place of veteran journeyman Will Allen. Or they might not. Actually, if you know Tomlin, they won't. He likes to say he's open to change but he actually never does make a change until his hand is forced either by injury or the guy he wants to play sucking so badly he has no choice.
It was amusing to hear Tomlin call out Thomas by saying he'll play when he improves "above the neck" meaning he's a dummy who despite being here three years doesn't know what to do. He was much more positive about DHB despite his being a career underachiever. It was interesting to hear that Tomlin was pleased with the James Harrison/Jarvis Jones rotation – which favored Deebo more as the the game wore on – considering this is something of a make-or-break season for JJ. It's long past time he show why he was a first round pick and I'm wondering how much he's gonna improve if he rides pine for large portions of every game.
Anyway, it'll be interesting to see what the Steelers do in their home opener against the Niners. Almost as interesting as Tomlin clearly making a concerted effort to cut down on the usage of "obviously." This presser had the fewest I can remember in the two seasons I've been doing this. Guess somebody finally tipped him off to the joke.