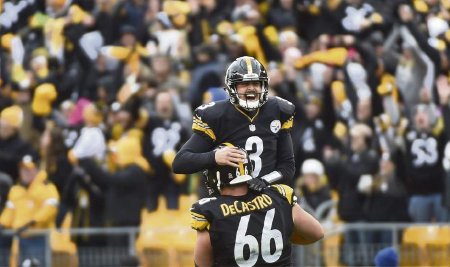 It was inevitable. When the Pittsburgh Steelers took Landry Jones in the fourth round of the draft three years ago, I noted the irony of the Black and Gold selecting a guy named after the legendary head coach of one of our greatest rivals. Despite the fact he played horrifically in every preseason since, I suppose it was fated he'd one day come to our rescue. Yes, Steeler Nation has a new hero, a hero named Landry.
The Steelers moved to 4-2 on the season by defeating the Arizona Cardinals 25-13. It only took three quarterbacks and four kickers to finally arrive at this point. Michael Vick once again started and once again looked atrocious. The announcers keep saying he doesn't understand the offense which is probably a fair point to some extent but he misses so many open receivers his ineffectiveness can't be blamed totally on that.
Vick made a nice scramble towards the end of the half and ate a mouthful of turf. The ref thought he looked dazed, which is probably just how he looks trying to decipher Todd Haley's offense, and sent him to be evaluated. In came Landry Jones and the Steelers had so little confidence they ran the ball straight ahead despite Arizona having 10 guys in the box.
Early in the 3rd quarter, though, Vick pulled up lame after tripping over his own feet. This time young Landry was called upon to actually play football. And that he did, to the tune of 8/12 for 168 yards and two TDs. He had some stinkers, particularly a crossing route to Antonio Brown that he threw into his shoe tops in almost Kordellian fashion. AB proceeded to pitch an epic fit which would've been funny if it wasn't one of your supposed "leaders" acting like a child.
AB redeemed himself by making a couple really nice catches down the stretch. However, the receiving star yesterday was undoubtedly the returning Martavis Bryant. Just watch yesterday's game tape to see why people think if Bryant can keep his head on straight he might be the most talented receiver to come out of a draft class rich with superstar wide outs. He caught both Landry's touchdowns, the first of which was a crazy leaping grab in the end zone that he somehow managed to stay in bounds on.
But nothing will top his second score, an 88 yard romp where he ran by nearly the entire Cardinals defense on his way to the end zone. It was the longest scoring play from scrimmage in the league this year and it was somewhat reminiscent of James Harrison's legendary Pick Six against the Cards in Super Bowl XLIII. Jones hit Bryant right in stride on a cross and Martavis streaked down the sideline – picking up blocks from, among others, AB – before cutting back across the field into the end zone. This is the kind of big play ability Bryant brings to this offense that we don't get from any other receivers.
Which is good because it was a pretty quiet day for our other stars. AB finished with only 3 catches for 24 yards while Le'Veon Bell had 88 yards rushing but was mostly a non-factor. Part of his ineffectiveness had to do with the team losing yet another lineman, this time left tackle Kelvin Beachum, to an ugly knee injury. Rookie Alejandro Villaneuva did his best in a tough spot but you could definitely see a difference in the running game.
While Vick and the offense spent almost an entire half failing miserably, it was Keith Butler's defense keeping us in the game. We're now over a quarter into the season so I think it's time to just say it: this defense is good. They pressure the quarterback and they create turnovers. They give up yards – Antwon Blake had a particularly brutal game matched up with Michael Floyd – but while they bend, they don't break.
And they ballhawk. Despite Arizona's secondary coming in with 11 team INTs, it was the Steelers who walked away with a 2-0 advantage yesterday. Lawrence Timmons made a scooping INT early on that would've been a highlight reel catch for a receiver. Later with Arizona driving, Mike Mitchell came up with a crucial game sealing pick in the end zone on a risky ill-advised throw into triple coverage by Carson Palmer. Then there was the aforementioned Bryant touchdown – the first one thrown by Jones – that was set up by James Harrison flattening John Brown and forcing a fumble.
Before Landry and Bryant did their best Ben-to-AB impression, our entire offensive output was provided by our new kicker, Chris Boswell. So far, so good for the youngster who booted through all four kicks he attempted yesterday. And they weren't chip shot red zone kicks either. One of them was a 51 yarder which is basically unheard of at Heinz Field. Not only did he nail it, the ball was 3/4 of the way up the sticks when it passed the uprights. I'm sure he'll miss some sooner or later but thus far it's hard to say he's been anything other than a huge upgrade.
To think, had the Steelers brought him in a week earlier, we could very easily be looking at a 5-1 start. As it is, to go 2-1 with Ben sidelined is pretty damn impressive. There's no word whether he'll suit up this weekend against the Chiefs but I actually wouldn't mind if he rested himself for our epic showdown with the still undefeated Bengals in two weeks. The Steelers have found the answer to their quarterbacking woes and his name is Landry Jones.