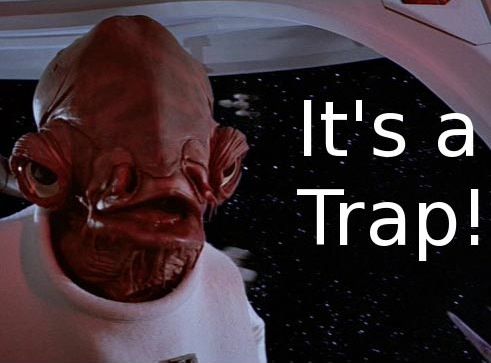 Ah, the classic trap game. Hard believe the Pittsburgh Steelers would even have a trap game considering the amount of adversity they've had to weather thus far. But this week's game against the Kansas City Chiefs almost certainly falls into that category. A 4-2 team coming off two straight big wins facing a 1-5 bottom dweller with a huge division showdown looming on the horizon has all the makings of a trap.
Especially when you don't know who your quarterback is going to be. Ben Roethlisberger has returned to practice albeit on a limited basis. Michael Vick allegedly has a "hamstring sprain" which is an interesting way to phrase "He blows and we don't wanna play him." Mike Tomlin won't commit to Big Ben so all signs point to Landry Jones making his first career start.
Jones was a revelation last week against a pretty good Cardinals defense. Of course, it always helps when teams are game planned for one guy and a guy nobody has ever seen before comes in. The Chiefs will be prepared for Landry so things could go quite differently for him. The Jones we saw the past three preseasons might very well reappear. Although with the quality of quarterbacking in the NFL at an all-time low, if young Landry can put together another nice showing he might open some eyes around the league for a starting job next season.
It's not a stretch to say this game may very well be make or break for his career.
My feelings are you start Landry just to make sure Ben is well-prepared for the crucial game against the Bengals. If we lose, we lose but Jones would seem to give us a decent shot at winning. He for damn sure inspires more confidence than the Ghost of Michael Vick. And, yes, I can't believe I just typed that.
Jones clearly knows the offense which, SHOCKINGLY, makes a huge difference. Amazing what you can do when your quarterback actually knows where the receivers are gonna be. That should allow big crybaby Antonio Brown to be more involved. Gotta keep that streak of two games in a row with 2 catches for at least 23 yards alive!!!
The Chiefs defense is among the worst in the league. They're a respectable 11th against the run but rank 25th against the pass and 24th in points per game. In fact, teams average putting up a whopping 26.5 points which for context the maligned Steelers D averages around 18. KC has some decent talent headlined by All-Pro DE Justin Houston. It'll be interesting to see how our new left tackle Alejandro Villanueva handles his first big test.
If the Steelers can put up points, the suddenly resurgent defense should be able to limit the damage on the other side of the ball. The Chiefs lost their offensive catalyst Jamaal Charles to a torn ACL and have basically been a lost ship at sea ever since. QB Alex Smith is a game manager who is fine when he has an all-purpose weapon like Charles in the backfield but is going to struggle when asked to carry the offense.
The Cheifs brought in ex-Eagle Jeremy Maclin to upgrade their receiving corps and he responded by catching their first TD from a WR in nearly 2 years. He left last week's game with a concussion, though, so he'll have to undergo the protocols which means he may not be cleared for Sunday. If he sits, their primary offensive threat will be TE Travis Kelce, one of the premier pass catching tight ends in the game.
Defensively, both Ryan Shazier and Jarvis Jones were scratches last week. Who knows what's up with Shazier (aka Mr. Glass) while Jones is part of a rotation of OLB although hardly an integral one. Will Allen and Cortez Allen are also hurt but Robert Golden filled in decently in his stead. Antwon Blake, however, did not. I'm not sure why the Steelers traded a pick for Brandon Boykin if they don't intend to use him because I have a hard time believing he'd be any worse than Blake.
That's pretty much picking nits at this point, though. The Steelers D has already played way above and beyond expectations. Cam Hewyard and Stephon Tuitt continue to be dominating book ends at DE while an active group of linebackers led by Lawrence Timmons and Sean Spence run around and make plays. They give up a lot of yards – obviously not helped by an offense that was going constantly going three and out under Ghost Vick – but they limit the damage and create turnovers. It's hard to be anything but amazed at what they've done thus far.
Same could be said about the Steelers. The Chiefs lost Charles and have gone into a tailspin. The Black and Gold lost Big Ben and have gone 2-1, which really should've been 3-0. This team has done an amazing job of keeping focused and rallying behind whoever is playing. Let's hope they have one more really left before the #7 cavalry arrives.