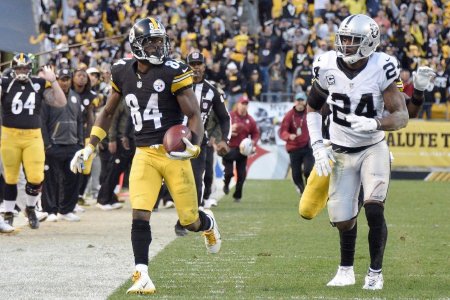 Cursed I tell ya. This team is f@#king cursed.
In my thirty odd years of watching football, I have never seen a run quite like the Pittsburgh Steelers are on. The good news is their first outing since losing superstar running back Le'Veon Bell for the season was a success. The bad news is they lost their superstar quarterback in the process. Hey, at least we had him for two weeks!
Yesterday, the Pittsburgh Steelers edged the Oakland Raiders 38-35 as quarterback Ben Roethlisberger was injured yet again, this time a foot sprain that preliminary reports say will sideline him for three weeks. I suppose as injuries go this was a mild one and the timing couldn't be better. The Steelers have the hapless Browns next week then a bye. Just the fact we've lost our star QB for the second time this season, though, is absolutely mind-blowing.
The Big Ben situation can wait for another post. This is supposed be a recap and, man, I'm pretty sure yesterday's game took about five years off my life. There were so many ups and downs, so much back and forth that even one of my obnoxiously long 1000 word posts couldn't possibly cover everything that happened. Every time one team threatened to pull away something happened to make it competitive again.
Every area I could single out for compliments, I could also criticize. The defense played good except when they played atrocious. The offense looked good until it looked bad. Special teams were a shining light other than the fact they nearly gave the game away. It was one of those days.
There were two absolutely amazing performances yesterday. Antonio Brown set an Steeler record, catching 17 balls for 284 yards. He was targeted a jaw-dropping 23 times so I guess he more than made up for lost time. It was just an incredible show by Brown as the Raiders couldn't hope to stop him and could barely even manage to contain him.
Then we have DeAngelo Williams. He's not Bell but he's pretty damn good. Williams carried 27 times for 170 yards and 2 TDs in yesterday's win. There were long runs, there were short tough yards, he basically did it all – back-up Jordan Todman had all of one carry in relief. Bell will be missed but the Steelers still have a fairly lethal running game in his absence.
Anyway, Williams first TD put the Steelers up 11-7. That's when craziness started. The defense, which had been doing a decent job since letting them go 66 yards on 3 plays in the opening drive, left Amari Cooper all alone in the end zone for 15 yard TD. When I say "he was wide open" I want you to understand there wasn't a player from either team nor a referee even in the picture when he caught the ball. That's how open he was.
Ben answered with a 41 yard bomb to AB and DeAngelo capped off the drive with his second touchdown. A nice defensive stand and the Steelers got the ball back for a two minute drill. Chris Boswell banged home a 38 yarder and the Steelers went in to halftime with a cobbled together 21-14 lead.
Derek Carr (300 yards, 4 TDs) tossed his third TD early in the third quarter, leading the team on a 90 yard drive to tie the score. Ben tried another scramble drill and ended up with his second pick in as many weeks. It appeared the Raiders had the momentum when two plays later RB Latavius Murry got JACKED UP by Mike Mitchell and fumbled. Mitchell, idiot that he is, was too busy posing to notice he even caused a fumble but at least his teammates were alert enough to fall on it.
Mitchell's one of those players who does cool things but his lousy attitude makes him impossible to root for. His heroics went for naught as the Steelers couldn't capitalize on the turnover. An 8 play 50 yard drive stalled out when the Boz missed his first field goal since joining the Black and Gold. After all the adventures we've had in the kicking game, I'm inclined to cut the kid some slack after the job he's done.
I guess the Steelers prefer a challenge as they couldn't take advantage of a short field but eventually pulled ahead thanks to a 9 play 91 yard drive that was set-up by a 53 yard run by Williams. Martavis Bryant scored on a little swing pass where he changed direction about four times and made three guys miss before sprinting into the end zone. On the subsequent kickoff, fullback Roosevelt Nix lit up the return man to force another Oakland fumble. This time Ben found the rookie TE from Penn State, Jesse James, when the Road Dogg was left all alone in the back of the end zone.
Up two TDs with about eight minutes left, it seemed the game was in hand. Oh how wrong we were. The insanity had just begun. It started with fullback Jamize Olawale blasting up the middle for a 19 yard TD where he was basically untouched. I mean, it was the rushing version of Cooper being wide open for his TD.
Ben was hurt on the subsequent drive when Aldon Smith sacked him and his ankle got caught and bent at an ugly angle. The defense made a stop but AB fumbled the ensuing punt to ensure NOBODY escaped the game blame-free. Fortunately, the defense stepped up yet again as Ross Cockrell intercepted Carr in the end zone. Landry Jones hit AB for what appeared to be a first down to ice the game but the play was called back on an illegal pick by Wheaton. So the Steelers punted and the Raiders drove right down the field, capped by Carr throwing a sick dart to Michael Crabtree, who split the defense en route to the end zone.
It appeared the Steelers were content to play overtime when AB said "Screw it, I'll do it myself" and took a short hitch 57 yards. Two nice runs by Williams and the Boz booted an 18 yarder as time expired. Thus ending one of the craziest, most stressful, most inexplicable games I've ever seen. The Steelers won the battle but whether the war was lost will have to wait to be seen. I'm just glad it's over.
As I said in my preview, bad things happen when we play the Raiders.