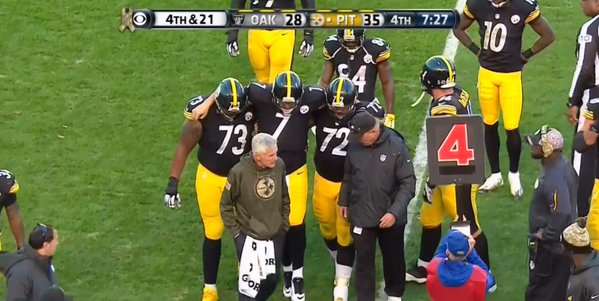 Sometimes I feel like Bill Murray in "Groundhog Day." Except instead of reliving the same day over and over, I keep typing the same "What are the Steelers gonna do with Joe Schmokowski injured?" post every other week.
This week's edition concerns Pittsburgh Steelers quarterback Ben Roethlisberger. As we all saw last Sunday, he was carted off the field for the second time this season, this time with an unspecified ankle injury. Well, the good news was the MRI was negative. It's being called a mid-foot sprain which takes an unspecified amount of time to heal – basically, you can play as soon as the pain subsides enough to be manageable.
Which is why Big Ben, on his weekly radio show, claimed there was "a slight possibility" he could suit up this Sunday against the Cleveland Browns. For his part, Mike Tomlin said at his weekly press conference that he was leaving the door "slightly ajar" for Ben although they would prepare under the assumption Landry Jones will be making the start. While Ben has shown a flair for the dramatic, I can't imagine him playing.
Nor do I really think it'd be prudent. His first game back from the MCL sprain, he moved terrible and looked rusty. That rust carried over to the Raiders game until about the 2nd quarter when he finally started playing like Ben of old. The worst part of the ankle injury – besides, you know, him getting hurt – was when it happened the offense was beginning to click in a way we haven't seen since week 2.
I can't believe I'm typing this but I like Landry Jones. He didn't have a great start in Kansas City but the team as a whole hardly rallied around him. The defense in particular let him down. Jones has an excellent grasp of Todd Haley's offense and can more or less make all the necessary throws. KC game aside, I have confidence that Landry's capable to put up enough points to win, especially against a weaker defensive team like the Browns.
The bottom line, though, is the Steelers have to look at the big picture. Yeah, they need a win because conference record blah blah but outside the division leaders there are exactly three AFC teams who are currently .500 or better. The AFC is a den of mediocrity and nobody is running away with either Wild Card. Further, the Steelers have their bye the following weekend. So sitting Ben out Sunday buys him in effect three weeks of rest/rehab before we travel out to Seattle.
If the Black and Gold hope to make any sort of run in December, they'll need Ben as healthy as he can get. Which, with the way this season has been going, will mean another catastrophic injury will strike about two weeks later.