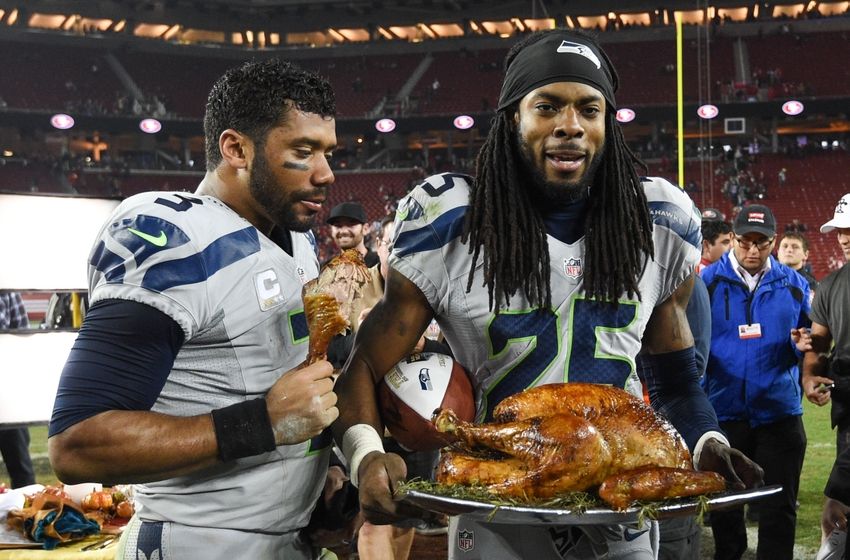 Hope everybody had a great Turkey Day!
Surely the Pittsburgh Steelers did. After a brutal season filled with injury after injury, the Black and Gold finally had a week off to rest and recover. Good timing, too, since the Pittsburgh Steelers face the defending NFC Champion Seattle Seahawks this Sunday. Even though they've struggled, the Seahawks will be by far the team's biggest test thus far.
It helps that all hands should be back on deck. When last we saw Ben Roethlisberger, he was taking every snap from the shotgun to compensate for his limited mobility. He still played insanely well in relief of Landry Jones but that was against the Browns. Ben will have to be a helluva lot better if they have any hopes of beating the Seahawks in Seattle.
Despite sputtering along at 5-5, Seattle still boasts one of the best defenses in the league. They currently rank 2nd in total defense, allowing a smidge over 300 yards per game. The Steelers roll that up in a half against most teams. They're also 2nd in pass defense, holding opposing QBs to about 200 yards. While their run D is ranked 11th, they're only giving up 96 yards per game on average so it's not like it's terrible.
The defensive line duo of Cliff Avril and Michael Bennett (6.5 sacks each) are among the most fearsome bookends in the league. Their linebacking corp is led by pass rush specialist Bruce Irvin, although he's missed time with a balky knee. Where Seattle shines, however, is in the secondary. Once safety Kam Chancellor ended his hold out, the Legion of Boom was back.
Which is all the more odd that they've gotten themselves into some shoot-outs this season, most recently a crucial 39-32 loss to the Cardinals that has them fighting for a Wild Card. And therein lies Seattle's weakness. They have a great defense but a questionable offense. In every one of their wins the opponent has scored less than 20 points. Basically if you can draw them into a score-fest, they can't keep up.
That's because Russell Wilson hasn't exactly set the world on fire this season. His 67% completion percentage and 13/7 TD-INT ratio isn't horrible but he's been sacked 35 times. The running of Marshawn Lynch was a huge factor in their offensive performance but he's been sidelined due to injury. That's the good news, the bad is his back-up, Thomas Rawls, just stepped in to drop 200 yards on the hapless Niners. Beyond Rawls, Seattle just doesn't have the playmakers other teams have. The team imported former Saints star TE Jimmy Graham but has demonstrated no idea how to use him. Their receiving corps is an unimpressive lot led by Doug Baldwin and Jermaine Kearse.
Of course, the Steelers secondary has made lesser passing games look like the '07 Patriots. Their saving grace is they have seemingly perfected the art of bending but not breaking. I don't know how long they can depend on the timely interception to bail them out but creating turnovers has clearly been a key part of Keith Butler's defensive strategy. Thus far, it's worked.
Pressure will primarily be on Ben and the offense, however. Todd Haley's offense, when clicking, is a beautiful thing to watch. Even without Le'Veon Bell, they have a fine rushing attack and a downright lethal passing game with the big play ability of Martavis Bryant and the continued excellence of the best receiver in the game, Antonio Brown. This will be a really good test for the patchwork line as Cody Wallace at center and Alejandro Villenueva at LT have mostly distinguished themselves after getting thrown in the fire. If they can keep it up, the Steelers weapons will break through sooner or later.
As I've written a few times, this game isn't as crucial as the remainder of the schedule. The Steelers were given a gift with Cincinnati's two game losing streak so they definitely want to win to keep the pressure on. However if the team has another loss in them, this would be the least damaging week to have it because NFC losses aren't going to kill them in tiebreakers like another Conference/Division loss will. Having said that, this is definitely a statement game. While the Seahawks aren't elite, a win against them in Seattle would certainly go a long way to establishing the Steelers are a legit contender.
At the end of the day, though, I'll just be thankful as long as everybody gets out of Seattle walking on their own two feet.