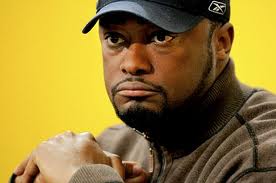 In his weekly press conference, Pittsburgh Steelers head coach Mike Tomlin hinted at a shake-up in the secondary after their abysmal performance against Seattle. Which naturally means to expect absolutely no changes to the secondary after their abysmal performance against Seattle. He lives in hope, not fear haven't you heard? Besides, another cliche Tomlin has traditionally followed is you dance with who brought ya.
The Steelers secondary has not been good this season. We expected as much when they were atrocious last year, lost their one decent new find (Brice McCain) and didn't add anybody through free agency or the draft. They took a corner in the 2nd round but Senquez Golson was lost for the season almost as soon as the Ginger Dictator read his name. The only significant addition was trading a 5th rounder for Eagles corner Brandon Boykin on the eve of training camp.
Boykin has been relegated to special teams duty all season, which continues to perplex people. At first it was thought he might not be up to speed on the defense but the Steelers claimed Ross Cockrell off waivers from the Bills a week before season started and he worked his way on the field a few weeks later. Cockrell, William Gay, and Antwon Blake are our current starters which if that's what you expected back in August, please forward me tomorrow's lotto numbers immediately.
Blake has been awful all season but he's made several timely plays which wound up masking how bad he really is. Basically, he'll give up huge chunks of yardage play after play only to pick off a pass in the end zone to squelch the rally. Which is fine if one could consistently plan for turnovers, which they can't. If he doesn't make the splash play you end up with a tape like Sunday's, where he looked like one of the worst starting corners in the league.
Cockrell has a similar profile. He plays loose coverage – I'm talking hot dog down a hallway level "loose" – but gets away with it because he'll occasionally come away with a splash play. Gay is Gay, a wiley veteran who competes on every play despite his limitations. They're all below average cover guys which is made even worse by the fact they're not very good tacklers. If you're gonna give up a 8 yard completion on third down, at least make the tackle so the guy doesn't rack up another 15 after the catch.
It's extremely frustrating because Keith Butler's defensive philosophy seems clear. He pressures with his line while the linebackers either add support or drop back into coverage. The secondary is supposed to keep everything in front of them on the assumption long plays will be hard to complete with the quarterback throwing under duress. The corners either blow the coverage and let a guy run down the field wide open or do this but then invariably miss the tackle.
Steeler fans have been beating the Boykin drum all season which at this point will only grow louder. I don't think he's going to be the miracle cure some expect although the secondary is currently ranked dead last in the NFL. What's he going to do, make it worse? Something has to change because even with all the injuries, the only real glaring weakness the Steelers have consistently shown is their pass defense.
If they don't address it soon, they might find themselves sitting home in January wondering how it all went wrong.