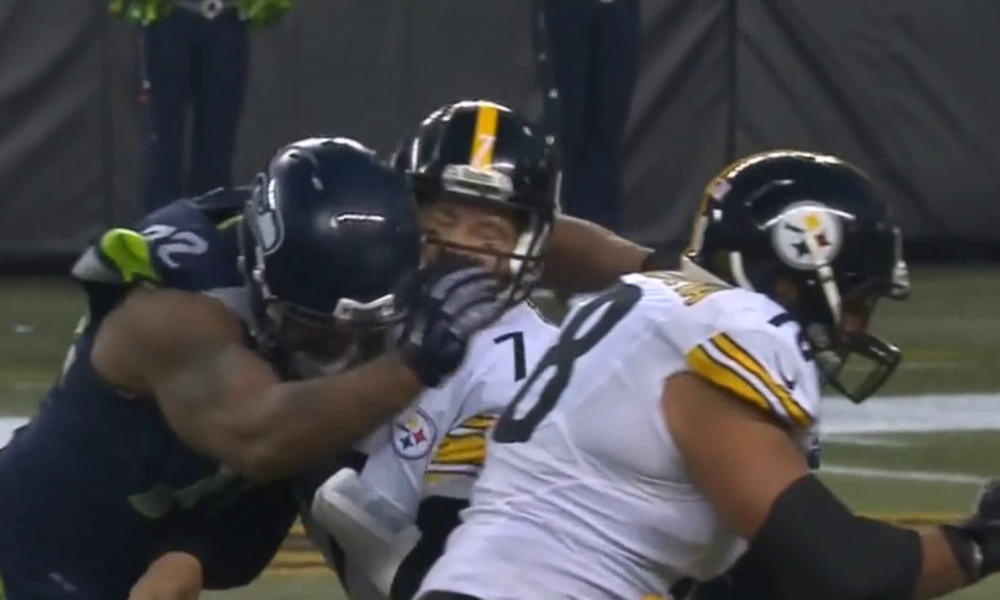 Pittsburgh Steelers quarterback Ben Roethlisberger returned to practice yesterday after clearing the league's concussion protocols. He entered those protocols after self-reporting symptoms from an illegal helmet-to-helmet hit during Sunday's loss to the Seahawks. That's what we know for sure. What we don't know is if Ben even had a concussion.
On his weekly Tuesday radio show, Ben said the tests indicated he didn't suffer a concussion. About an hour later, coach Mike Tomlin said he was concussed and would remain under the league's concussion protocols for the time being. When reporters caught up with Ben, he explained that he hasn't suffered any of the classic symptoms associated with a concussion and was told his test "looked fine" before somebody went to Tomlin and told him the opposite. Yesterday, he took another test and this time everybody was on the same page as he passed it before returning to practice.
I'm not a doctor but I have to admit I'm as confused as Ben as to the what happened. Ben took a hard shot to the head but unlike Case Keenum, who was stumbling around like Ronda Rousey after getting kicked in the face by Holly Holm, he seemed none the worse for wear. He stayed in for seven more plays and didn't seem the least bit foggy or otherwise impaired. In fact, on his final play he had the presence of mind to scramble away from danger and attempt to dive for a first down.
What evidently happened was he made an off-hand comment about having no peripheral vision following the hit to somebody on the sideline. At that point red flags went up and the Steelers coaching staff pulled him from the game. Unlike Ryan Shazier, who also left under the league's concussion protocol earlier in the game, there was no clear indication that Ben was concussed. Which makes it even stranger that the league is investigating why the referees or independent doctors – who are charged with sending any guy they suspect is concussed off the field – didn't have Ben looked at after the hit.
Meanwhile, the protocols, much like concussions themselves, are a set of vague and mysterious rules. Some guys seem to pass through them fine and return the next week. Some report no symptoms yet when it comes time to take the field get held back as a precaution. And yet others disappear from sight for weeks on end as they are continually evaluated.
Which is to say if Ben has definitively been diagnosed with a concussion, it's great that he's back on the field but he could easily still be scratched if he begins exhibiting any symptoms.  Ideally it's just a case of the team being extra cautious, especially with the team playing a national game and the Will Smith movie about the league's cover-up – which is heavily Pittsburgh-centric for those who have not seen the documentary it's based on (League of Denial on PBS/Netflix – go watch it immediately) – ready for national release. This would be an extraordinarily bad time for the Steelers/NFL to put a concussed guy back on the field unless every last I was dotted and T was crossed.
I have no issue with this as player safety is certainly of paramount importance. The timing, however, couldn't be worse as we need Ben now more than ever. The Black and Gold are in a precarious playoff position and this Sunday's opponent, the Indianapolis Colts, are one of the teams they're battling with for a playoff spot. A loss really puts them in a bad way as far as tiebreakers are concerned. The Steelers could get by the Ravens or Browns with Landry Jones but the Colts have been resurgent under Matt Hasselbeck. A loss this weekend and the Black and Gold's playoff hopes aren't dashed but they're certainly on life support.