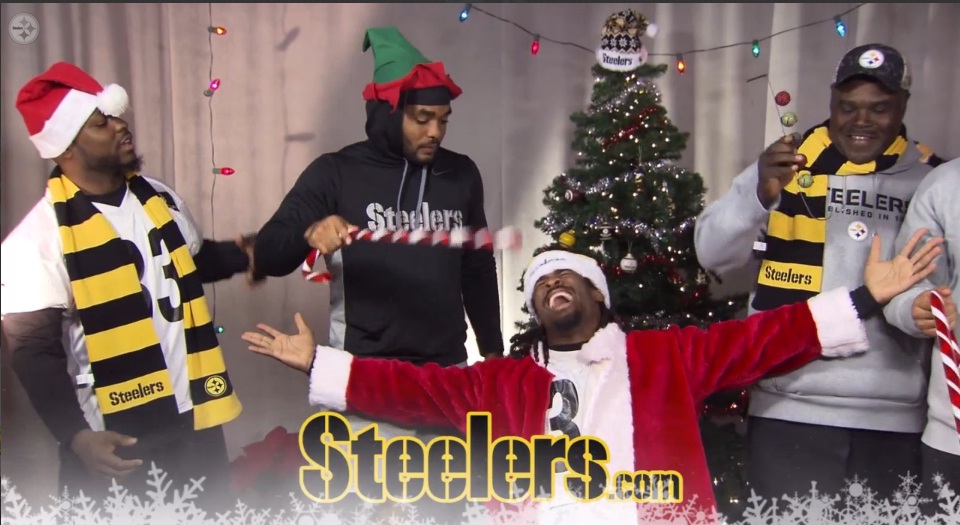 December 25th is almost upon us which means only one thing. In what has become a yearly tradition, the Pittsburgh Steelers sang Christmas carols to wish Merry Christmas to Steeler Nation. Although watching this year's video, I'm not sure they're wishing so much as threatening. I always thought Run DMC had the most badass holiday song until I saw James Harrison lead the linebackers in a scary rendition of Santa Claus Is Coming to Town.
One thing sadly missing is Dick LeBeau, who has since moved on to Tennessee and took with him his tradition of reading "Twas the Night Before Christmas" to the team. Couldn't Keith Butler at least read "How the Grinch Stole Christmas" or something? No wonder it took you so long to make Defensive Coordinator, Keith.
MVP of the video was undoubtedly DeAngelo Williams, who attacked Silver Bells like he'd attack a safety coming up in run support. Williams has been the gift that keeps on giving. He's easily the team's best free agent signing since James Farrior many many years ago. He steps in for Le'Veon Bell and leads the league in rushing then sits on the bench without a word of complaint for several weeks until Bell has his yearly injury then he comes back without missing a beat. Not only does he deliver on the field, he genuinely seems like a good guy who is loving his time here in Pittsburgh.
Which makes it all the sadder that he didn't get selected to this year's Pro Bowl. Selections were announced yesterday with Ben Roethlisberger, Antonio Brown and David DeCastro the Black and Gold's representatives. Of course, Williams came here expecting not to be available for the Pro Bowl because he's busy gearing up for the big game in February. Let's hope Santa makes his Christmas wish come true.