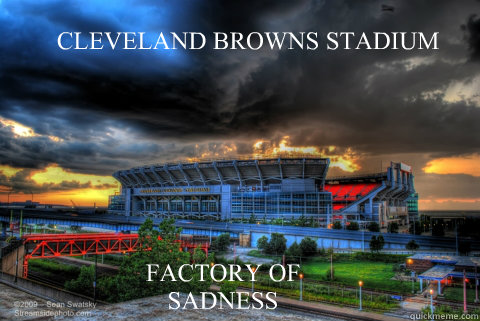 Last weekend was on me. I usually post Know Thy Enemy on Friday but I moved it to Thursday because of Christmas. So I jinxed us. So even though many of you are probably too hung over to read this, I'm posting it anyway. Happy New Year!
With their playoff hopes hanging by a thread, the Pittsburgh Steelers need a win against the Cleveland Browns to stay alive. After that, they can do nothing but hope the Buffalo Bills upset the New York Jets. This surely isn't where they wanted to be. Unfortunately, the standard is the standard.
The standard of the Mike Tomlin era seems to be getting caught flat in the process of losing to a terrible team they have no business losing to. Last year, we were beat by a Tampa Bay team that wound up with the first overall pick in the draft. Year before that, there was the Raiders upset highlighted by a 93 yard TD run by QB Terrelle Pryor, who was last seen trying to catch on with the Browns as a wide receiver. Pick a season, any season, and you'll invariably find results that make you wonder, "How the hell did we lose to those guys?"
Cleveland has a couple of those wins. There haven't been many memorable victories for the Browns since returning to Cleveland but what few they have seemingly have come at our expense. Even though the Factory of Sadness has pumped out yet another miserable season, don't think they're ready to mail it in just yet. As we've seen time and time again, no team is more dangerous than one with nothing to lose.
Especially when they're playing the Steelers.
When the two teams met earlier in the season, the Steelers had little trouble laying a 30-9 pasting on them. Ironically, Ben Roethlisberger wasn't even supposed to play in that game. Ben rolled his ankle the week before against the Bengals and Landry Jones was trusted to game manage them to a victory. Jones hurt himself on the first drive of the game leading Ben to come off the bench to throw for 379 yards and 3 TDs.
Cleveland has won just one game since then, defeating the equally putrid 49ers. Other than that, they come in losers of four of the last five and sporting a 3-12 record. Their offense had been led by Johnny Manziel, who was sort of forced on Mike Pettine despite the head coach clearly wanting nothing to do with him. Well, he gets his wish this week as Johnny Cocktail suddenly began showing "concussion like symptoms" which puts him under the league's protocol, knocking him out of the season finale.
Manziel's number aren't very impressive – 7 TD/5 INT, 1500 yards, 58% completion percentage – but his flair for the big play made him dangerous. In his place will be third stringer Austin Davis. Davis has started a game this year, a 37-3 pasting by the Bengals, before an injury forced the Browns to play Manziel. He's not exactly working with a lot of weapons as TE Gary Barnridge is having a break out season while WR Travis Benjamin and RB Isiah Crowell haven't performed as well as hoped.
The Browns offense ranks in the middle of the league in most categories except points per game where they're mired at 29th. Pittsburgh's defense is like Viagra for the most impotent of offenses, though. The Steelers pass defense is what we thought they were, coming in ranked a lowly 30th. Basically, it's all about turnovers as when they generate them, they sort of mitigate the damage of giving up all those yards. When they don't, they usually lose.
Last week, we faced a Baltimore defense ranked near the bottom of the league. This week, we face a Cleveland defense ranked near the bottom of the league. The Browns rush defense is worse than our secondary, ranking dead last in the NFL. They give up about 380 yards and 28 points per game on average to rank in the bottom five in both categories. Unless Ben and the offense have another inexplicable meltdown like they had in Baltimore, they should be able to put some points on the board.
And while they're doing that, I'm sure we'll all be glancing over to keep tabs on what the Jets and Bills are up to. Nothing is worse than having your playoff fate lying in the hands of others. On Sunday the Steelers play their first game of 2016. If things don't break their way, it could very well be their last.