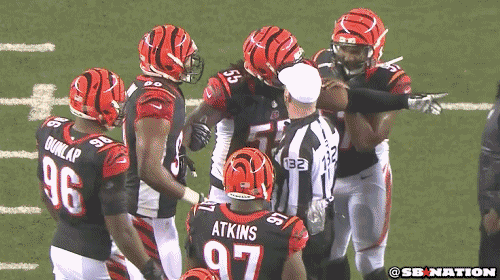 The Pittsburgh Steelers defeated the Cincinnati Bengals 18-16 in an absolute bloodbath on Wild Card weekend. What for three quarters was a dull and frankly pretty forgettable playoff game will be remembered for a long time because of what happened in the fourth quarter. In the meantime, the Steelers-Bengals rivalry looks to have eclipsed Steelers-Ravens when it comes to straight out hatred.
Steeler Nation has a new Public Enemy #1 and his name is Vontaze Burfict. Burfict was already on the list for putting Le'Veon Bell on IR two years in a row and trying to take out Ben Roethlisberger's knee in the teams' first meeting this season. He took it next level last night. Burfict's headhunting reached its peak with a reckless drive-by forearm to a defenseless Antonio Brown that knocked AB out of the game and likely sidelined him for the foreseeable future.
Burfict was flagged earlier for hitting a defenseless Markus Wheaton. Later on, he successfully took out Ben with a hard piledriving sack where Ben fell directly on his throwing shoulder. When Burfict wasn't busy doing dirty shit, he actually had a helluva game with 6 tackles, a sack, a pick, and a forced fumble. Too bad his temperament means he shouldn't be allowed on the field.
I don't even know how to explain this game. I challenged Keith Butler to show he can come up with a plan in my game preview and he mostly succeeded. The Steelers pitched a shut out for three quarters with Cincy going nearly two whole quarters between first downs. When the Bengals finally scored, it was on a drive that started on our 46. AJ Green was more or less a non factor until he was inexplicably left wide open at the goal line on the Bengals go-ahead drive with around two minutes left.
For the third week in a row, the Steelers vaunted offense sputtered. Running backs Fitzgerald Toussaint and Jordan Todman were our most effective weapons, combining for 123 yards on 28 carries. Pittsburgh had chances but couldn't finish drives, settling for three Chris Boswell field goals. Finally, late in the 3rd, Ben laid in a perfect pass to Martavis Bryant, who made a one handed flipping crotch catch in the end zone that will be on highlight videos for years to come.
AJ McCarron, who seemed to struggle mightily in the rainy conditions and then later whined that the rain stopped when we had the ball (MOTHER NATURE LOVES THE STEELERS!), led his team down the field to answer. That's when the game officially went off the rails. RB Giovanni Bernard caught a pass in the flat, turned around, and was absolutely obliterated by Ryan Shazier. It was a brutal violent hit that was also, strictly-speaking, perfectly legal. The Bengals were incensed when no penalty was called. Then to add insult to injury, the refs went back to correct a fumble they missed on first viewing.
The ensuing drive was where Burfict, playing like a man possessed, pounded Ben into the ground like a fence post. Ben left the game for x-rays on his shoulder and in came Landry Jones. I've been positive about Landry but he looked utterly shell-shocked. After two punts during which time Cincinnati scored 10 points to take a 16-15 lead, he threw what appeared to be a game sealing interception directly to Burfict.
Pittsburgh still had all three time outs so Marvin Lewis elected to run plays instead of taking three knees and kicking a FG. Shazier ripped the ball out of Jeremy Hill's hands on the first play which gave the Steelers life. Ben came back in despite later telling reporters when Todd Haley called a deep ball he had to let him know his shoulder didn't have enough juice left for anything but dink and dunk type stuff. Dinking was enough, though, with a nice dunk to AB on fourth down keeping the drive alive at mid-field.
That's when everything went to hell. Ben overthrew AB over the middle. Despite the ball being well over AB's head, Burfict came flying in from 3 yards away and laid him out with a running forearm/shoulder to the head. While Brown was down and not moving, Joey Porter started talking shit to the out of control Bengals still milling around on the field. That's when Pacman Jones decided to flip out and cost his team another personal foul. Mike Tomlin immediately brought out the Boz to bang home the go-ahead 39 yard FG.
Porter didn't belong on the field. At the same time, the Bengals clearly didn't learn what I did in 1st grade about "stick and stones…" All they had to do was not act like asshats and they'd be playing next Sunday. If Lewis was any kind of coach, he would've recognized his team was imploding and told them to stand on the sidelines quietly while they tended to AB. But he didn't and the Bungles ended up getting what they deserved.
The Steelers move on to face the Denver Broncos next Sunday. After this war, I doubt they have anything left to pull out another game. Brown is in the concussion protocol and likely out, Ben might give it a go but who knows what he has left and I don't know what DeAngelo Williams could give us on a balky ankle. It would take a Mile High Miracle – or Peyton Manning's stash of HGH – for the Steelers to repeat this effort. But I'll take solace in the fact we sent Cincinnati home without a post-season win for the 26th straight year.