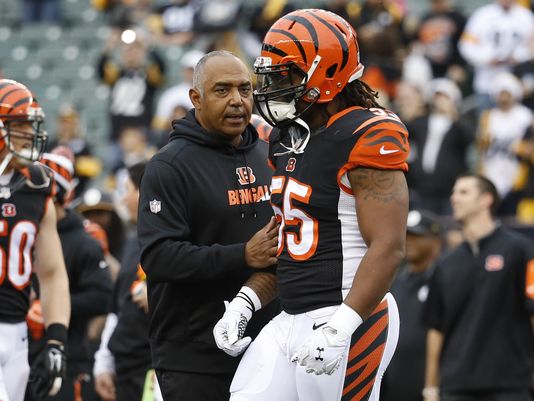 In the wake of Saturday night's Wild Card fiasco, the NFL has moved swiftly to suspend Cincinnati Bengals linebacker Vontaze Burfict for 3 games at the start of next season. His personal foul cheapshot on Pittsburgh Steelers wide receiver Antonio Brown was evidently the final straw in a pattern of reckless behavior. It goes without saying, much of said behavior has been directed towards the Steelers. Nice to see the NFL cares so much about the concussion crisis they let one of their players run around trying to hurt people for half a season before they do anything about it.
I haven't watched all the Bengals games this season but we know Burfict's dirty play started way back in week 8 when he clearly and deliberately dove at Ben Roethlisberger's knee in an attempt to injure. A few weeks later, he accumulated $70,000 worth of fines during a rematch of the two teams. Now it comes out he was slapped with $50,000 in fines for his actions in the season finale against the Ravens. Despite a pattern of thuggish behavior, Burfict was still allowed to play in the Wild Card game where he got flagged not once but twice for hitting a defenseless receiver.
The Steelers will also see some fines in the wake of Saturday's chaos although no suspensions appear to be forthcoming as they would've been handed down along with Burfict's. Coaches Joey Porter and Mike Munchak will almost certainly be a little lighter in the wallet come Friday. Munchak was flagged for yanking the dreds of Reggie Nelson after he rode Fitzgerald Toussaint out of bounds. Porter was on the field talking trash after the Brown hit which led to Pacman Jones taking the second big personal foul when he bumped a referee.
Peezy, by the way, was given the game ball by the team following Saturday's win.