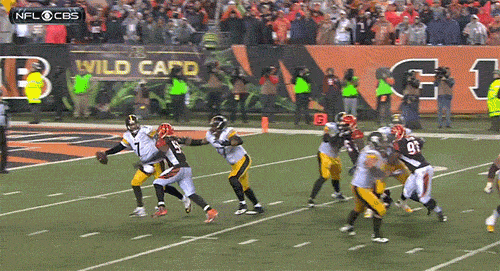 When Ben Roethlisberger returned to lead the Pittsburgh Steelers to a game winning drive against the Cincinnati Bengals, it was thought he had some sort of sprain to his throwing shoulder but no significant damage. Well, on his weekly radio show, Ben now says he did indeed tear some ligaments in addition to spraining his AC joint (basically your shoulder socket). While that sounds dire, he claims to be fine reaching back to throw with all the pain coming during the follow-through. Where that leaves him for Sunday's Divisional Round game against the Denver Broncos is anyone's guess.
Ben already revealed he had to tell Todd Haley not to call any deep balls on that final drive because he didn't have the arm for it. He seemed fine on short/intermediate stuff, though. In fact, sailing a fastball to Antonio Brown is what hung AB out to dry. Plenty of teams run a West Coast style offense with a dink and dunk passing game so as long as the shoulder stays within his pain threshold, I imagine Ben will at least give it a go on Sunday.
Between him and Peyton Manning, this might be the first playoff game in history without a pass attempt longer than ten yards down the field.
It'd sure be nice to have one of the best yards after catch guys in the NFL on the receiving end of those dinks. While initial reports on Brown were not good, head coach Mike Tomlin says he's "hopeful" AB will be in uniform in Denver. For his part, Brown posted on Instagram that he's "all good" to play. Of course, we've seen time and time again guys in the concussion protocol start exhibiting symptoms days or even hours before kickoff resulting in a last minute scratch.
The final part of this medical journal disguised as a football blog is running back DeAngelo Williams. Initially it was thought he'd return if the Steelers made it past the Wild Card game. News broke yesterday that he left the team to consult a foot specialist in North Carolina. Which means either his recovery isn't progressing as fast as expected or something more serious is afoot (pardon the pun). Regardless, as crazy as it sounds, it appears he'll be the least likely of the three to suit up this Sunday.