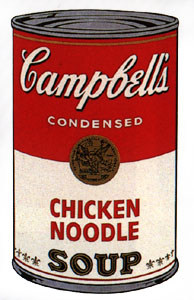 In honor of the quarterbacks playing Sunday, it'd be a shame if this game wasn't sponsored by Campbell's.
The Pittsburgh Steelers limp into Mile High Stadium to face the top seeded Denver Broncos in the Divisional Round of the NFL Playoffs. The Broncos have been something of a quiet rival for the Black and Gold over the years. While playoff games between AFC North teams are naturally heated affairs, we've seen the Patriots as our post-season nemesis over the years. In reality, the Broncos are right there with them.
First playoff game I ever saw the Steelers play was also the last the great Chuck Noll ever coached. The 1989 Divisional playoff was an epic affair with the John Elway led Broncos escaping with a down to the wire 24-23 victory despite coming in as a huge favorite. Merril Hoge had the game of his life, rushing for 120 yards (plus 60 yards receiving) and Bubby Brister was nothing short of heroic. Even if I wasn't born in Pittsburgh, that game would've made me a fan for life.
Of course, there were others. The 1997 AFC Championship game infamous for Bill Romanowski taunting Kordell Stewart after a dumb interception. Our revenge in 2005 when the Wild Card Steelers went out to Mile High and punched their ticket to Super Bowl XL by upending Jake Plummer's Broncos. Then there was the unforgettable embarrassment of 2011, when the Black and Gold were Tebowed out of the playoffs.
We don't need to look deep into the past to find history between these two teams. We met earlier this season, in what was unquestionably the Steelers best performance of 2015. The Broncos, who finished with the top ranked defense in the league this year, got out to a 17 point lead before folding under pressure from Pittsburgh's relentless offensive attack. Of course a month might as well be five years ago in today's NFL.
Denver was led that day by young Brock Osweiler. On Sunday, they turn the offense back over to future Hall of Famer Peyton Manning. Before a brief cameo in the season finale, the last time Manning was in uniform he was being benched for ineffectiveness against the Chiefs. Despite sitting out six weeks with a foot injury, Manning managed to lead the league with 17 interceptions this year.
The hope obviously is the rest will see the return of the old Peyton Manning for one last run at glory. The reality is nobody knows what Manning has left. It seems apparent his arm isn't there any more which means the Broncos will rely on a virtual West Coast style offense. If the Steelers can sit on the short routes and limit yards after catch, Manning will be forced to dink and dunk down the field.
Of course, the Steelers will be featuring their own noodle armed quarterback in Ben Roethlisberger. Ben isn't hampered by age but rather a busted up throwing shoulder. He's expected to give it a go but expect to see a lot of what we saw at the end of the Wild Card game as Todd Haley attacks with his dizzying array of dump-offs and screens. It'd be nothing short of a miracle for Ben to recreate the 3 TD 380 yard virtuoso performance from their first meeting.
What really stood out in that earlier game was how everybody on offense stepped up. Antonio Brown was a man possessed, catching 16 balls for 189 yards (?!?!?) but we also got big games from Martavis Bryant (10 catches) and Markus Wheaton (6) who combined for over 150 yards. The Broncos were playing with injuries in their secondary so that likely played a part in their top ranked secondary getting torched although there's no doubt there's explosive potential on offense even without the best receiver in football
Our vaunted offense didn't do much against the Bengals even with everybody healthy, settling for far too many field goals. Running backs Fitzgerald Toussaint and Jordan Todman were the most consistent weapons most of the game. I wouldn't expect a repeat performance, though, as the Steelers rushed for only 23 yards on 17 carries last time we met. If we're to pull an upset, it'll have to be a low scoring affair with one of our secondary receivers putting forth a Hoge-like effort.
Defensively, we can't expect more than what they gave us last Sunday. Lost in the fracas was the fact they held Cincinnati to a virtual standstill for almost three entire quarters. Granted AJ McCarron isn't Peyton Manning but that's still an amazing effort. For their part, the Broncos did win two games this season where Manning didn't lead them to a single offensive touchdown although I'm pretty sure we'd take those odds. It's trite to say "the game comes down to turnovers" but short fields and turnovers – especially ones that either cost points or score them – will be the difference in what looks to be a tight game.
As a Steeler fan, I've long said we have higher expectations than simply being in the playoffs. At this point, however, it's almost like we're playing with house money. So despite our usual expectations, it's hard to be too down on this season no matter how it ends. While I never count the Black and Gold out, the crushing weight of all the injuries to key players would make escaping with a win a Mile High Miracle. Of course, as the saying goes, any given Sunday…