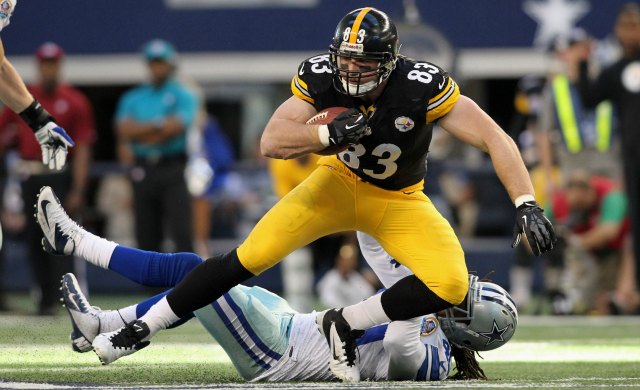 Another off-season, another retirement.
In what has sadly become a yearly tradition, Steeler Nation has lost yet another long-time fan favorite. Pittsburgh Steelers tight end Heath Miller announced his retirement yesterday, ending an 11 year career spent entirely in the Black and Gold. Miller was a first round pick in 2005, winning a Super Bowl in his rookie year. He'd add another ring along with two trips to the Pro Bowl although he may be most remembered for the "Heeeaatth!" call which would echo from the crowd whenever he made a catch, usually regardless of whether the Steelers were home or on the road.
Fans were so used to saying "Heeaath!" you even heard it when another tight end made a catch.
Miller is probably not going to be a Hall of Famer although he was undoubtedly one of the best tight ends of his era. His problem – if you can call it that – was that he was good at everything. The league has elite pass catching tight ends who hardly ever block. Then there are tight ends who basically serve as extra linemen. Heath was an all-around player. As a pass catcher, he was as sure-handed as they get. As a blocker, he excelled in pass protection. It's cliche but he truly did it all.
Not that his offensive number are anything to scoff at. He retires as the team leader among tight ends in nearly every category. He made 592 Recs for 6,569 Yards and scored 45 TDs. On a league-wide basis, he is one of only a dozen tight ends in the history of the NFL to amass 6,000 career receiving yards. If the Steelers didn't struggle with sub-par offensive lines for a chunk of his prime – necessitating him staying in to block – who knows what his final numbers could've been.
He had a decent 2015 season although as the year wore on, it became clear the Steelers liked what they had in rookie Jesse James and were trying to get him more playing time. You wouldn't hear Heath complain about that or having his incredible streak of 110 straight games with a reception snapped in a game started by back-up Landry Jones. The fact we never heard a peep about his impending retirement speaks volumes about a guy who was always known for putting the team ahead of his personal interests. Heath was a consummate professional and team leader who will surely be missed on and off the field.
Thank you for 11 great seasons, Heeaatthh!!