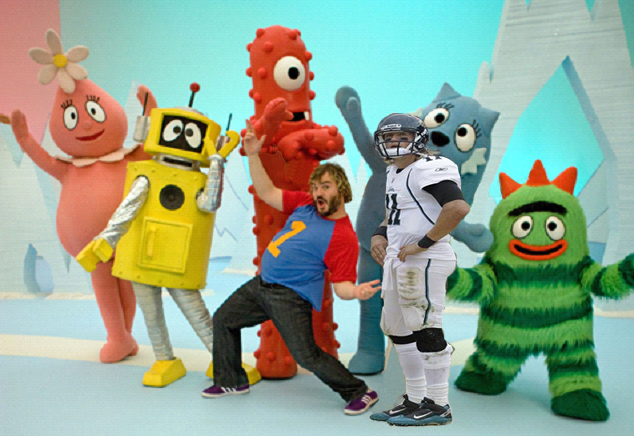 Sometimes you drink the wine and sometimes you stomp the grapes. This week, the [intlink id="21″ type="category"]Pittsburgh Steelers[/intlink] put on a performance more reminiscent of prune juice. It started off nice and smooth but about an hour and a half later you were left with a queasy feeling that had you praying to the porcelain god that the whole ordeal would soon be over.
The scoreboard says the Black and Gold defeated the Jacksonville Jaguars 17-13. The Pessimistic Inner Yinzer says, "Hey yous guys, we was lucky to walk away with a W. Against a halfway decent team, we wouldn't be so lucky n'at." Bill Cowher was fond of saying you are what your record says you are while [intlink id="86″ type="category"]Mike Tomlin [/intlink]likes to say there are no awards for style points. Well, the win-loss column may say the Steelers are 4-2 but the style of play tells me this is not a 4-2 caliber team.
Picking up from last week's thumping of the Tennessee Titans, the Steelers dominated on both sides of the ball for the first thirty minutes. The offense racked up 315 yards of total offense while the defense held Jacksonville under 90. [intlink id="88″ type="category"]Rashard Mendenhall[/intlink] ran like a spy drone was hot on his tail, ripping off a 68 yarder in route to a 113 yard first half performance. [intlink id="14″ type="category"]Ben Roethlisberger[/intlink] completed 11 passes for 181 yards, highlighted by a 28 yard touchdown to [intlink id="82″ type="category"]Mike Wallace[/intlink]. His opposite number, Jacksonville rookie quarterback Blaine Gabbert, couldn't get anything going. He was under constant siege from a ferocious Blitzburgh defense, particularly [intlink id="70″ type="category"]LaMarr Woodley[/intlink] and  Brett Keisel, who would finish with two sacks apiece.

Oh, the Steelers made some mistakes in the first half. Ben missed a wide open Emmanuel Sanders deep down the middle of the field for what would have been an easy touchdown. Two plays later, he did hit the Flash on a 48 yard bomb but that was only because Wallace made a fantastic adjustment on a terribly thrown ball. Then the offensive line reverted to form and took back to back penalties pushing them to mid-field. After failing to convert, Shaun Suisham's Miss Of The Week was a 46 yard shank that would've been good if the goalposts were located at the corner of the end zone.
The Steelers went into the locker room up 17-3. Unfortunately, they never came back out.
For those who may think I'm exaggerating how badly the team played in the second half, consider the following. Ben completed one pass.  ONE SINGLE PASS THE ENTIRE HALF. Some may argue his injured foot could have contributed to his horrible inaccuracy or others may point out the wind picked up, playing havoc with the Flying Circus. Fair enough, except Ben has never shown an ability to throw a good deep ball. Which is ironic when you consider Kevin Colbert and company have assembled a group of speedsters (and Hines Ward) that would make the late Al Davis proud. What the hell good is having guys who can blow by coverage if your club-foot troglodyte quarterback misses them by five yards every freakin' time?
Once again, Mike Wallace had zero catches in the second half. Unlike last week, it wasn't entirely his fault. He got open, Ben simply couldn't get him the ball. On one play, Flash split double coverage and was wide open with nothing but 60 yards of green grass in front of him. Ben launched a pass that looked more like a punt which led to the comical sight of Wallace running a circuitous route in a desperate attempt to run it down like Andrew McCutchen shagging a fly ball at PNC.
I don't want to lay all the blame on Ben, however. The offensive line, which lost yet another starter when [intlink id="85″ type="category"]Doug Legursky[/intlink] left with a broken toe early in the game, fell apart in the fourth quarter. They surrendered three sacks on the Steelers' final three possessions of the game, all coming on crucial third down plays. Mendy went back to Dancing With The Stars try-outs, carrying 11 times for 33 yards (though to be fair, he still had the second highest rushing total of week six) while the other two thirds of the Three Headed Monster (Redman and Dwyer) chipped in with 30 yards on 6 carries.
If not for a herculean defensive effort (and some gutless coaching by Jack Del Rio), this game might have taken an unfortunate turn. [intlink id="173″ type="category"]Brett Keisel[/intlink] was outstanding, pressuring the quarterback, swatting down passes and corralling Maurice Jones-Drew through the sheer force of his beard. [intlink id="57″ type="category"]Troy Polamalu[/intlink] was everywhere, jumping the snap so quickly a couple times he was across the line of scrimmage before the ball had even reached the quarterback's hands. Gabba Gabbert will be seeing Mister Woodley in his nightmares.
The demoralized Jags went three-and-out on their first possession of the second half when Ryan "Manic" Mundy (somebody needs to tell Dan Fouts he's not related to Misty Mundae) plowed into the Jacksonville kicker for the hell of it. A few plays later, [intlink id="101″ type="category"]Ike Taylor[/intlink] gave up his first touchdown of the season after he seemingly decided to stop covering Jason Hill. After trading three-and-outs for most of the fourth quarter, Gabbert hit Mercedes Lewis for 21 yards which took them down to the Steelers 30 with less than five minutes left. James Farrior came on a blitz and, no lie, it looked like he was running in quick sand. Three straight runs netted nothing so Del Rio pussed out by electing to kick a field goal.
That was as close as the Jags came as Keisel's beard dragged Gabba down for a huge sack with less than 90 seconds left in the game. Jacksonville never got back on track, executing what may have been the worst Hail Mary in football history when Gabbert (who evidently can throw a deep ball) launched one five yards deep into the end zone while his entire receiving corps was congregating on the ten yard line.
Here's the bottom line, folks. The offense sputtered badly in the second half against a second rate defense. The defense held firm but once again did not force a single turnover. Injuries continue to mount, this time in the form of Doug Legursky, Chris Hoke and, most importantly, Troy Polamalu. Troy shot the gap and made a key stop on MJD late in the fourth but Jones-Drew's thigh (which is thicker than my waist) smacked Troy upside the head and not even his hair could cushion the blow. It surely didn't help that Ryan Clark moronically headbutted Troy as he groggily walked off the field. The early diagnosis is "concussion-like symptoms" so we'll have to see what that means in non-Steelerspeak.
After last week's euphoria that the team had turned a corner, we're  back to straddling the ledge. The good news is six weeks in and we're 4-2. The bad news is six weeks in and we have three unimpressive wins over four mediocre-to-terrible opponents. The Patriots and Ravens are on deck with two games against the surprisingly decent (and also 4-2) Cincinnati Bengals also on tap. It only gets harder from here and performances like yesterday simply won't get the job done. Let's hope the Black and Gold is able to up their game before it's too late.