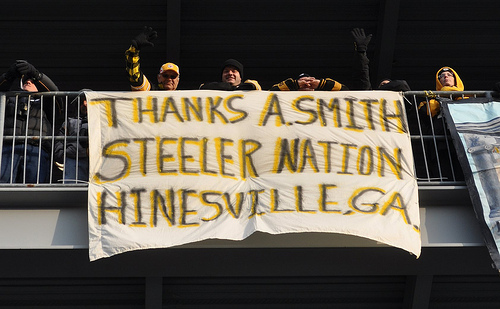 Bravo, Steeler Nation.
The recent rise and fall of Aaron Smith combined with CBS repeatedly cutting to Hines Ward standing on the sideline being the NFL's highest paid cheerleader (to his credit, he probably dances better than most of them even though his ass doesn't look nearly as good in a tiny skirt) has gotten me to thinking. Thinking about the future. A future that doesn't include Hines or James Farrior or several other players who were a huge part of the Pittsburgh Steelers run as one of the most dominant teams of the past decade.
I can't help but be reminded of Rod Woodson. A 2009 Hall of Famer, Woodson was one of the best defensive backs to ever play the game. He possessed unbelievable speed for a man his size, routinely baiting quarterbacks by letting wide receivers run past him only to turn on the jets and close on the receiver when he saw the ball in the air. In 1995, Barry Sanders juked his ACL off his knee and when he returned the following year, he didn't have that same freaky closing speed. After watching him repeatedly get beaten on deep bombs, the Steelers thought his career was on a downhill slide and asked him to take a pay cut and move to safety, both of which he allegedly refused. While the Rooneys and Woodson eventually buried the hatchet, at the time this resulted in a divorce so ugly it would've made Mel Gibson wince.

Farrior is scheduled to make $3.8 million next season. Hines is due a whopping $4.6 million. If you award contracts based on lifetime achievement, they more than deserve the money. However, I don't think anybody could seriously argue those salaries are commensurate with their current level of play. And starting with Woodson all the way to Joey Porter and Willie Parker, the Steelers have repeatedly shown they'd rather cut an established star a year too early than keep him a year too late.
For some reason, the Steelers decided to deviate from that plan recently. They brought back James Farrior, who to his credit found the Fountain of Youth last year but looked washed-up in 2009. They brought Smith back despite Ziggy Hood proving he was ready to step into the starting line-up. They brought back Hines despite a steep decline in production last season. I don't necessarily disagree with any of those moves as at the time getting the band back together for one last run seemed the logical thing to do, especially when there didn't appear to be a whole lot of heirs apparent ready to step in.
All that has changed. Larry Foote started in place of Farrior and the defense didn't miss a beat. Not to mention when James Harrison's eye heals up, we'll be moving Lawrence Timmons back to his natural position at ILB. The Young Money crew (Antonio Brown, Mike Wallace and Manny Sanders) have played roughly a game and a half without Hines in the line-up. In that span, Ben Roethlisberger has thrown for almost 600 yards. The Patriots game demonstrated the Steelers' potential to be an explosive offense. If we're being honest with ourselves, it's pretty clear Hines is at best this team's fourth best receiver (and arguably fifth if you count Heath Miller). How do you keep a guy like Sanders on the bench or tell AB he's not going to start in favor of a guy who simply can't get open?
I love what guys like Hines, Farrior and Smith have done for the Steelers. They've been great players on the field and great guys in the community. However, Woodson was a huge part of the Steelers back in the day, even owning the finest bar and grille in Station Square history. The Steelers moved on from him when they felt the time was right and it's becoming increasingly apparent the time to move on from Hines and Farrior is nearly at hand.
I only hope both men accept the inevitable with the same grace and humility they've displayed during their illustrious careers.