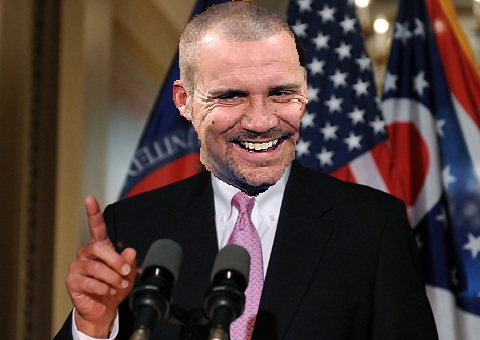 Your old pal Chris here. A couple weeks back, I ran a special Guest Blogger column by longtime reader Hennessy. His post generated the most comments in Total Steelers history clearly indicating yinz guys like him better than you like me. Since I'm still stunned and angry over the Baltimore game and, left to my own devices, I'd write five posts ranting about the various travesties that happened on Sunday, I figured it might be nice to bring in a relief pitcher to change things up a bit. Take it away, Hennessy…
The Pittsburgh Steelers have drafted five quarterbacks since 2000, all of them in the fifth round, except, of course, Ben Roethlisberger. The brightest star in that group was Ex-Tennessee Volunteer Tee Martin, mostly because he had a pretty cool name which sounded particularly good in Pittsburghese. As we learned (the hard way) last Sunday, not to mention with the parade of human traffic cones who man the offensive line every season, we've clearly had greater areas of need in recent drafts. But this season and the success of Young Money have me hoping there is a plan to develop a game-ready mentor to Ben in the coming years.
I never thought I would find myself in this position, but Bruce Arians has made me a fan of the pass-first offense. That's not to say I don't shudder every time I hear someone saying we are getting away from "Steeler Football" (because we are, and yinzers don't take well to change with the Stillers). There might not be anything more fun to watch than the pounding football of old, but the way Ben snaps, scrambles and throws has been pretty entertaining. And whadda ya know, he's winning a lot of damn football games doing it.

I don't want to give Air Force Arians too much credit. The shift was as much due to the smart pick-up of Ben and the great receivers the team has unearthed in the draft as it was Bruce crying to the powers-that-be to let him air the ball out more often. Once we retired Jerome Bettis, relieved ourselves of Fast Medium-Speed Willie Parker, and removed Deuce "Sweatpants" Staley from the sideline, there was little option left than to lean on Ben and the Flying Circus. But, as many wide-eyed football fans may have seen in Indianapolis this year, leaning on your quarterback to overshadow the mediocrity of the other 21 positions is a dangerous gamble. At least if your intention is to win a football game or two each year.
Sure, we have a great defense Sure, our kicker is a sure-footed marksman. Sure, we have legendary ownership and great decision makers. I admire Chaz's goodwill toward the Pittsburgh community and his commitment to the team, but who thinks the Baltimore game comes down to three points and eight seconds if Coach Batch is under center? How about Scramblin' Dennis Dixon or Byron Leftwich? None of those options make my blood pressure go down when it looks like Ben might not be taking snaps on Sunday.
If we are going to sustain a pass-first offense, and win games doing so, it's time for the front office to make sure there is always someone available to pass the ball – no?
Quarterback controversies are rampant right now. Denver is praying for Tim Tebow, Oakland worries about Gimpy Carson Palmer, Kansas City relies on Brady's personal assistant/hair stylist Matt Cassel. Big Ben is one-of-a-kind, not only in his ability to make the most out of broken plays, but also in his size and ability to absorb punishment. Don't be fooled, Ben's physical stature and his ability to work around a weak O-Line is crucial to Mike Tomlin's winning formula. It's time management put a little more emphasis on finding someone who can watch from the sidelines and be ready to strap on a helmet when needed. If Ben's iron-plated hoof finally gives in, or his neck seizes up like a Bengal on the first day in prison, I'd rather have the next Aaron Rodgers come off the bench than betting the Steelers' fortunes on Byron "One-Game" Leftwich.