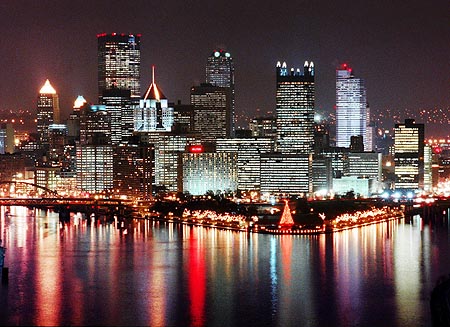 Chris here. When Hennessy told me he was returning to the 'Burgh for the holiday, I thought it'd make a great idea for a post. Also, with this piece, I'm formally instituting Steeler Nation Sound-Off a permanent feature going forward. So you Hennessy fans will be able to enjoy his musings on a regular basis. And best of all, you get a break from me! Take it away, Hennessy…

I hope everyone had a great Turkey Day. I was fortunate enough to make the travel back to Pittsburgh, and unfortunate to have done it during an away game. I froze my ass off at many late season Pittsburgh Steelers games and it would have been nice to go to one during our Thanksgiving heat-wave. Not that I mind prying frozen Ahrn City's from my frostbitten hands, it would just be nice to make a trip home one time when it wasn't a bye week or away game.
I didn't get the chance to make it to Heinz Field, but then again not many members of Steeler Nation ever get to grace the bleachers to cheer on our boys. It is an experience unlike any other, and if you've been there I'm sure you will agree. For those that haven't, put it on your bucket list. You won't regret it.
The whole trip home this time made me realize just how different the 'Burgh really is. I've been in Nashville for six years now, so maybe the little things that make that team and that city stick for generations are just setting in. Anyway, here are a few things being back in town brought to light.

Steelers fans are Ridiculous, and worse in Pittsburgh:
I remember the first time I ran into a Steelers fan outside of the Steel City. There's this guy from Kentucky in the grocery store, who has never been to Pittsburgh, but had a quarter sleeve of Steelers Tattoos "cause mah dad liked em, and I stahrted bein' a yinzer way back". Nashville is considered a pretty loyal sports town when it comes to the Titans, but you NEVER see EVERY SINGLE PERSON in the city rocking blue and white on Sunday's. Hell, Station Square shopping center now has an apparent need for five Black and Gold shops on the same corner. Pittsburgh is the kind of town where the whole family wears black and gold every Sunday and knows how to spot a Zone Blitz before they learn multiplication tables. It makes me feel a whole lot better when everyone thinks I need to be committed for my addiction to anything related to Pittsburgh sports.
It feels great to be hated by everyone:
I couldn't count on ten hands the number of different excuses I've heard for why we won all those trophies. You run into the resident Baltimore fan, and he seems to remember "this one" holding call after "this other" lucky catch right after "that one ref" blew that other call. Every NFL player poll asking about the league's dirtiest player loads up the top 5 with black and gold jerseys. I can understand calling Hines Ward cocky for using a slant route to break your rib cage then smiling about it but not dirty. Dirty was watching Ndamukong Suh jumpstart his MMA career with a mid-game axe kick wearing cleats. Think James Harrison only gets two games for that move?
There's something about the whole town that secretly enjoys others being hated on by others. Maybe it's the fact that Pittsburgh is home to a whole bunch of people who don't give a crap. Or maybe it's Primanti's – Capicola and Egg deserves anger and jealousy from everyone who doesn't have one. Other fans, other players, the Ginger Dictator – something about all their envy makes every trophy that much sweeter.
Our team cares about Pittsburgh:
We have a loyal fan base, everyone knows that. But the way the city gets down after a loss, or in this case a piss-poor performance against Tyler Palko, is nothing short of impressive. There's a theory that the Steelers are so ingrained with their fans because of the correlation of the team with the "iron-working blue collar" mentality of Pittsburgh. It's true. That city needs the team to do well, even if it's for one game. Nobody would ever advocate losing out an entire season so they could take a chance on the Stanford Sweetheart. And the loyalty goes both ways. There isn't a team in the league with as many players who fell in love with the city. When most players get dumped by their original team, they either swear bitter revenge or move from franchise to franchise like padded mercenaries. There's something to be said about Medium-Speed Willie Parker wanting to do what Larry Foote and Antwaan Randle El have done, find their way back to Pittsburgh.
And I think that's a good metaphor for many members of Steeler Nation. We travel well, yes, but a lot of our out-of-state fans are people who used to live in Pittsburgh or had family who live/lived in Pittsburgh. And while we may currently be living in a foreign land surrounded by fans clad in enemy colors who simultaneously hate and envy us, we still make the trip to the local stadium or to a local Steeler Bar wearing our Black and Gold and waving our Terrible Towels proudly. Because the Nation may spread far and wide but we always find a way back to Pittsburgh.