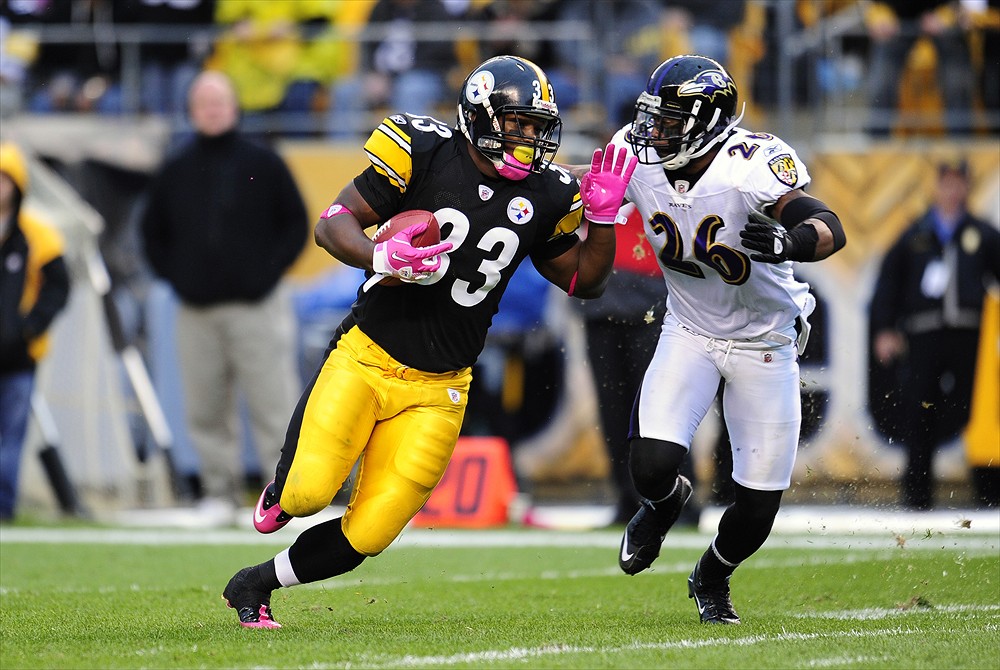 Much digital ink has been spilled this week previewing the Wild Card match-up between the Denver Broncos and the Pittsburgh Steelers. Most of the attention has centered around the two quarterbacks who'll face off on Sunday. Will Ben Roethlisberger's messed up ankle be feeling better by game time? And how is Tim Tebow going to fare in his first career playoff game?
Before we worry about all that, let's look at the big picture. The bookies have the Steelers listed as an eight point favorite and most media types are penciling this in as a victory for the Black and Gold. Even members of Steeler Nation, a notoriously pessimistic bunch, seem confident of a happy outcome. And it's understandable, what with Denver losing three straight to end the season and backdooring into the post-season.
Not to throw a wet blanket Terrible Towel on all the optimism but keep this in mind. Since 2000, five teams with records of .500 or worse have made the playoffs. Four of the five won at least one playoff game. Most recently was last year's Seattle Seahawks, who became the first team in NFL history to win a division with a losing record (7-9). I think we all remember Marshawn Lynch going all BEAST MODE on the 11-5 New Orleans Saints to seal their Wild Card victory.
On any given Sunday…

STEELERS DEFENSE vs BRONCOS OFFENSE
In the irony of all ironies, the Broncos are more Steeler-like than the Steelers. They win by running the ball, keeping the game close and playing great defense. Their primary weapon in the running game is our old friend Willis McGahee. After being exiled by the Ratbirds, McGahee landed in Denver where he rejuvenated his career by running for 1,200 yards. It's his first thousand yard season since 2007.
Earlier this week, Denver VP John Elway told a local radio station he'd like to see Tebow cut loose in the passing game. Does that mean we'll see a remix of the Steelers' game plan from 2005 when they upset the hugely favored Colts by having game manager Ben Roethlisberger come out throwing? I wouldn't be surprised if we did. Tebow is a better quarterback than many give him credit for and he's especially adept at throwing the deep ball.
Tebow's strengths and weaknesses should be quite familiar to those of us who lived through the Kordell Stewart era. On the plus side, he has the strength to shake off tacklers and the wheels to get out of trouble and make something out of nothing. He's a constant threat to run and can break off big gains when he gets outside the tackles. The negative to his running ability is he's so comfortable running the football that he'll often bail on a play instead of hanging in the pocket and delivering the ball down field. The reason Tebow has managed to keep his interceptions down is he'll often make one or two quick reads and if neither man is open, he'll just tuck the ball and take off.
The Steelers finished with the number one overall defense in the NFL. They were first against the pass and eighth against the run. As I learned in my stats class at Carnegie Mellon, there are lies, damn lies and statistics. On paper, being eighth against the run sounds pretty good but in reality the Steelers have struggled against good running teams. They've allowed more 100 yard rushers this season than they've allowed in the previous seven years COMBINED. As recently as two weeks ago, the Rams' Steven Jackson dropped 103 yards on them and probably would've ran for a lot more if his team didn't fall so far behind and start throwing to catch up. Granted, McGahee isn't the back Jackson or Frank Gore are but the Broncos are going to pound the Steelers until they break.
The defense will be bolstered by the return of LaMarr Woodley, who has missed most of the second half of the season with a bad hamstring. How long Mister Woodley lasts this time is anyone's guess. His first return ended after one series, his second attempt lasted almost an entire half. It would definitely be nice to have Woodley and James Harrison on the field together for once. Then again, Harrison hasn't practiced this week thanks to a toe injury. Am I the only one seeing big flashing WARNING signs when half your key players miss practice three days before a playoff game?
Ryan Mundy will replace Ryan Clark at safety. Mundy played very well in relief of Troy Polamalu earlier this season and is a more than capable replacement for Clark. Some even say he might be an improvement as he's a little better in run support than the notoriously poor tackling Clark. The only worry here is Clark and Troy have a Wonder Twins like telepathy where Clark senses when Troy wants to freelance and adjusts to cover for him. Will Mundy be able to free up Troy to roam all over the field? Dick LeBeau dominates young quarterbacks because he moves guys around and disguises who's coming and from where. And his most versatile piece is usually Troy.
STEELERS OFFENSE vs BRONCOS DEFENSE
I'm torn on the subject of Ben Roethlisberger. A lot of the local media are kinda *nudge**winking* at the subject of Ben's injury as if they believe the Big Drama Queen is milking his bum ankle for attention. At his media day press conference, Ben revealed he sufferred "a setback" in regards to that ankle sometime during the third quarter of the Cleveland game. Which makes me wonder, too, because he played much better in the second half than he did in the first. At the same time, he only returned to practice on Thursday so why was he sitting out if he wasn't hurting?
The bottom line is the Steelers offense has been garbage recently. Their best outing in over a month saw Rashard Mendenhall run for 120 yards and featured Charlie Batch behind center. Neither will be playing this Sunday. Ben has thrown exactly one TD pass since injuring his foot and, with the exception of the Rams game, Mike Wallace has all but disappeared down the stretch. If the Steelers are going to go anywhere in the playoffs, they need both men to step up.
I'm fine with Issac Redman starting at running back. He's not great as a pass catcher or at blitz pick-ups which worries me because Mewelde Moore is also injured and won't be there to make up for his shortcomings. But problems in Cleveland aside, he's never been a fumbler so I don't expect that trend to continue and as far as running the ball goes, he's fine. He doesn't have Mendy's break away speed but I think the Steelers are better off with a straight ahead runner anyway.
Maurkice Pouncey didn't practice this week and may not start, meaning Doug Legursky would take his place. Honestly, the biggest problem with the O-line hasn't been useless Chris Kemoeatu or even the revolving door at center. It's been right tackle Marcus Gilbert. Gilbert has shown flashes of ability but too often he's been abused by speedy defensive ends. He had a nightmare game against the Colts, made the Niners' Aldon Smith look like an All-Pro and last week former Pitt Panther Jabaal Sheard ate his lunch.
This week, he'll be dealing with a guy by the name of Elvis Dumervil. Elvis is one of the league's best defensive ends. Between him and standout rookie linebacker Von Miller, they've accounted for over 20 sacks. The Broncos don't have the greatest secondary but Dumervil and Miller getting pressure on the QB covers for a lot of their sins. When they're held in check, the defense struggles. When they're allowed to wreak havoc, they look like one of the best defenses in football. And, unfortunately for us, speedy ends and athletic linebackers are exactly the kind of players our line has had trouble with all season long.
I've played this game over and over in my head and while I can't see the Broncos scoring a lot of points, I don't feel comfortable with the Steelers' ability to score either. I think Antonio Brown or the Flash will get loose for a big play or two which might very well prove to be the deciding margin. I definitely don't expect the Steelers to go up and down the field while Tebow and the Broncos offense barely makes it across mid-field. In the end, this will probably be a low-scoring affair with the winning team being the one that seizes their opportunities while making the fewest mistakes. In a season where the Steelers have routinely flirted with disaster thanks to being on the wrong end of the turnover margin, let's hope they save the best for last.