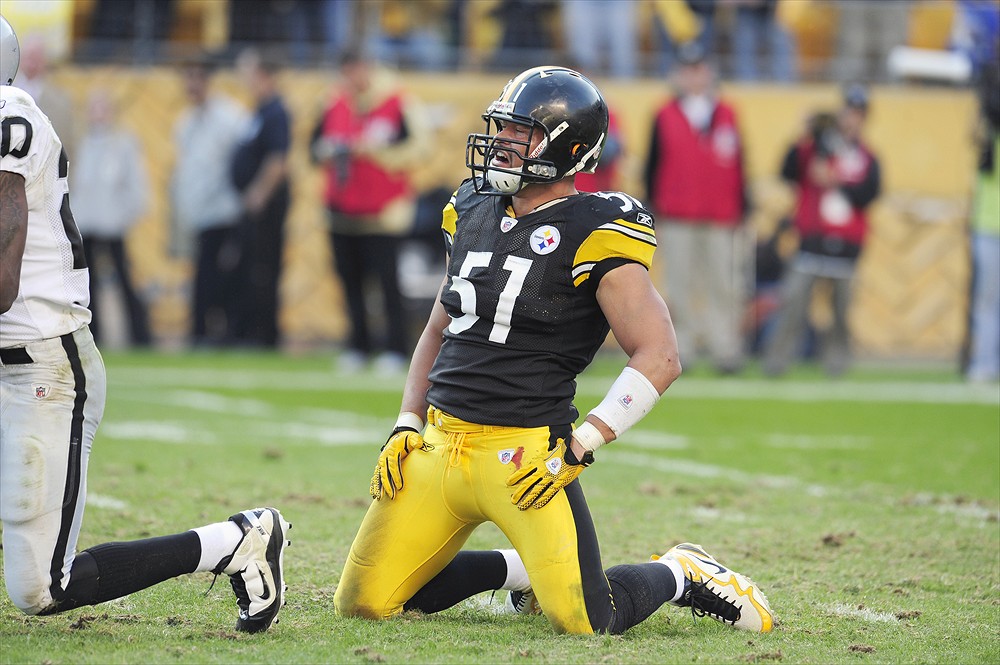 While four teams still remain in the NFL playoffs, the rest of the league is turning their attention toward next season. In yesterday's Post-Gazette, team president Art Rooney mentioned that the Pittsburgh Steelers will be facing "tough decisions" this off-season. Translation:  We brought back the old slow veterans for one more go 'round the track but since they failed, it's off to the glue factory for some of them.
Peter King, of all people, pointed out the Steelers future salary cap woes before the season began and it bears examining now that we're faced with the consequences. Next year's cap is projected to be in the neighborhood of $125 million, which the current roster currently exceeds by somewhere between $20-25 million. That's money already committed, to say nothing about money needed to sign draft picks, re-sign Mike Wallace, Issac Redman and other pending free agents, and perhaps *gasp* even spending a buck or two on the FA market to bring a decent lineman in here so our franchise QB doesn't get broken in two halfway through the season.
Steeler Nation has been somewhat spoiled by management that's stayed one step ahead of the game when dealing with the salary cap. The team has been clever about restructuring deals and/or adding bonus money or years in order to lower the cap hit. Problem is, adding years to guys already pushing their mid-30s is completely idiotic. And if Indianapolis is seriously considering cutting Peyton Manning, the man who made their sad little franchise relevant, in order to avoid paying him a roster bonus (and the accompanying cap hit), there's nobody on the Steelers who should be untouchable.

To give you an idea of how major the changes we're talking about are, I ran a few quick numbers based on projected 2012 salaries. The following is a list of players who are under contract for next year or are pending unrestricted free agents and are either old, injured, or completely suck.
Hines Ward.
Aaron Smith.
Chris Hoke.
Casey Hampton.
Larry Foote.
James Farrior.
Dreamy Daniel Sepulveda.
Max Starks.
Brett Keisel.
Chris Kemoeatu.
Smith and Hoke both suffered major injuries this year and their careers are very likely over. That's $2.1 million in salary saved. Hines is due $3.4 which is way too much for a #5 receiver. Foote and Farrior both make $3 million but the Steelers need to keep at least one to play alongside Lawrence Timmons. Starks and Sepulveda are both free agents and let's assume the Steelers don't re-sign either. I know Max played well this season but he tore his ACL in the Wild Card loss to the Broncos and that's the kind of injury a big guy seldom recovers from.
Add that up and by my math we're at $8.5 million. Bryant McFadden, Arnaz Battle and Will Allen are all role players who can be released so that's another $5 million. So that brings us to about $14 mill. Remember, we need to cut $20-25 million. Also remember, guys like Wallace and Redzone will be going from rookie minimum to $2-3million for Wallace and a $1-1.5 for Redman.
See the problem? In order to make it under the cap, the Steelers are going to have to cut a big name or two IN ADDITION to the ones already discussed. I thought the Diesel had a great season but with #1 pick Cam Heyward waiting to play, perhaps he's expendable. His salary is due to double next year to approximately $4.5 million.
What about Big Snack? Despite some people talking up youngster Steve McClendon as a "nose tackle of the future" or even moving Ziggy Hood to nose (as Ed Bouchette floated in his blog, which I won't link to because it's behind the P-G's ridiculous pay wall. See, I saved you having to dole out hard-earned money for that scam!), neither one is a particularly attractive option. At the same time, Hampton had a horrible season, has become basically a two-down player, and battled injuries including one in the Wild Card game that whispers around town was a result of a pre-game wrasslin' contest with a teammate. If you cut Hamp, that clears about $5 million in cap space.
Speaking of overpaid fat-asses, Kemo is due $4 million next season. Considering he was benched halfway through the season for sucking, perhaps he should be on the chopping block. Or maybe the Steelers could go in a totally unexpected direction. Ryan Clark had a good season but was it $4 million good? Ryan Mundy may trail him in terms of being a loudmouth self-promoter but he doesn't trail him by much in on-field ability. Or maybe the Steelers will shock everybody like they did when they cut Joey Porter a few years back and cut ties with James Harrison and his $8.5 million salary.
Here's a quick rundown of the cuts I'd make and the salary saved:
Hampton – 4,890,000
Kemo – 3,577,000
Starks – FA
Smith – 2,100,000
Ward – 4,000,000
Farrior – 3,000,000
B-Mac – 2,500,000
Allen – 1,280,000
Battle – 1,037,500
Which all combined saves you about $22 million towards the cap. Of course, the problem that creates is finding replacements for those players. With Snack gone, you're hoping either Ziggy or McClendon can take the place of one of the best nose tackles in NFL history. With Starks gone, you're looking at either Marcus Gilbert moving to LT (when he sucked at RT) or starting Jonathan Scott (who also sucked which is why we brought back Max in the first place) while hoping Willie Colon can stay healthy all year at RT. Without Kemo, you'd have Trai Essex as a back-up guard and then nothing. And while Foote-for-Farrior is a wash, unless you draft somebody like a Donte Hightower, the primary back-up at ILB would be Stevenson Sylvester.
Yep, the Steelers are facing some mighty big decisions this off-season. And the choices they make may very well have repercussions for how this team does not just next season but for years to come. While I have no idea how the roster will ultimately shake-out, we can all be sure change is coming. Let's just hope it's change for the better.